How to Use iTransfer: File Explorer
iTransfer (download link: for Mac, for PC) is a robust and full-featured utility that makes it easy to manage and transfer contents amongst your iOS devices, Android devices, iTunes and computer. It does everything from migration of media content between your mobile devices and computer all the way through to rebuilding your entire iTunes library, to creating, deleting, renaming playlists, fixing music ID3 tags and moving tracks from one playlist to another on your iPhone library, and even to rooting your Android phones and more.
Now, we will show you how to manage and transfer your different types of media files respectively. Click any article on the list below to get into the detailed instructions. Note that the process is exactly the same whether you own a Windows PC or a Mac.
Part 8: File Explorer (Windows version only)
iTransfer enables you to access the internal storage on your iPhone, iPad, iPod or Android devices, whereby you can use your device as Hard Disk to add, copy, delete files and folders on it.
The artilce includes 3 parts: 1) How to add files to your iOS/Android devices; 2) How to export folders or files from iOS/Android devices to your computer; 3) How to mark folders to have one-click access to your iOS Device; 4) Use your iOS/Android device as a flash drive
1) How to Add Files to Your iOS/Android Devices
Launch iTransfer on your computer and connect your iOS/Android device with included USB cable.
Click on Explorer button on the navigation bar, this should open Explorer window where loads all the folders on your device. Clicking [Your Device Name] category on the left sidebar will expand the sub-directory.
To add files to your iOS/Android device, choose the folder from the left sidebar, then click Add button on the top row. A dialog opens, asking you to browse and select the files you want to add on your computer. Multiple files can be added by holding down Ctrl or Shift key on PC. Click Open to proceed. Alternatively, use the drag-n-drop feature to add files.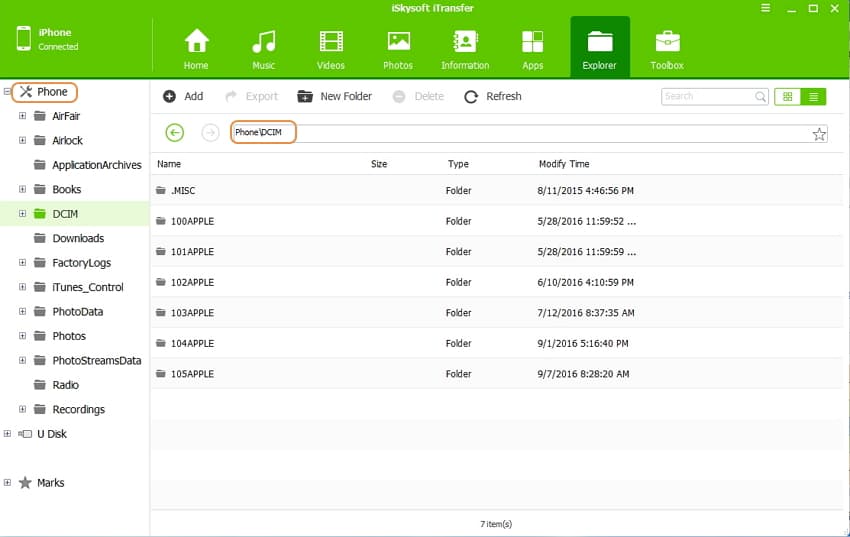 2) How to Export Folders or Files to Your Computer
Choose the folder or files you wish to export, click on Export button on the top right, in the opening window navigate and select the target folder you want to save on your PC machine. Followed by Open button. Alternatively, use the drag-n-drop feature of this program.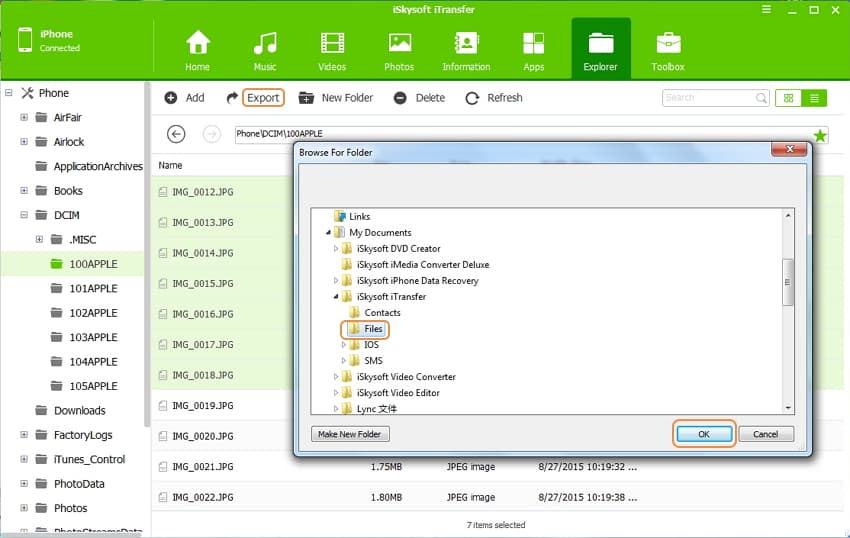 3) How to Mark Folders to Have One-Click Access to Your iOS Device
A quicker way to access the files or folders is mark them. iTransfer understands this and allows you to mark those files by creating a shortcut and save to the Marks Folder on the left sidebar. Firstly, select the file or folder you want to mark, click on the five pointed star on the interface.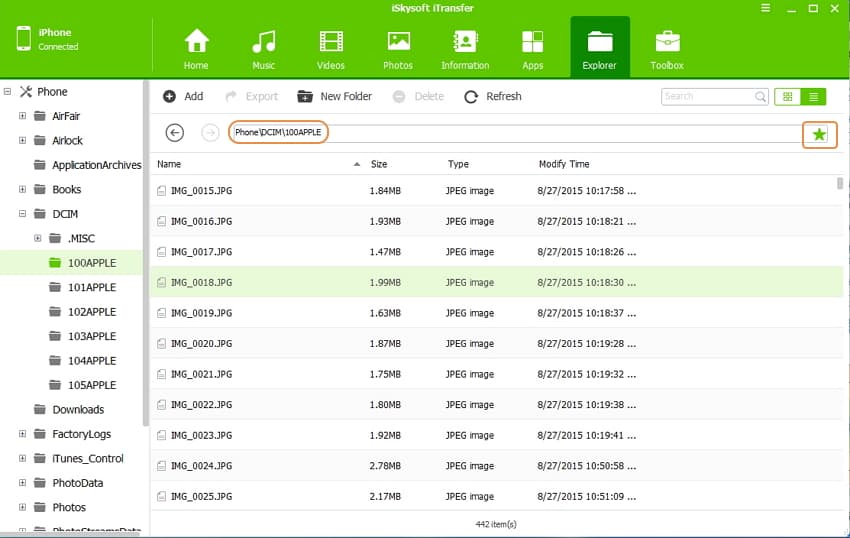 In Explorer > Marks on the left sidebar, you can see those marked files sitting already on there.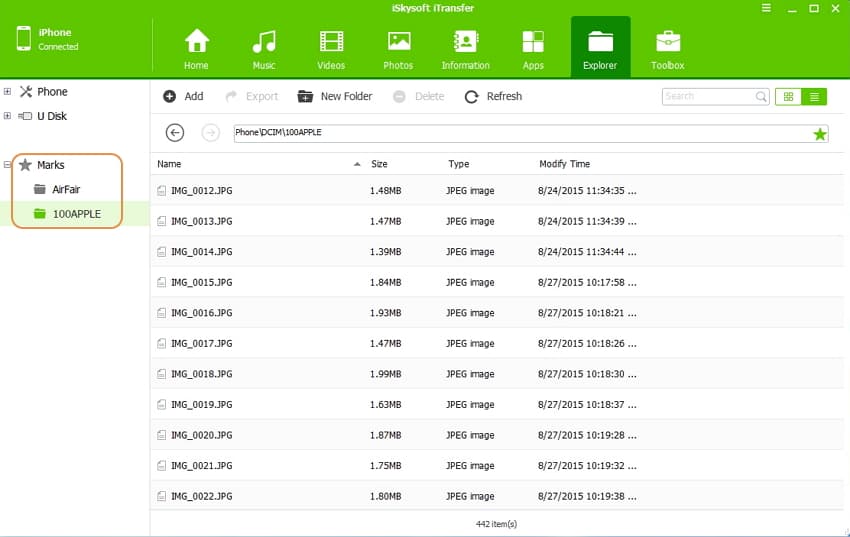 4) Use Your iOS/Android Device as a Flash Drive
Click on the U Disk category on the left sidebar.
To import files or folders from your PC to the U Disk of your device, simply open the existing folder (or create a new folder if required by clicking on the New Folder button on the top row), and then click Add button. In the opening window, select files including music, video, photos, and document files from local folder of computer and add to U Disk.
Alternatively, you can add files and folders by using drag-n-drop feature.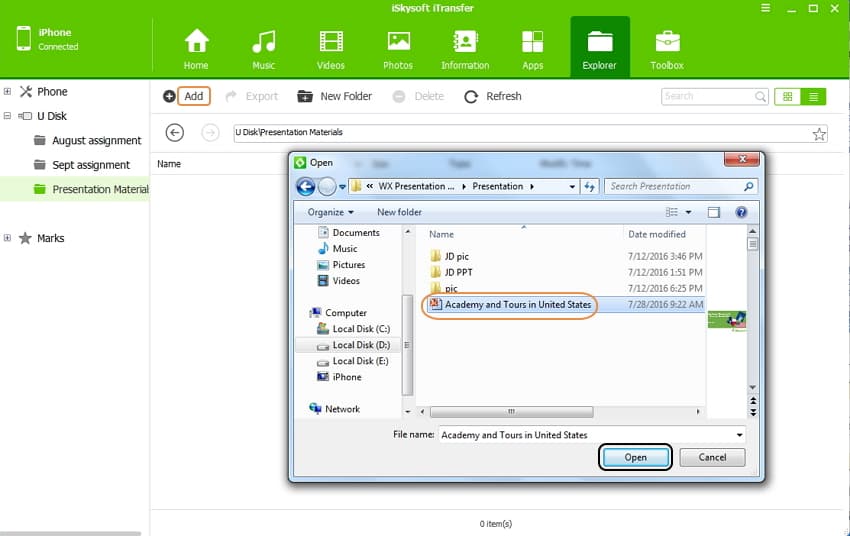 To export files or folders from the U Disk to save on the local folder of computer, select the file or folder you want to export under U Disk, click Export button. This should open a small dialog, simply browse and select a local directory on your PC. Click OK to start saving the files.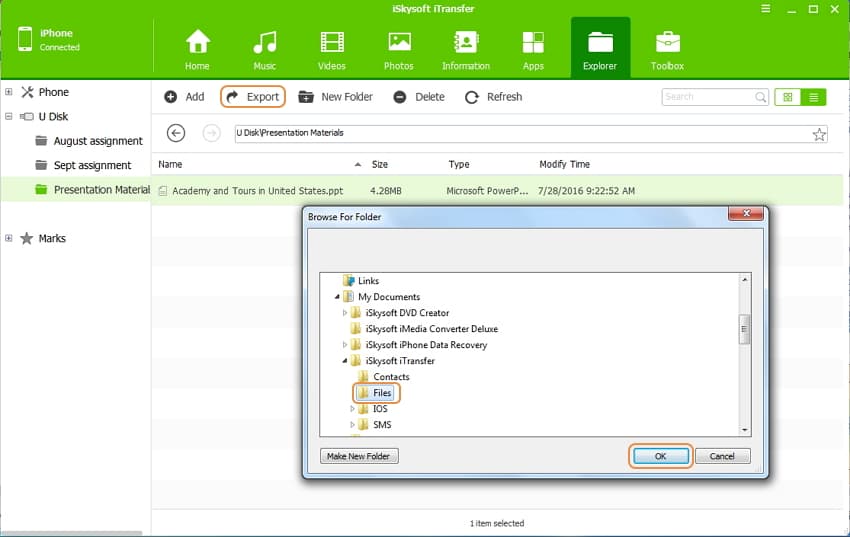 To delete files or folders in the U Disk, use the Delete button on the top row.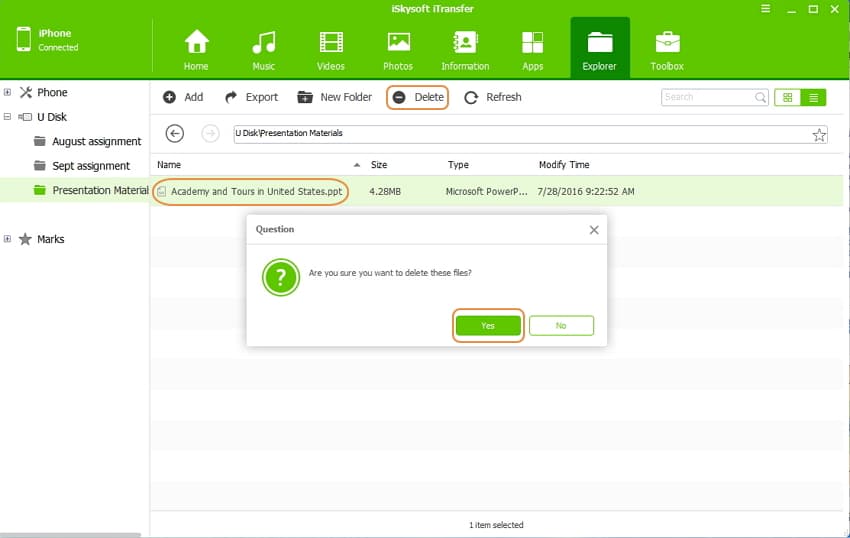 That's it!
More detailed instructions about the iTransfer software: