How to Reset Your Forgotten Windows 7 Password (10/ 8/ Vista/ XP/ 2012/ 2008/ 2003, supported)
How can I reset or recover a lost windows 7 password without losing all data on my Dell computer? I have lost account password, there is an Administrator, Guest, and one detailed user. I looked throw net and found out that I can crack Windows 7 password through USB Memory stick or CD/DVD, does anyone have any applications that would do that ? it means a lot to me.
I cannot log on to my Windows 7-based computer. When I try to type password and press Enter, get a message "The User Profile Service service failed the logon. User profile cannot be loaded." I can only access it with a common user profile, but cannot change or download anything on my PC. Any suggestion?
Sometimes, if you forgot the Windows 7 administrator or user password, things can get tricky. Aside from using a previously created password reset disk to change your password to a new one, there is no Windows-provided way to help you bypass or remove password on Windows 7, 10, 8, Vista, XP, 2000, Server 2008, 2003. Luckily that's no longer the case, and today we'll take a look at Spower Windows Password Reset software, an easy-to-use and reliable program that can easily override and unlock the forgotten Windows 7 Admin password in minutes, and blank or delete the user account. What is more, it enables you to create a new Administrator account.
Now, go and click the button below to download the program and install on any other accessible Windows computer (another in your home or a friend's will work fine).
Supported notebook/ laptops/ desktop computer: Dell, HP, Lenovo, Asus, Acer, Toshiba, Samsung, MSI, Gigabyte, Aorus, Alienware, Sony, Eurocom, LG, Panasonic, Compaq, Gateway, HCL, Fujitsu, NEC, Sharp, Micron, etc.
Today we are going to take a look at using the program to reset password on Windows 7 with its professional version. The process of resetting login password on Windows10, 8, Vista, XP, NT, 2012, 2011, 2008(R2), 2003(R2), 2000 servers does likewise. Let's begin:
Step 1: Create a Windows 7 password reset disk
Launch the program, you'll be greeted with a wizard that gives you basic information about how it works.
Simply insert a blank CD/DVD or USB flash drive into optical drive, then click the "CD/DVD" or "USB Device" button to create a password reset disc to Windows 7. The burning process could take about one minute to complete. When the burning is complete, pop this system password reset disc into the locked computer.
Generally, your locked computer starts and boots from the hard drive where has Windows installation, so we have to change the 1st boot order in BIOS so that the machine will boot from the password reset disk first.
Step 2: Configure BIOS Setup to boot from the password reset disc you just made
Simply power on your locked computer, keep your eyes open for the screen, as soon as you see a message like "Press [key] to ...enter SETUP", quickly press the key required to get into BIOS screen. If you don't catch the message the first time, simply try again.
Note 1: Generally, the F2, F10 or Delete are the most widely used keys among computers to enter BIOS setup screen but, some computers may use other keys instead. Please follow the on-screen prompt to see which key you need to press to enter the BIOS, and you can also check out the key or keys combination used to enter BIOS.
Note 2: The message for entering BIOS varies greatly from computer to computer, here are some common ways you might see this BIOS access message:
a. Press [key] to enter setup
b. Press [key] to enter BIOS setup
c. Press [key] to access BIOS
d. Press [key] to access system configuration
e. Enter BIOS by pressing [key]
Note 3: If you're running a Windows 8.1/ 8/ 10 operating system that came preinstalled on the computer from the factory when purchased new – it comes with UEFI BIOS (differ from the Legacy BIOS used for Windows 7/ Vista/ XP), you'll need to access UEFI BIOS and disable "Secure Boot" option and enable "Legacy" on Windows 10 (how-to) and Windows 8/ 8.1 (how-to), then follow the instructions given in this guide to change the boot order option on Legacy BIOS Setup.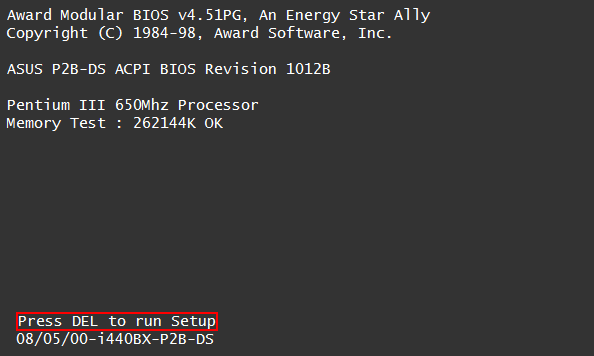 Once you're in the BIOS Setup screen, you can see the menu options are listed horizontally at the top of the screen, the instructions given for navigating around your BIOS are listed at the bottom.
Now, use the arrow keys to switch to Boot tab, and then select Boot Device Priority and press Enter. After that, set 1st Boot Device to "CDROM" or "Hard Drive", depending on the media type of Windows 7 password reset disc you created in the step 1.
Be sure to know that the BIOS on different computers may list the USB boot option as USB or Removable Devices, or Hard Drive option.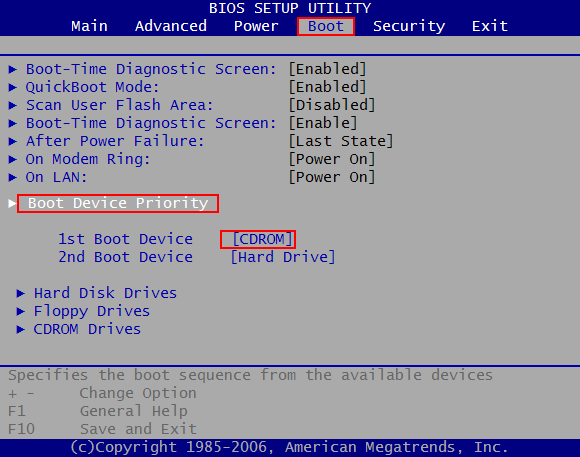 Some PC manufacturers may have different BIOS setup interfaces. Anyway, find the boot order option (it might be called "Boot Device Priority", "Advanced BIOS Features", "First Boot Device", "Boot Sequence") and set the boot order. Read more: How to set BIOS to boot from CD ROM or USB flash drive on different of PCs.
Next, saving the changes by going to Exit tab, or by pressing the F10 key (see grey area at the bottom of the screen), and your computer will restart automatically, and attempt to boot from the USB or CD device you specify ealier.
Step 3: Start resetting a Windows 7 Password
After it automatically boots your locked computer from the disc, then you should eventually see the screen below.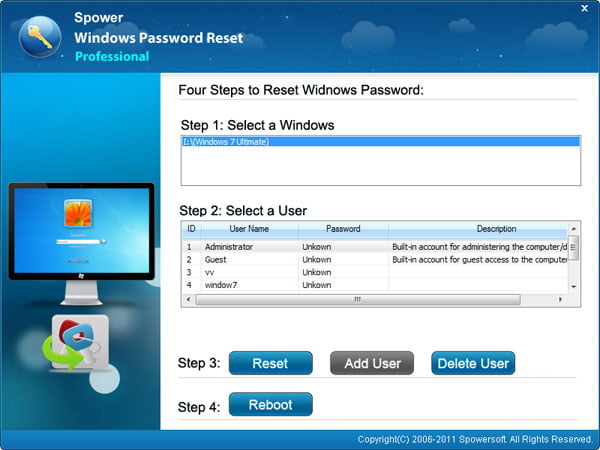 Now, simply choose target user account you want to reset password for, and click "Reset" button to start resetting your Windows 7 password. In Windows 10/ 8/ 7/ Vista/ XP, the password will be set to blank (empty password). In Windows Server 2012/ 2008/ 2003/ 2000, the password will be set to Spower@2011 by default.
Once the password reset successfully, restart the computer by clicking "Reboot" button and remove the CD/DVD disc or USB flash drive from the computer (important!). That's all there is to it. Now you can login to Windows 7 user profile without a password at all.
Done!
Since you previously configured CD/DVD or USB drive as the first boot device in boot order in BIOS, your computer will check it for boot information each time your PC starts, rather than starting "normally" with your Windows 7 OS installed on hard drive. So here you will need to remove the disc.
Not having a Windows 7 password is a big security concern, so we recommend you configure a new password right away. Also, please take good care of the password reset disk created previously so you'll never need to worry about forgetting the password to Windows 7 on your computer again.
How to Delete a password or create a new account (Special version only)
After Step 2 operation, restart your computer and boot from the disc, you will be facing with a screen as shown below. Just choose any admin or user account and click the "Delete" button to delete that account, or hit the "Add User" to add a new Administrator or common user account with password.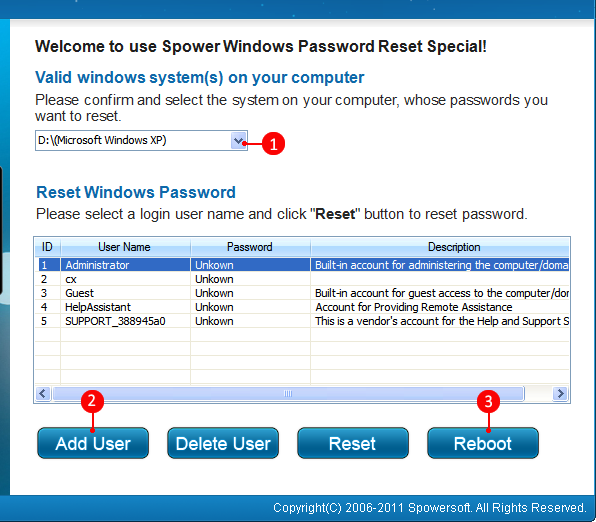 Professional Edition
Download | Buy Now ( only $19.95)
Support creating a Windows password reset CD/DVD disc and USB drive
Reset local Administrator and user account password
Compatible with Windows 7 (32/64 bit), Vista (32/64 bit), XP, 2000, etc.
Ultimate Edition
Support creating a Windows password reset CD/DVD disk or USB drive
Reset local Administrator and other user account password
Reset domain administrator passwords at easy
Support Windows 8/ 7/ Vista/ XP (32/64 bit), 2000, Sever 2012, 2011, 2008 (R2), 2003 (R2), 2000, etc.
Special Edition
Create a new local & domain Administrator account
Reset local & domain Windows Admin and ordinary user password
Add or delete local & domain user account
Create Windows password reset CD/DVD disc or portable USB drive
Support Windows 7 (32/64 bit), Vista (32/64 bit), XP, 2012, 2011, 2008 (R2), 2003 (R2), 2000, etc.
List of Laptops & Ultrabooks, Desktops & All-in-ones Supported

Asus
Business (B23, B33, B43, B53, P31, P41, P43, P53 series); Gaming (G51, G53, G55, G60, G73, G74, G75 series); Multimedia (N43, N45, N46, N53, N55, N56, N61, N76 series); Special (Bamboo, NX90, VX5, VX7 series); Superior (U24, U30, U31, U32, U33, U35, U47, UX32 series); Versatile (X501, X401, X301, K75, K95, K45, K55, A42 series), etc.

Acer
Aspire E1, TimelineX, V3 series (one d250; 5100; 5315; 5517, 3680); Travelmate, Power, Veriton, Extensa, Ferrari, Altos, etc.

HP
cm1312, cm2320; d530; g60; mini 110, 210, 1000; Pavilion g6, g7, dv6, dv7; Envy; x2 Laptops; Essential Home (2000z-2d00, 2000t-2d00); Probook, Folio, Elitebook, Touch Smart, Vectra, OmniBook, etc.

Lenovo
ThinkPad ( T, X, E, L, W series - t40, t42, t43, t60, t61, t410, x31, x40, x41, x60, x61, x220, r40, r51, r52, r60, etc.), IdeaPad (Y, V, U, S, Z, Flex, Yoga, series), Essentialt (G series), 3000 Series, ThinkCentre, ThinkStation, Yoga, etc.

Dell
Axim (x51), d600, d610, d620, d630, e1505, e1705, e6400, e6410; Inspiron mini (10, 1012), 1000, 1420, 1501, 1525, 1545, 1720, 6000, e1505, n4010; Latitude 2100, d520, d600, d610, d620; XPS 410; Alienware, Dimension, OptiPlex, Precision, Vostro, etc.

Toshiba
Satellite (a205, a135, i305, a215, i505, c650, c655, c840, c850, l300, l305, l505, l840, pro a300, p840); Qosmio (x875); Portégé; Tecra, Equium, etc.

Shuttle
Glamor G-Series, D'vo, Prima P2-Series, Workstation, X Mini XPC, Surveillance

Sony
VAIO E, L, S, T, Z series, PCG-Series, VGN-Series, etc.

Samsung
ATIV Book, Series 9 Ultrabook, Series 7, Series 6 Notebook, Series 5, Series 3, etc.

Compaq
Presario, Prolinea, Deskpro, Systempro, Portable

eMachines
eMonster, eTower, eOne, S-Series, T-Series

Fujitsu
LifeBook, DeskPower, Amilo, Esprimo

Gateway
DX, FX, One, GM, GT, GX, Profile, Astro


Micron (MPC Computers)
ClientPro, TransPort

NEC
PowerMate, Versa, W-Series

Packard Bell
8900 Series, 9000 Series, Pulsar, Platinum, EasyNote, imedia, iextreme

Sharp
Notebook Laptops, Actius UltraLite