How to Transfer Call History from iPhone to Samsung Note 8
For some people, call history matters a lot in keeping track of their events and activities. The screen on your device provides a chronological log of call details including missed calls, answered calls, outgoing calls as well as call duration and the time a call is made or received. When you switch to a new device, it is better to take the call logs for the ride. In this post, an effortless method is introduced to transfer call history from iPhone to Samsung Galaxy Note 8 phone, which was released in Aug. 2017.
If you are fed up with iPhone and plan to jump ship to Android, then Samsung Galaxy Note 8 is the preferred option. Thanks to Samsung's foray into user-oriented features, the newly-launched Galaxy Note 8 is taken up a notch in terms of features and design. With the infinity display and invisible home button, Samsung Note 8 provides 14 percent wider viewing area than the previous version. With the aspect ratio of 18:5:9, you can go through more content like photos, news and reviews without scrolling down frequently. More is to be discovered about Samsung Galaxy Note 8 Android phone.
It sounds cool to resell your iPhone in exchange for a terrific Samsung Note 8. To pick up where you left off with call history, the top priority is to get the call logs from iPhone onto Galaxy Note 8. It is impossible to rebuild the same call history in your Note 8 phone, so it is necessary to find a direct way to do the trick.
Luckily, Phone Transfer provides a good choice when it comes to moving call history from iPhone all the way to Samsung Note 8. Other transferred data consists of contacts, photos, text messages, tracks and more. With this program, you can also migrate data between iPhone and other Android devices from Google, Huawei, LG, Motorola, HTC, OnePlus, ZTE, Sony and more.
Please take some time to learn the quick guide in coping all your iPhone call history over to Samsung Note 8 phone as below so that you can try your new gadget soon.
Step 1: Run the program and enter "Phone to Phone Transfer" mode
Launch the program on your computer, you should see a screen like image shown below.
In our case, choose "Phone to Phone Transfer" mode. As you can see from three other modes, the program also allows you restore from backup you created in iTunes, iCloud and OneDrive previously, back up your phone data on computer and external hard drive, and even wipe out the data from old device pemanently.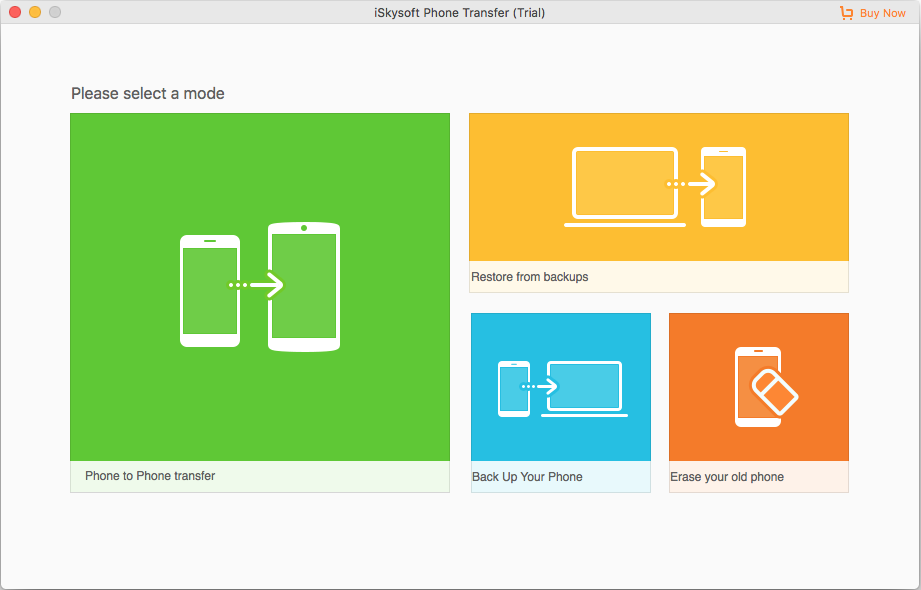 Next, you will be prompted to connect both your phones to the computer using a USB cable. On Samsung Note 8, USB Debugging Mode must be activated. On iPhone, just tap trust to continue.
Step 2: Mark call logs from scan results
Once connected successfully, your two gadgets will appear on the both sides. The button "Flip" is used when the two devices are misplaced. In this case, iPhone should be placed on the left (source) and Samsung Note8 on the right (destination).
All the data in your iPhone will be scanned automatically and displayed on the middle pane as the window shows as follows. On the content box, you can select what file type to be migrated by check the box placed next to each file type. In this regard, tick off Call logs. If you have other data to be transferred, do the same.
Step 3: Transfer call logs
Now, press the button "Start Copy" button at the bottom center to initial the process of copying call logs to Samsung Note 8 phone from iPhone. During the whole process, please make sure both devices stay connected. Also see: How to recover contacts on Samsung Galaxy Note 8 phone
This way, your new Samsung Note 8 will be populated with all the call logs from your iPhone.
Happy call history migrating!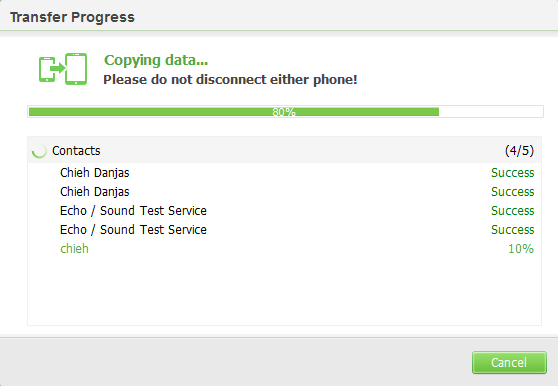 The Bottom Line
Apart from call history switch from iPhone to Galaxy Note 8, Phone Transfer is capaple of transferring other sorts of data between your iOS and Android devices. Back to the main interface, you can see another two modes "Back up Your Phone" and "Restore from Backups". This is useful to save your data to the computer in case your handset breaks down or the information within gets lost.
In a word, Phone Transfer is nonetheless a very handy utility for those who want to move their data quickly and seamlessly. Try it!