How to Rip Blu-ray/DVD to MKV on Mac and Windows
You may ask that watching Blu-rays on Mac is already not an easy thing, not to mention to convert Blu-ray to MKV on a Mac. How it could be happened? As a Mac user, I definitely understand your suffering that be fond of high-definition content, download 1080p videos from iTunes, enjoy Blu-rays on high-definition Television, but can't enjoy Blu-ray collections freely on Mac. How annoyed it is for a Mac Blu-ray enthusiast! Here we'll show you how to decrypt, rip and store the contents of a Blu-ray disc in an MKV container, which stores multiple video/audio tracks with all meta-information and preserve chapters.
Blu-ray Ripper for Mac, with the advanced Blu-ray decryption and conversion technology, is just the solution for you to rip from both DVDs and Blu-Rays to MKV, MP4, AVI, MOV, and any other video format you need with a single click. The program is designed to keep everything simple and make a working rip in just a few clicks of your mouse. The app do the DRM crack on your disc, remove region codes, disables forced subtitles or delays. and even convert 2D to 3D for 3D enjoyment. The program is available for Windows user to rip Blu-ray to MKV, more detailes please check Blu-ray Ripper for Windows.
The program makes the process exceedingly easy and supports a wide variety of devices. Let's check how it makes out to rip Blu-ray to MKV video files on Mac to get high quality, space-saving results.
Step 1: Open Blu-ray/DVD content
Now insert your Blu-ray/DVD into your Mac's DVD drive and launch the program. To select content you would like to convert hit the "Add Blu-ray/DVD" button on the left side of menu bar. In the opened window browse for the movie files to load onto the program.
You can also drag-and-drop files to the main interface of this blu-ray to MKV application.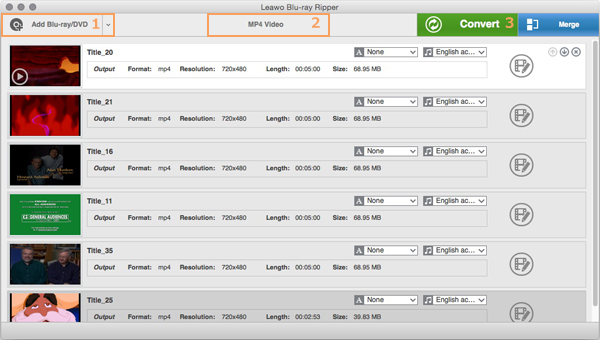 Step 2: Select "MKV" as output format and set up the output parameters
Click on the "MP4 Video" button next to the "Add Blu-ray/DVD", it will pop up a small drop-down menu.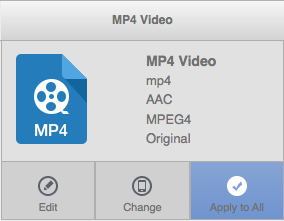 Then, click on the "Change" button to switch to the following screenshot which including output format options. Here I'm going to convert the Blu-ray to MKV format, so just click Format Tab, and next Common Video, then hit MKV Video, a format that's open in nature, supports DTS and AC3 audio.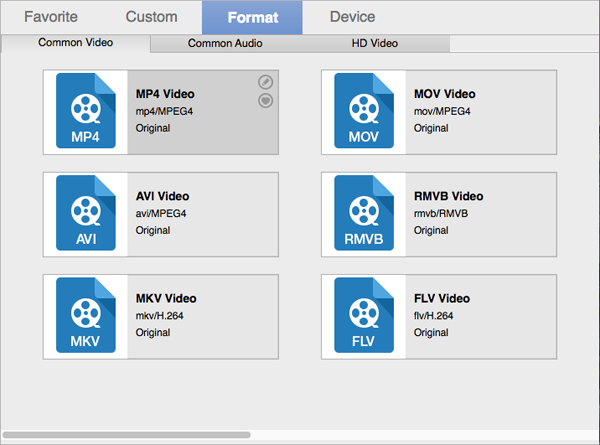 You can also click the PEN icon on the top side of MKV option to adjust output parameters manually including video codec, audio codec, quality, video size, bit rate, frame rate, etc. In this case please note that the less values you set the less file size and quality of your output video you get and vice versa.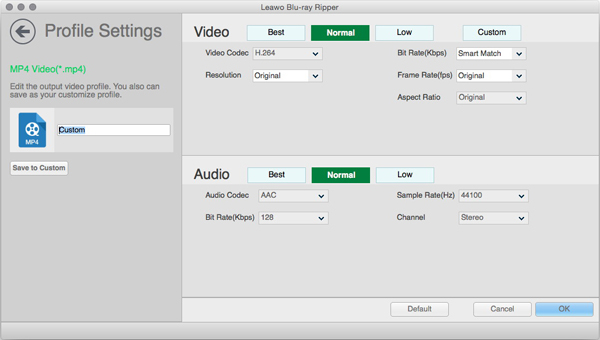 Tip: If you need to convert your Blu-ray video for a specific device you can also use the Device Tab (next to "Format" Tab) and select the button corresponding to the desired device.
Now, back to the main screen. Before the final converting, the Blu-ray to MKV converter also provides user-friendly video editing features for you to customize your Blu-ray/DVD files: Trim, cut, split, merge, rotate, mix videos. Apply effects and overlays, insert menus, audio, texts and subtitles, etc. You can implement it by clicking on the big "Edit" icon on the right side of corresponding title.

Step 3: Convert your Blu-ray
After you have the settings configured, press the "Convert" button at the top side of the main interface, this will require you to select a location on your HDD for the output video file. Please take a note, you need to make sure that the destination of the rip is going to need to be somewhere with a lot of hard drive space.
Again, click on the "Convert" button to make it run and convert Blu-ray to lossless MKV file. The final file is equal to the original M2TS file itself and can be anywhere between 24GB to 50GB.
The screen shows a snapshot of the overall progress, and the conversion process may take a lot of time depending on your computer capabilities and disc data, as Blu-rays can hold up to 50gb of data.

Please keep in mind that the output file is in the MKV format won't play just anywhere. The playback for this non-common format demands a media player that is capable of handling MKV files like VLC.
Hey, you can also convert the MKV to mp4, mkv to quicktime mov file, your Android device or whatever you happen to own via video converter.
That is it!