How to Convert MP4 to MP3 File on Mac/ Windows
How do I extract just the music file from mp4 to mp3 audio on iMac. I'm trying to upload a video to mp3-sharing site and it says I need an mp3 format. The media file is in mp4 extension. Is there a way to rip it? And, if so, how?
While you are a regular Mac user, but periodically have to use a PC (or vice versa), you indeed need to get your movie and music be available in a variety of formats. One problem is that how do you get an mp3 sound track when you have a mp4 video in hand? Maybe you just absolutely need to listen to the music on a dedicated music player while on the go, without taking along a big size of video. Or maybe you just want to insert an MP3 file into a project for presentation purpose. Luckily, video converters have been around for several years, allowing users to convert songs from MP4 to MP3 format (Compressed audio file) on Mac/PC and give you the flexibility you need to have your favorite tunes at your fingertips.
One of the most popular program we suggest here is Video Converter for Mac. It's capable of extracting audio from any given video files--like MP4 to MP3 on Mac OS X, and converting almost every audio and video format. Plus, it has a group of pre-designated options to make exported file suitable for many devices including iPod, iPad, and mobile players like Android phones, Kindle Fire, PS4. Its Windows version - Video Converter for Windows also has ability to paste a URL from numerous video-hosting sites, such as YouTube, and then download the video from there, and convert it into any offline format of your choice.
The following article is a guide shows you how to extract audio tracks from MP4 to MP3 file on Mac OS X, the conversion process is simple and can be done fairly quickly. Let's take a look!
Step 1: Import MP4 videos
The first step is opening up the program and then simply press "Add File" button, browse to the location of the MP4 file. Highlight the file and click Open to load file into the screen. The file will be shown in the conversion file list, see screenshot below.
Step 2: Select MP3 as output file
The next step is choosing the desired mp3 audio format. In this case, select "MP3" from the "Profile" drop-down menu beneath the project area.
If you want to play the converted audio file to popular media devices like iPod, iPad, iPhone, PSP etc., you can choose the ready presets on the left side for the corresponding device. The MP4 converter for Mac will automatically simplify the selection of output settings.
Step 3: Start to rip MP4 to MP3 Mac
After you finish choosing the settings you want, just hit the "Convert" button to start .mp4 to .mp3 sound file conversion and wait until it is done processing. It may take a while depending on the length of the video and the setting you choose.
That is it! Now you're ready to listen to your MP3 or import it to your player, iTunes, or music library. Have a fun!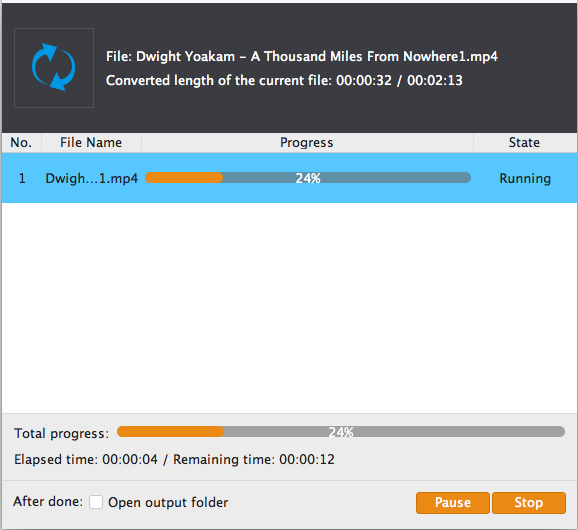 More Related to MP4 to MP3 Conversion