How to Use iTransfer: Home Shortcuts
iTransfer (download link: for Mac, for PC) is a robust and full-featured utility that makes it easy to manage and transfer contents amongst your iOS devices, Android devices, iTunes and computer. It does everything from migration of media content between your mobile devices and computer all the way through to rebuilding your entire iTunes library, to creating, deleting, renaming playlists, fixing music ID3 tags and moving tracks from one playlist to another on your iPhone library, and even to rooting your Android phones and more.
Now, we will show you how to use the tool to manage and transfer your different types of media files respectively. Click any article on the list below to get into the detailed instructions. Note that the process is exactly the same whether you're on a Windows PC or a Mac.
Part 1: Shortcuts - 1-click Transfer
Launch the software, plug your device into the computer via USB cable. When you connect your iOS device to a machine for the first time, a message should comes up on your device home screen asking whether you trust the computer. Tap "Trust" to allow the connection.
Now your device will be listed on the upper left side of the main interface. If you have more than one iOS device (iPhone, iPad, iPod) connected, you will need to select the one you want to manage.
As you can see in the main area of the interface, there are 4 quick accesses to finish your tasks easier.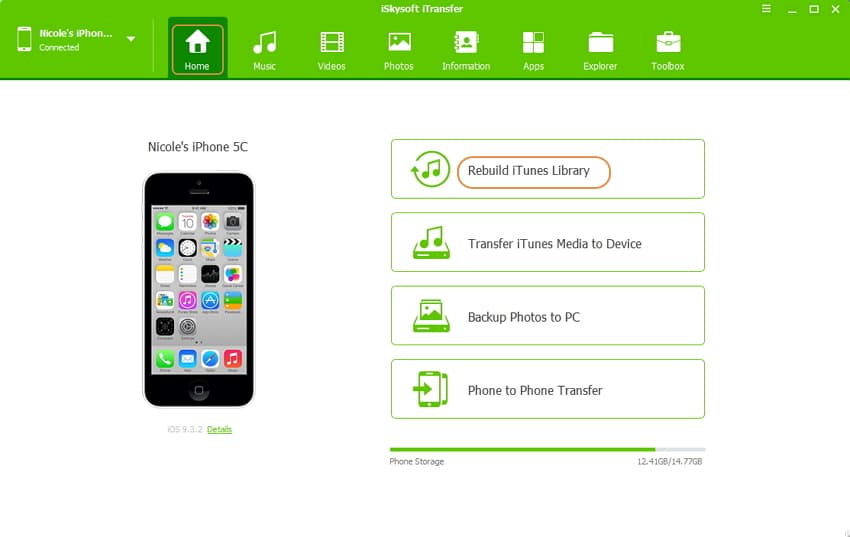 Rebuild iTunes Library: One-click to transfer music, videos, playlists and other iTunes-supported content from your device to your iTunes Library.
Click "Rebuild iTunes Library" shortcut on the main interface.
On the pop-up window, Click Start button, the utility starts scanning your device and detect the exclusive media files that are not existing in iTunes simultaneously.

Select the media types you want to copy to iTunes from the scanned resulting list, and click Start to proceed.
Transfer iTunes Media to Device: Retrieve files from existing iTunes library and add to device
Click the "Transfer iTunes Media to Device" shortcut on the main interface
The program will start scanning contents included in your iTunes library and display the entire library on a new new window. By default, all scanned items will be checked, you can uncheck any of them and only select the ones you want to transfer.

Click Transfer button on the bottom right corner to start the transferring process. Note that if you're using a iOS handset as receiving device, the program can automatically detect the duplicates and only transfer the exclusive contents from iTunes to it.
Backup Up Photos to PC/Mac: Copy all of photos on your device and save on computer.
Click the "Backup Up Photos to PC/Mac" shortcut on the main interface
In the pop-up window, browse and choose the location for the output photos. Click OK to start moving photos from your device library to your PC or Mac (if you're on a Mac).
Phone to Phone Transfer: Migrate data from one device to another
Click the "Phone to Phone Transfer" shortcut on the main interface
On the pop-up window, select the receiving device from the drop-down list and click Next.

On the next screen, you're required to select which contents you want to transfer. By default, all items including Music, Videos, Playlists, Contacts, Photos from sending device are checked. If you tick "Delete contents on target device then transfer" option on the lower left corner, data related to that item on your receiving device will be cleared out firstly before you make a transfer.

When you're satisify with your selection, press Transfer button located on the lower right corner. Keep your devices connected during the whole migration process. When the transfer completes, click OK.
That's it!
More detailed instructions about the iTransfer software: