How to Convert FLV to MP4 (or .mp4 to .flv ) on Mac/ Windows
I have about a dozen .flv videos that need to be edited in iMovie and then sync to view on my iPad, I understand I have to convert the flv format into .mp4 or m4v file, I'm new at this. Please feel free to suggest any great converter software?
I have just a high quality MP4 video in iMovie and now wish to split into some smaller clips that can display in Flash on my website. I have tried few of programs to turn the MP4 to .flv on my Mac, but the image quality is not good, any good tool here?
FLV is a flash file format that's designed to play in a Flash Player or web browser plug-in. It is the way to watch videos on the Internet, and many of video-sharing websites like YouTube encode their media as FLVs. While MP4 (H.264/MPEG-4 AVC and MPEG-4) format is ideal for a wide variety of mobile devices, including the iPhone and Android-based products. Both of them are simply containers for video and audio track with different codecs.
You might have some .FLV files obtained from YouTube and want to convert the .flv to .mp4 format so that you will play them on an Apple product which read .mp4 natively. On the other hand, if you want to upload a MP4 video and distribute on a YouTube-like website, you'll probably need to compress it to make it more small size, then you can convert from MP4 to FLV on Mac.
Video Converter for Mac is lightweight conversion software specially designed for Mac users to convert FLV to universally accepted MP4 format or MP4 to FLV file on Mac. It's also capable of converting almost any other multimedia format you've ever heard with the original quality after the conversion. You can also do some editing with your FLV files before converting into MP4 to get a desired output file. Windows users can use the equivalent version - Video Converter for Windows. Do note that its Windows version has built-in plugin which lets you easily download videos off online and convert in a number of file types.
OK, let's take a look at how easy is to convert FLV to MPEG-4 file on Mac OS X. the process on Windows is pretty much identical to the one described below for Mac. Let's get started.
Step 1: Import FLV videos
Launch the Mac FLV to MP4 converter app, you'll be presented with an empty window that serves as a drop target for video files.
Click "Add File" button to open the file browser window and import .FLV files – or any other video formats. You can also manually drag the target FLV files into the program. In the main panel, you can delete one or more files as you like and preview your files before conversion.
It comes with bulk conversion that allows you to create queues if you have multiple FLV videos to convert.
Step 2: set the output format to MP4
Next, move to bottom section of the window. There is a drop-down menu named "Profile", where you'll choose what format the resulting file will be in. Just click it to open the panel and then select MP4 as exported format.
Then, just make sure where you intend to save the FLV file by clicking the "Destination" option.
In "Setting" window, H.264 and MPEG-4 video codec are supported. Since I'm going to convert .flv file into an .mp4 file with the same frame rate as the original, so here I won't change any settings of the video.
Rather than choosing a specific output format, if you have a device you want to play the video on, you can alternatively select your device profile from the "Preset" drop-down menu on the left side, this Mac FLV to MP4 converter will adjust the conversion settings appropriately.
Tip: For converting for a device that "Presets" list have not, please follow your device's user manual for the correct supported resolution, and set it manually (if needed) before the conversion.
Video editing (optional)
Actually, before converting FLV file, as an optional step you can choose or not, you are offered some useful edit functions to edit the FLV files in the program such as things like trimming, cropping, flipping, adding effects, watermark.
Step 3: Start Converting FLV file to MP4 in Mac
Alright, you can simply press the "Convert" button on the bottom right corner to begin encoding FLV to MP4 on your Mac. A couple of minutes later you will get a very quality MP4 file. Conversion will take a bit of time, obviously vary depending on the size of the FLV flash file and your computer hardware specs.
That's it! Now you can drop the converted MP4 files into iTunes to sync with your iOS player and enjoy them in the living room, on a trip, or anywhere.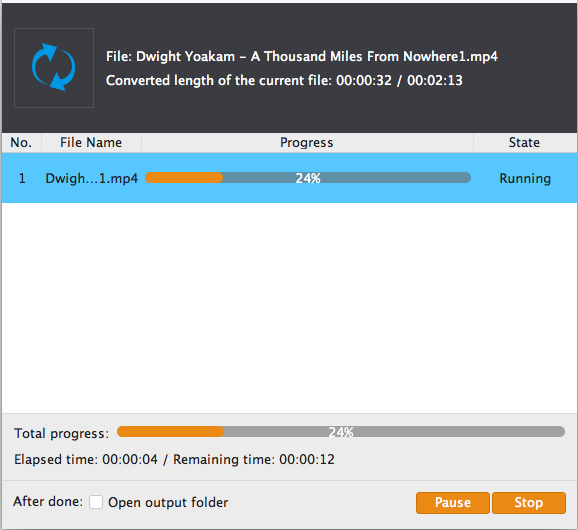 You can benefit from using this Mac app to make your FLV files work on iPhone, iPad, iPod, QuickTime, and FLV to iTunes, Final Cut Pro, Sony Vegas Pro, Windows Movie Maker, Xbox 360, etc.
What is the difference between H.264 and MPEG-4 video
H.264 is a part of the MPEG-4 standard (MPEG-4 Part-10). Both of them can be wrapped in .mp4 file container. H.264 has more advanced compression methods than the basic MPEG-4 compression. It can efficiently record more information and data on the same container with high compression rate than that of MPEG-4 encoding. It also preserves a excellent video quality and requires a lower bit-rate for network transmission than the basic MPEG-4. It has a better hardware-support as well.