How to Convert MKV to FLV on Mac and Windows
How do you upload an MKV file to YouTube quickly? I had just downloaded a video with .mkv format, I want to upload this video onto YouTube But it keep saying "Error" So it won't upload. The size of video is 1.1G.
MKV format stores high-definition video in a compressed multimedia file with high-definition quality. MKV files are most often associated with Blu-ray and HD DVD movie discs. However, MKV files containing large gigabytes of data to video-hosting websites, like YouTube, Vimeo, Google Video are slow to upload and download. One of the most efficient methods that can significantly compress the file size without losing quality is convert these MKV to FLV flash video. Or you wish to enclose your favorite MKV files to your friends via Email, you also need to convert them to an Email supported format – that is FLV.
Since that you have dozens of reasons to converting MKV to FLV on a Mac or Windows machine, you need a professional tool to convert the video and shrink to a smaller size. Video Converter for Mac introduced here is one of the most versatile media converters for in functionality. It can read and save almost all popular video formats, and much more than that, it has tons of ready-define profiles for handheld players which take the hard work out of knowing how to configure settings. Its equivalent version - Video Converter for Windows is available for you to transcode the MKV file to upload onto YouTube on your PC.
Here is a general tutorial that illustrates how easy it is to convert a MKV to FLV format for Mac OS X.
Step 1: Input MKV files
Click "Add File" icon on main menu to browse your computer hard drive and load MKV videos, or use drag-n-drop feature to upload the file. Once you've successfully dragged the files you want to convert, it should be listed like below.
The MKV to FLV converter allows you to combine smaller video files to make a single video. Simply select all the video files and click the "Merge" button.
Step 2: Select FLV
Once chosen, select the FLV from the "Profile" drop-down menu beneath the Audio Track option. Please note that there are common FLV and HD FLV outputs in the list, so if your source MKV files are HD, it's advisable to select a "HD H.264 FLV Video (*.flv)" under "HD Video" category.
For experienced users, you are allowed to go very deep in a set of encoding parameters in "Settings" panel.
Then click on the button in "Destination" box to specify a directory that the program will output file to.
Take note of the Presets column on the left-hand side. To quickly select appropriate output settings for your device rather than tweaking them in "Settings" panel manually, this Mac MKV to FLV converter has embedded a number of ready presets - iPhone, Apple TV, iPad, Kindle Fire, as well as other android devices.
Step 3: Start encoding on your Mac
You should now be ready to begin encoding the MKV to your hard drive, so simply hit the "Convert" button, the MKV to FLV conversion will run. Process times will be anywhere from a few minutes to hours depending on the power of your system, the size of the source file and the encoding settings you use.
That's it! You just converted MKV to FLV flash file! How easy!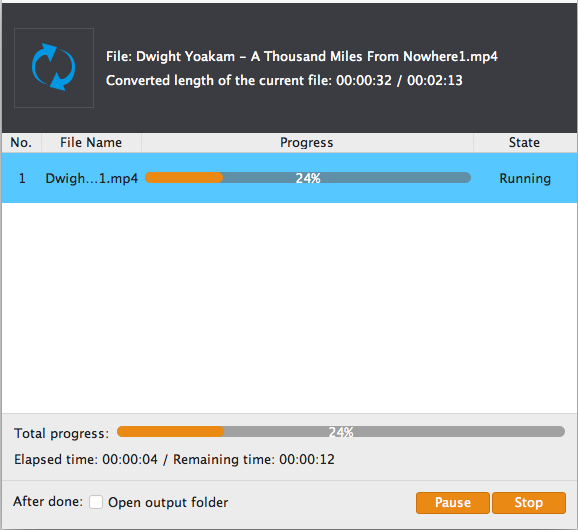 More Related to MKV FLV Conversion