How to Convert MKV to MPEG (or MPEG to MKV) for Mac & Windows
I have downloaded a few 1080p HD movies with .mkv extension, and now I want to put them into Sony Vegas, but it won't open them. Are there any codecs available that allow them to be opened in Sony Vegas, or is there a MKV converter that is made to convert from mkv to mpeg-1 or mpeg-2 that Sony Vegas can read (I have read SV specs)?
It is a fact that many of downloaded high definition videos are in MKV (Matroska Multimedia Container), a format that will accept multiple audio tracks, picture, DVD-like interactive menus, and external subtitles. Many people who have a file in .mkv format will often try to play it back with video players or load into video editing software on computer. Most of the time this doesn't work - often the proper decoders for the streams (video, audio and subtitles) contained in this particular MKV container are missing. In order to full enjoy the MKV movie files, making transcoding of MKV to a more standard file format like MPEG (.mpg) is necessary. In this walkthrough I'm going to tell you a quick and easy way to convert MKV to MPEG format using the cross-platform program - Video Converter.
Video Converter for Mac is an amazing tool for converting the MKV to MPEG on Mac and converting your other video files. It gives you the ability to set video parameters like video resolution, quality, codec and bit rate to produce a quality file, and edit your MKV files for creating personalized videos - you can crop, trim, rotate, watermark, and adjust videos. This program is available for Windows user, so you can use Video Converter for Windows to convert MKV to MPEG on a PC system.
Below assorted are step by step guide of how to convert a MKV file into MPEG on Mac OS X, before that, you need to download the copy of program firstly, install and run it on your Mac.
Step 1: Load MKVs
Import MKV video files stored on your hard drive by clicking "Add File" button or by Drag-and-Drop to add files. The app features batch processing, making thing easier for converting an entire season of a TV show or a bunch of MKV movies at a time.
If you have several MKV videos and wish to join them to make one massive video file, just highlight those videos and click "Merge" button.
Step 2: Select targeted MPEG format
Now go to "Profile" drop-down menu, it lists a variety of file format and pre-configured profiles. For the purposes of this article, we only need to convert from MKV to mpeg format, so here choose MPEG from "General Video" category (or "HD MPEG Video" from "HD Video" category, assuming the MKV source is HD) as output file. Then designate the output folder under "Destination" box.
By clicking on the "Settings" button, A couple of options (such as bit rate, quality, channel...) show up in a new window where you can modify them with preferred values. But for a quick conversion, you can leave this by default.
Step 3: Start converting MKV to MPEG file on your Mac
Begin the MKV to MPEG conversion process by clicking the "Convert" button at the bottom of the windows. Just let the program performs its magic.
That is it!
BTW, if you are running on a Windows PC, the program's Windows version even supports GPU accelerate, so you'll benefit from very fast encoding by using the power of your GPU.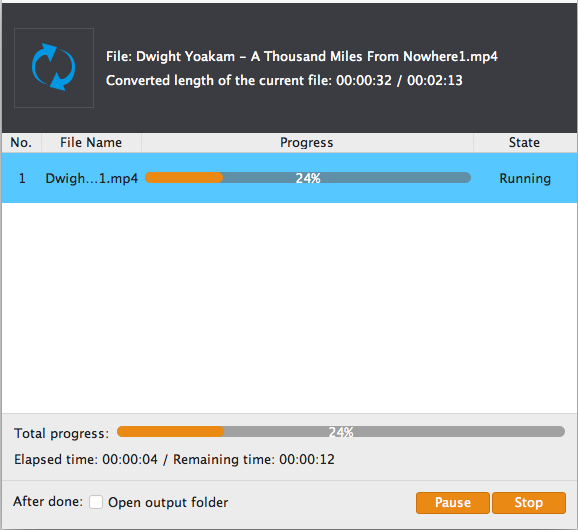 More Related to MKV to MPEG Conversion
What is Moving Picture Experts Group