How to Convert 3GP to FLV Format on Mac/ PC
3GPP file format (.3GP, designed for GSM-based Phones) and 3GPP2 file format (.3g2, designed for CDMA-based Phones) are commonly used to transmit video through 3G mobile phones and Internet. If you have a 3G mobile phone, it is no wonder that you will have a lot of 3GP files on your phone. Though 3GP file can be played smoothly on many of standard media players like RealPlayer and QuickTime, it is no clue to upload them and share on Internet on your Mac.
Luckily, with the method of changing your 3GP file to the FLV format, you'll upload the file onto video-hosting sites (like YouTube, Facebook) and ensure that visitors can access the web page and easily to find your shared video clips–at any time.
Converting 3GP to FLV on Mac OS X can be a simple process if you use a right media conversion application. When you don't want to mess with configuring lots of settings to produce quality .flv flash file, head over to Video Converter for Mac which is designed around the need to handle video and audio conversion. It's simple enough and converts your video with an impressive amount of file formats supported: MPEG-4, AVI, FLV, DivX, MP4, MPEG, MOV, WMV, 3GP and more. At the same time, you can choose its built-in preset profiles where encoding options are automatically set with appropriate values, If you are looking for a way to convert from 3GP to a FLV file on your Windows computer, just use Video Converter for Windows.
Now, you are ready to see an actual example of how to convert 3GP to FLV format on Mac. Let's begin:
Step 1: Select a source file
Launch this 3GP to FLV converter program, you will see a main interface that's clean, easy-to-use and straightforward. Click "Add File" icon on menu to browsing to find the 3GP video file on your local hard drive and load into the project workspace.
Once you complete that, you will then see the screen that looks like this:
Step 2: Choose your format
The first thing you want to think about is the specific FLV format. That's easy! You can open "Profile" drop-down list, find FLV and pick it as your desired file.
However, you may use the preset profiles as the output. The 3GP to FLV converter for Mac has several preset profiles for a variety popular devices like the iPhone, iPad, PS3, Android phones and others including YouTube, Xbox 360. Just select a preset and it will automatically optimize all the necessary settings for you.
Step 3: Start converting 3GP to FLV
If everything looks good, click the "Convert" button to begin converting .3GP to .FLV on your Mac. Just let it convert until it's finished. Your wait time depends on the size of the movie, encoding settings for the FLV and the hardware of your Mac.
After the conversion, check your output file. It should play beautifully in your media player of choice.
Have a good enjoy!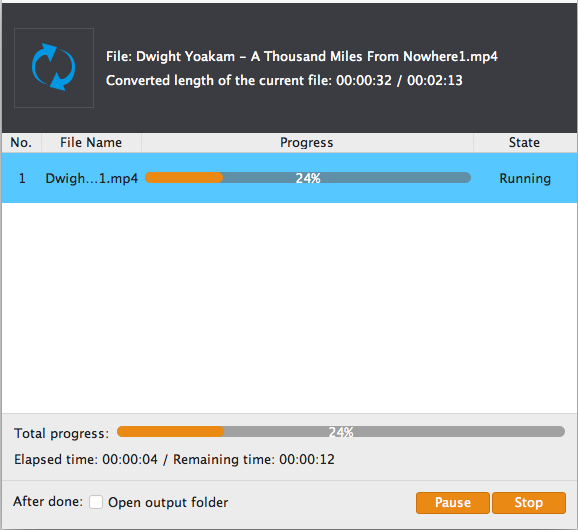 More Related to 3GP to FLV Conversion