How to Convert 3GP to MPEG on Mac/ Windows
I am stuck, I get some video clips from my friend and copy to my MacBook Air and they are all .3gp file format. I have tried 3 different 3GP video converters to convert them to .mpeg format in Mac, but the end result is very grainy and pixilated. So I was wondering any good program I could use to convert without losing clarity?
In these days you can easily obtain digital videos downloaded from Internet and shot by smart phones. These media files always ended with different file extension, and they using different codecs to compress or enhance the features. As most gadgets only supports certain formats, if you own a video file - such as .3GP, there is a good chance you have had to use video conversion software. For some reason, you may want to convert 3GP to MPEG on Mac OS X, a format generally producing better-quality video than competing formats and has a good compatibility for different devices, this is what this article is all about.
Converting a 3GP to a MPEG file for Mac actually could be very easy if you picked up the right application. There are a lot of programs out there that can be used to encode the files from 3GP and save as MPEG file, one of the most used is Video Converter for Mac that was designed with ease-of-use in mind. It supports a massive number of input formats and converts to a number of popular video formats with quality lossless. You can also convert files for different devices with few clicks. The cross-platform version Video Converter for Windows is available if you running a Windows.
So let's find out how to convert a 3GP video to MPEG on Mac. Of course, you can also use this program to convert just about any file into this mpeg.
1) Add files
Firstly what you need to do is click the "Add File" on the top of the menu to browse your computer hard drive and load 3GP videos you want to convert to MPEG. Or use the drag-n-drop feature to load 3GP files.
This Mac converter supports batch processing. This means that you can convert multiple videos per time.
2) Select format
Click "Profile" drop-down list and move to "General Video" column, you will see a group of formats that your video can be exported in. Here we go with MPEG-1 Video or MPEG-2 Video file. Advanced users then can change encoding parameters like video quality, codec, bitrate to your liking under "Settings". For the most part you can leave this alone.
Next, specify a save location for the exported file using "Destination" option.
If you convert 3GP to MPEG video on Mac just for use on a certain specific portable product that listed on the left panel, you can directly choose it as output file. The program will automatically optimize the settings for you.
3) Convert
Once you've selected format and finished settings, you can begin the Mac 3GP to MPEG encoding process immediately by clicking on the "Convert" button on the top-center of the main interface. The conversion time will take a while, which fully depends on the size of your source files.
That is it! Now you're ready to enjoy your video in your favorite media player.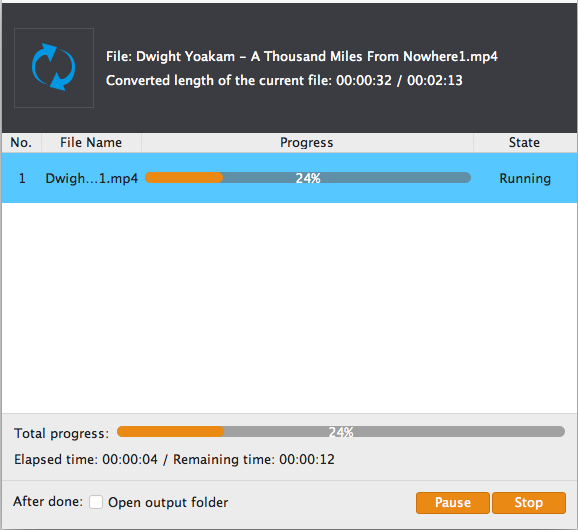 More Related to 3GP MPEG Conversion