How to Convert MOD to FLV on Mac OS X and Windows
Need to compress your .MOD video files and upload onto YouTube? If you have just shot some footages in MOD file extension with your camcorder (Panasonic SDR, JVC GZ-MG, Canon FS series), you may want to shrink the size and upload these favorite memories on the Web to share with friends, but for the novice or the non-experienced user, this type of format just become a big problem.
Since the MOD format is actually standard MPEG-2 sound file and thus you can simply rename it as .mpg (another format, i.e. FLV) which has a greater range of compatibility. However, due to a non-standard aspect ratio setup, you may get a bad experience with such renamed MOD files when viewing on computer video players: aliasing effects, images squeezed, audio out of sync. In that case, rather than renaming your MOD videos, you'd better convert the MOD file into .flv flash format that YouTube accepts well natively.
For this task, we recommend using the Video Convert for Mac. It is a gem of a video conversion app especially for users who don't need a lot of fiddly options. Apart from converting MOD to FLV on Mac, the program can convert practically any source video file and produces great video quality. Its equivalent version - Video Converter for Windows is available as well. So, media file conversion on a PC machine can be easily finished for you.
Today We'll be discussing the MOD to FLV conversion on Mac OS X for example.
Step 1: Load the MOD files you want to convert
Click "Add File" icon on main menu to locate the .MOD files you want to add, or directly drag-and-drop files to the interface of this Mac MOD to FLV converter. Batch conversion is supported by this converter, so you can load several MOD files at one time.
Step 2: Output Settings
After you have chosen the MOD file(s) you want to convert, click "Profile" drop-down list and move to "General Video", where there are many of formats that you can choose from, here we just choose FLV as output file.
After that, you can tweak the parameters of the video in "Settings" - This MOD to FLV converter offers brilliant features of customization of video quality, resolution, codecs and channels.
It's also embedded with a selection of preset formats that optimized the parameters to suit different device's screens (iPhone, Xbox 360, Android phones, YouTube...), or you can set your own.
Step 3: Start conversion
It's time to click the "Convert" button to begin the MOD to FLV encoding. You can see the conversion status on a blue bar. The time it will take for the process to complete depends on your computer and encoding settings.
Finished!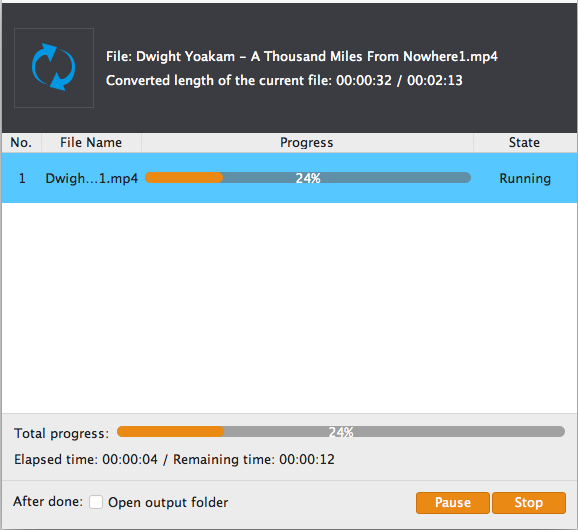 More Related to MOD FLV Conversion