How to Burn (HD) MKV to DVD on Mac & PC
Tip: if you want to convert full quality .mkv files and burn onto Blu-ray disc, please try Blu-ray Creator.
Making a playable DVD from MKV video(s) you have on your hard drive is actually pretty easy once you know how, and there are still many of DVD fans are looking to find out how to do so that they will play the full HD MKV movies on a standalone DVD player connected to big screen TV.
Matroska .mkv videos attract eyeballs simply because it supports higher quality video & audio, holds multiple subtitle tracks and other features. MKV support variety of video streams, but the most likely movie content in MKV is high-definition (720p, 960p, 1080p, 1440p, 4K) in H.264 / AVC. For MKV movies you downloaded off online through MKV torrent sites, you may have seen x264 in the filename, with AAC, 5.1 label.
In today's discussion, we'll use a program called DVD Creator for Mac which does an outstanding job burning MKV to DVD for Mac OS X. It allows you to easily perform disc burning operations, supports creating DVD from MKV, MP4, MOV, WMV, AVI and any other digital formats on Mac. In addition to that it also gives you abilities to choose DVD menu and customize it, set 16:9 or 4:3 for widescreen or standard screen, and the resulting disc is fully compatible with PAL or NTSC TV display systems.
For those who're using a PC computer and wish to convert MKV to DVD disc for home DVD player, the program also has a cross-platform version - DVD Creator for Windows that's ready for PC guys.
In this guide we will clarify one thing: how to convert 720p, 1080p, 1280p, or 4K MKV video and burn to DVD on a Mac step by step, the operations on Windows are actually the same.
Step 1: Import MKV to the program
Once you download and install this MKV to DVD converter for Mac on your computer, you're ready to begin the MKV burning operations.
Fire up the program, click the "+" on the upper right corner, a window opens, locate MKV 720p, 1080p, 1280p, 4K file(s) that you would like to burn to DVD on Mac. Or simply use the drag-n-drop feature to add MKVs to the program window.
Note that the software will display you the amount of space the imported MKV torrent videos take on the bottom bar, making it convenient for you to decide which type of DVD you will need to burn. A standard single-layer DVD will allow you to add up to 4.5GB of information, while a dual-layer DVD will holds up to 8.5GB.
Step 2: Edit the imported videos (optional)
This step is optional, you can ignore it without any action.
Click on "Edit" button on the bottom corner of video thumbnail to enter editing mode. As you can see from the screenshot below, I'm currently in Video Edit window. From there, you'll get the pleasure of producing the effect which you want to: You can crop, trim and rotate the video, apply visual effects to video and put watermark.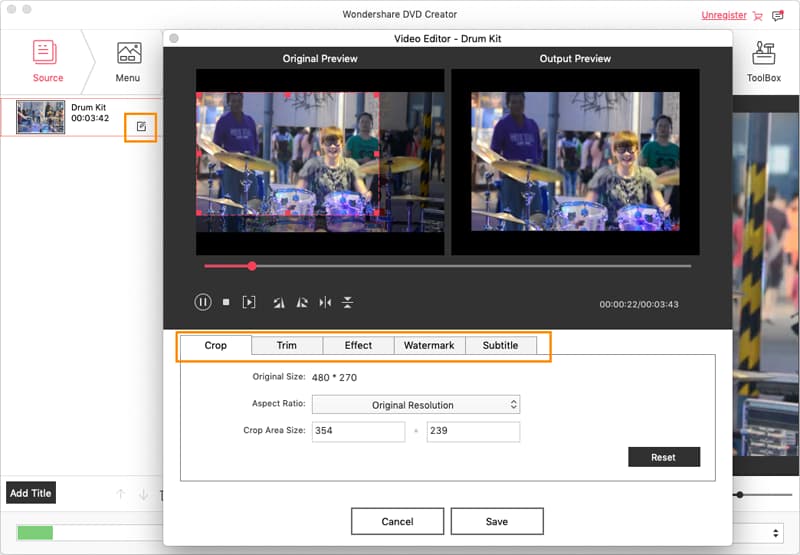 Step 3: Customize your DVD menu prior to burning MKV to DVD
To get to the full list of built-in DVD menu templates, click the "Menu" button at the lower right corner of screen as shown in the picture below. This MKV to DVD converter enables you to choose the menu templates from different of themes, adjust the Frame, arrange the Button, add the words in Text (see the corresponding options on the top right corner), and even add external music and images as background.
Tip: If you're not satisfied with any ready-made menu, you can click the "More Templates" on the bottom to download your favorite one online.
Step 4: Burn MKV to DVD on Mac
Now that those necessary operations are done, it is finally time to convert your MKVs to a playable DVD.
Press the "BURN" button (see below) on the bottom right corner of screen, this will bring up a small window where some important options you'll have to decide.
1) In Burn To, you can choose to burn the MKV on DVD for Mac directly or, if you want more control, burn to DVD Folder, .dvdmedia, or even create an ISO file for later burning.
2) In DVD Options, type a name for the DVD, choose the burning speed, and TV standard (PAL, NTSC).
After that, save them to close the window. Again, click the "Burn" button to begin converting and burning MKV format to DVD in Mac. This could take a while, be patient.
You're done! After the burning completes, take the disc out, and insert into home DVD player connected to your home theater center.
Enjoy!
More Related to MKV to DVD Conversion