How to Rip and Convert Blu-ray to MP4 on Mac and Windows
Streaming your hot movies and TV shows got from iTunes/Amazon on a portable device like iPad is a great way to enjoy the free time, but you may be wondering how you can get some of favorite movies that already contained on the Blu-ray Disc you own onto your iPad rather than paying for another copy of the movie. There are plenty of ways to extract the contents from a Blu-ray disc (BD) and convert into files that iPad reads well. For today's discussion, we'll use a small program called Blu-ray Ripper, a hassle-free way to convert your Blu-ray into MP4 format and other diffferent file types in a breeze.
Blu-ray Ripper for Mac is the kind of reliable program that gets the job done. It's simple and sleek, gets around the copy protection on Blu-ray and converts the contents to just about every video/audio format you can think of: Blu-ray to MP4, AVI, MPEG, WMV, MKV, MOV. Apart from converting the Blu-ray to a specific format for Mac, the application also has pre-configured profiles to convert the video for popular devices like PS4, Xbox One, iPhone, iPad, Kindle Fire. It is flexible and customizable and lets you choose subtitles/audio tracks, merge Blu-ray titles or chapters, trim the part of a video, crop video size, flip or rotate the video and other of options. If you are running a PC with Windows enviromentand want to rip Blu-ray to MP4 videos, please use Blu-ray Ripper for Windows.
Once you've downloaded and installed the program, you're ready to start ripping and converting Blu-ray to MP4 format. Today we are going to take a look at how it works on a Mac OS X.
Step 1: Choose the BD
Insert a Blu-ray Disc into your Mac and start the program to parse the content incleded in the BD disc. You then need to click on the "Add Blu-ray/DVD" to locate the disc on your computer and select the video titles that you wish to rip.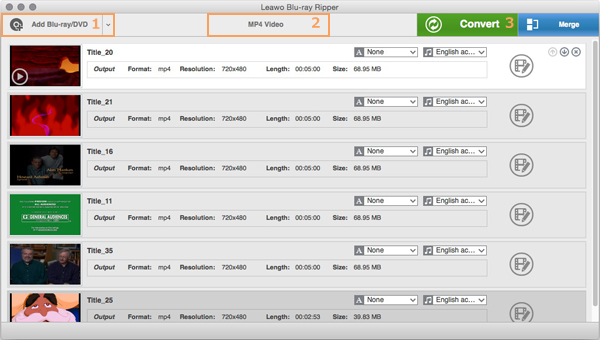 Step 2: Select a MP4 format or preset
Next, go to the output section.
As the default "MP4 Video" option (See #2) next to the "Add Blu-ray/DVD" is definetely out of the box, you can actually pass the next tips and begin the process of your Blu-ray ripped to MP4 (MPEG-4, H.264/MPEG-4 AVC) now. If that is the case, please go ahead to Step 3.
By click on the "MP4 Video" and this will introduce a new dropdown menu.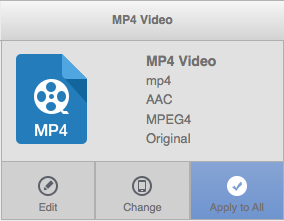 Next, hit "Change" button to open the format panel, you will choose MP4 again as output file type.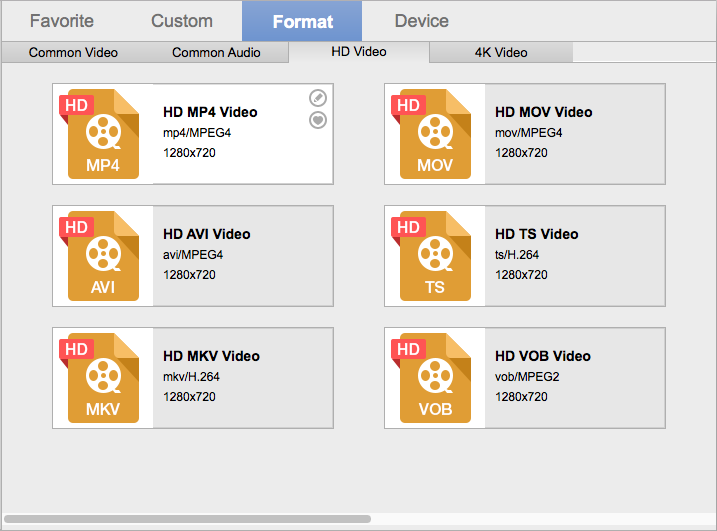 For advanced user, click the Pen icon (visible when the mouse cursor hover the format) on the side corner of MP4 to choose your video and audio settings. This Mac Blu-ray to MP4 converter gives you a wealth of options to tweak the value corresponding for every item to get the best possible file as a result. But your prefered higher-quality files will be at the cost of a larger size.
If you are not familiar with these teachniques, just leave them as they are.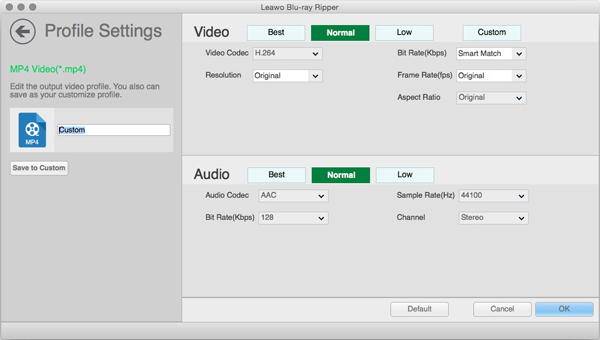 Alternatively, use a preset from Device tab (next to Format tab) for a specific device like Blu-ray to iPad, Apple TV, PS4. The application will automatically set the suitable settings for matching the device of your choice.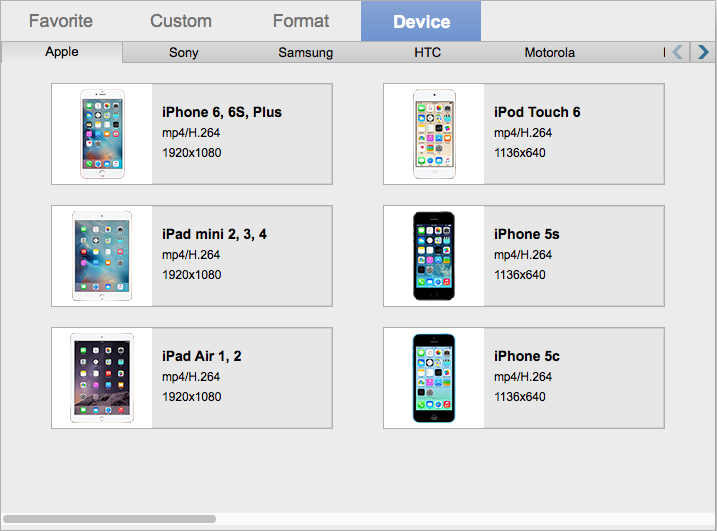 After all things goes well, back to main screen. Before the conversion from Blu-ray to a MP4, you have the options to edit out any segments or make simple video edits individually through "Edit" function on the far right side of title.

Step 3: Start converting Blu-ray
Once you've got all settings completed, you can go ahead and rip Blu-ray to MP4 format on Mac. Click on the blue "Convert" button on the top right corner of the screen to begin the encoding process. The process can take a while depending on the size of the Blu-ray movie, the output parameters that you've choose and the power of the Mac.
Once it's done ripping, you'll have the video file in the location you specified. Now, you should be able to start loading the freshly cut MP4 file into iTunes, syncing away to your handheld devices like iPhone, iPad, Samsung, HTC, LG and more, or streaming to smart Apple TV right away, then you are ready to enjoy them at home or on the go. Have a fun!

Overall, the process of ripping and converting a Blu-ray video is as simple as inserting Blu-ray disc, deciding a output profile, and hitting "Convert". You can now get going with this Blu-ray Ripper to do a quick rip and conversion for any purpose whenever.