How to Burn MP4 to DVD Player on Mac/ Windows
See more about: Blu-ray Creator makes burning MP4 videos for Blu-ray playback easy
MP4, otherwise known as MPEG-4 or H.264/MPEG-4 AVC, is one of the most popular video formats for digital video streams online and offline. Generally, movies in MP4 format have a good quality in picture and audio. Instead of watching MP4 video files on your Mac & PC it be nice to have a disc to pop into any DVD player to watch from other locations. In order to do so, you will need to burn MP4 to DVD.
Today the program we will be needing to get the job done is DVD Creator for Mac. It is a lightweight burning program that lets you easily convert MP4 to DVD that can be played in a regular DVD player. As a versatile disc burning tool, it gives you ability to create DVD from MP4 video and almost anything in a short amount of time. It also comes with a variety of pre-installed stylish menu templates, which is very cool if you're creating a disc as a gift.
If you are running a Windows-based PC and want to burn mp4 file to play on a DVD disc, please go and check out DVD Creator for Windows to get the things burn.
For the purposes of this guide we'll show you how to burn mp4 to DVD on a Mac. The app makes the burning process as simple and painless as possible.
Step 1: Add your MP4 movie(s)
Once you start up program, you will be given the DVD project window. Click "+" button in the upper-right portion of the screen, take the MP4 video(s) you want to burn and import them into the left side of the window. Or drag-n-drop files to the board. You will see the movie thumbnail and property now appear in the right pane.
Please keep in mind that you need to keep an eye on the 'green bar' on the bottom which indicates the disc capacity used. Generally, DVD5 can contain about 4.7 GB of videos while the capacity of DVD-9 is about 8.5GB.
Step 2: Edit MP4 Videos (optional)
The MP4 to DVD converter for Mac has some nice options which fit basic vieo editing needs. Simply right click the video you want to edit and then select "Edit" option to bring up the video editor. It will provide five tabs: Crop, Effect, Watermark, Trim and Rotate. Just do it yourself a favor.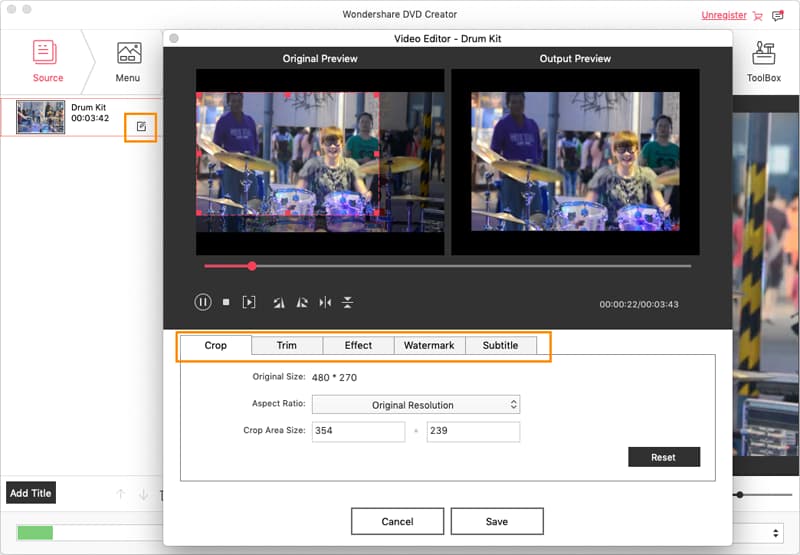 Step 3: Design a menu for your DVD video
If you wish, you may design a custom menu screen before the actual burning of MP4 to DVD. There are built-in 90+ free DVD menu templates you can choose from on the right pane of the window. If you're making a slideshow of your photos you can even add your own music from local media library. Once you choose a menu you can preview how it will look.
Step 4: Burn the DVD
Before the last step of burning mp4 for Mac OS X, hit "Preview" option near the "Burn" button on the bottom-right for a quick preview of the output DVD project.
Then switch to "Burn" option, and you'll be presented with a project settings window where the MP4 to DVD converter will ask you what kind of compilation you want to create. You can choose burn to "DVD Disc", "DVD Folder", "DVDMedia" and "ISO File" output option, and then set the TV Standard (NTSC, PAL) and much more.
After you have everything set up how you like, click on the "Burn" button to start MP4 to DVD burning process, and you'll be shown a progress screen, just wait for the data to be burnt to the disc. The amount of time it takes will vary between computer hardware and the size of the MP4 (mpeg-4, h.264) files.
Once the burn is finished, you will have a disc which you can use in your home DVD player.
Note, if you want to burn a DVD using another program that supports ISO images, then an ISO image file could be userful which perfectly represent the entire contents of a disc.