How to Convert ASF to AVI on Mac OS X and Windows
I am totally new to converting videos. I am looking for a good program to convert my asf files to avi format. Last night I have tried using a free ASF video converter (a friend recommended for me) to convert .asf with the default settings. All I get is the sound, no movie. Can anybody give me some suggestions that I might be missing?
ASF (Advanced Systems Format) is a video file format for streaming compressed audio and video over the Internet. You can view ASF files embedded in a website or download them to your computer for offline playback. However, ASF files work only with Windows-based computers and portable devices licensed by Microsoft. As good as the video might be, there's no way of enjoying it if your desktop player or handheld device can't recognize the ASF format, especially if you are involved in a Mac system. For some reason, you have to convert the ASF to AVI format on Mac OS X to work with device of your choice. Luckily, this problem is easy to solve!
To accomplish ASF to AVI conversion, one of our favorite is Video Converter for Mac. It has robust format support, stable, and feature rich. It offers a project based environment to work with where you import the ASF video on your folder, and choose a suitable output file format to get started. It helps you convert wide arrays of video & audio formats without quality-loss. The program even lets you choose from a list of profiles like iPhone, iPad, Xbox 360, PS3, smart phones, so you have the ability to play the files on different playing devices or upload onto Internet. Note please go to this Video Converter for Windows and download the software for your Windows computer for converting ASF video to AVI.
To start with, there's now an ASF to AVI Mac converting tutorial below that includes screenshot walking you through common steps.
Step 1: Add ASF files
Click "Add File" icon, A browser-like dialog box will appear. From there, browse to your ASF video, select it and load into the program window. Note, you can import several multimedia files and convert at a time.
Its interface is extremely clean, well organized, and ridiculously easy to use. The screenshot below given:
Step 2: Output configuration
Now choose which format you want the file to be exported in. Click on the "Profile" drop down menu in the lower left portion of the main window. Select "AVI" from this menu. Unless you wish to encode to specific file, you can leave the output settings at their default values.
Note, look at the preset menu on the left side. The Mac ASF to AVI converter utility contains a listing of presets optimized for popular devices you want to watch your video on.
Then you will need to define the location where to save the results using the "Destination" box.
Step 3: Start ASF converting to AVI in Mac
If all looks and sounds good, start the encoding by hitting the Convert button, and your ASF video will start converting. The process is rather swift, just have a coffee.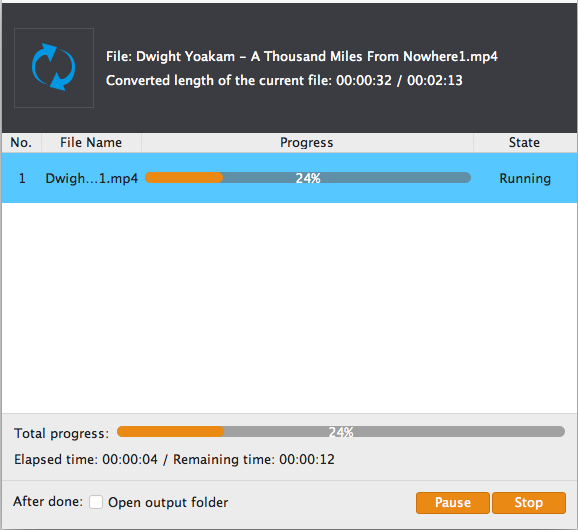 More Related to AVI ASF Video Conversion