How to Convert MPEG to M4V (or M4V to MPEG) on Mac/ Windows
MPEG, short for Moving Picture Experts Group, is a media format that used in most digital video broadcasting and cable distribution systems. It also can be used as a DVD standard format to keep good picture quality and widescreen supporting. However, Apart from its very excellent quality, you can only play mpeg file in a few choice desktop applications and portable device. If you use a Mac, things get even more tricky, whereas nearly all current Mac programs and iOS devices support M4V playback, only a handful of them read MPEG file with extra plugins.
Conversely, as for video ends with .m4v extension, no matter how you are at using it, your M4V file will always be involved in compatibility issues for certain devices and lacking of a good performance. In this case, you may want to convert the M4V format to MPEG format. Keep in mind that converting M4V content with copy-protection is not the topic of discussion here.
A wide range of software are available out there that will let you convert videos with ease. The program we will be needing to help us get .mpeg file to and from .m4v is Video Converter for Mac. It is a very cool program that you can use to convert just about every video on your hard drive into different of formats of your choice. And it holds a library of presets for common devices (like, say, an iPhone or an Apple TV) on which you want to watch the exported video.
If you're aiming to handle the video encoding tasks on a Windows PC then Video Converter for Windows can be incredibly easy to use, it makes video conversion just about as easy as it can be.
Note: If you want to convert your DRM protected M4V (and other) videos, please download DRM Converter (Windows version).
The progress of converting video is very easy. For this article, we'll be using the Video Converter in Mac to make MPG to M4V conversion. The opposite process for encoding from M4V to MPEG is basically the same.
Step 1: Add MPEG video
Start by adding the MPEG video(s) to the board. You can do it using "Add File" button on the top menu, then in the file browse window that appears, browse to where your MPEG file is located, single-click on it to select it. Or use its drag-n-drop feature to add files.
It supports almost all video formats as input, regardless of it is MOV, WMV, AVI, or MTS, VOB and MKV (see how to convert MKV to AVI). The program also supports encoding multiple files in batch. In the project area, you can delete unwanted videos and change the videos' converting order.
Step 2: Select the device or format
Select what format you are trying to export video(s) to. Click the drop-down box named "Profile" on the lower left corner, and then choose "M4V" as the output format. The only thing you need to do then is click "Destination" option to select a location on your HDD for the output video file.
It has a number of output encoding settings (quality, codec, bitrate, framerate, resolution) available for you tweaking if you want to have complete control over the video that it produces. Note, if you don't know much of the video property, I suggest that you should stick with the defaults.
This MPEG to M4V Mac converter pre-sets various target profiles for different video formats and multimedia devices need. You can just choose one, the program will configure suitable value for all video and audio properties.
Besides, the Mac app comes with editing feature that does absolutely everything you might need to do: cropping, trimming, flipping, watermark, and many more customization options.
For those who would like an professional tool for editing your videos, check out this Video Editing Software List.
Step 3: Start converting MPEG to M4V video
After you have set up all of your parameters, click "Convert" button to begin converting from MPG to M4V format on Mac OS X. When the encoding process begin, a window will pop up showing you the percentage of the Current/Total Progress, as well as the Elapsed/Remaing time. The whole video conversion will be completed very fast.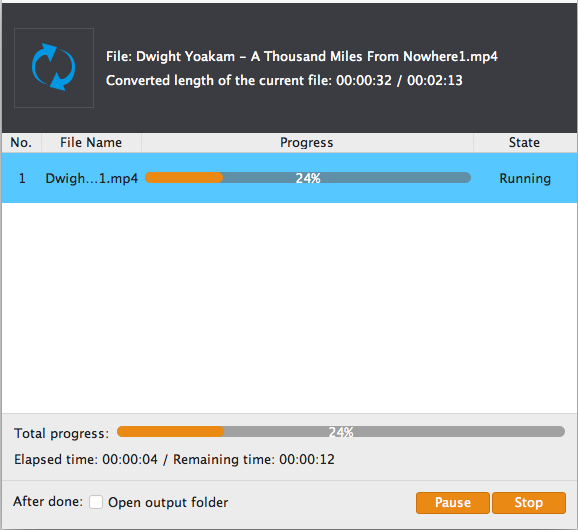 Conclusion
The tool discussed above is surely not the only options to convert files from mpeg to m4v or vice versa, but its rich features, easy to use, and high-quality output make it the perfect choice for handling video conversion tasks.
More Related to MPEG to M4V Conversion