How to Convert MOD to WMV on Mac/ Windows
Many of digital camcorders manufactured by JVC, Panasonic and Canon record videos to a built-in hard drive. The files are saved in MOD format. MOD files are high-quality, but they are not compatible with a variety of video applications pre-installed in computer desktop such as Windows Media Player. If you have just backup some MOD files on hard drive on your computer, you may be killing yourself to understand how to make those damn files readable and editable.
Since MOD complies with the MPEG-2 specification, you can simply change the file extension from .mod to .mpg, .wmv and other major formats, and you then can open and play your videos in Windows Media Player and other media players. Unfortunately, there are still a few video playing/ editing programs can't recognize it - the audio in MOD file is mixed in a non-standard Dolby Digital Stereo setup. To solve this issue, you'd better do a conversion task rather than performing a simple rename.
In this article, we are going to take conversion from .mod to .wmv format for example, the program we'll use is Video Converter for Mac. It is an all-in-one media converter that lets you convert all the major formats of video and audio. Import files available include: MOD, WMV, FLV, DivX, MP4, ASF, DAT, 3GP, AVI, SWF, MOV and MPEG while giving you ability to save the resulting movies in several standard and high-quality formats like: FLV, MOV, AVI, MPEG-2, MPEG-4, DivX, XviD, WMV, MPEG-4 and F4V. If you want to transcode MOD to WMV on a Windows machine, please try Video Converter for Windows.
The models of camcorders save videos with .mod extension: JVC GZ-MG130, GZ-MG155, GZ-MG175, GZ-MG255, GZ-MG555, GZ-MS100U, GZ-MG465, GZ-MG7230, GZ-MG630, GZ-MG670, GZ-MG680; Panasonic SDR-S10, SDR-H18, SDR-H200, SDR-H20, SDR-H60, SDR-S7, SDR-SW20, SDR-SW21, SDR-S26, SDR-S50, SDR-T50P, SDR-T55P, SDR-H85P, SDR-H85, SDR-H100; Canon FS100, FS10, FS11, FS200, FS21, FS22
The procedure to transform MOD to WMV on Mac OS X and Windows using this software is simple that helps you to obtain the file in your desired format comfortably. Here we take the Mac procedure for example.
Step 1: Import
Once you've opened the program, you will be shown with a simple interface to either drag one and more MOD video files to or click "Add File" button to locate the videos you wish to convert.
The program comes with batch processing function meaning you can set multiple files (regardless of file format) to convert at a time.
Step 2: Set conversion options
When you've selected the MOD video you want to convert, move to the "Profile" drop-down menu and choose the export format you want. here select WMV - Windows Media Video (*.wmv).
You then have the options to further tweak the WMV with respect to bit rate (quality) and audio/video codecs via "Settings" option. Then move to "Destination" box to choose where to save the converted file, and enter a file name.
The app allows you to convert videos between formats and presets (see left) for everything from iPad to PS3 to HDTVs. This obviously saves you time.
Edit MOD files: (optional)
If you are not satisfied with video effect, resolution, or you need extract some clips of the video, there are video editing functions such as trimming, cropping, changing effect and so on. More details on user guide.
Step 3: Convert
The app is ready to get you the rest of the way, go ahead and click the "Convert" button on the bottom right corner to run the process of converting MOD to WMV for Mac and a blue progress bar will show its encoding speed. Now just wait until the MOD is converted to WMV, the time it takes will depend on the file size, but for most files it is pretty fast.
After the conversion is complete, you are ready to play that WMV file on your favorite device or media player.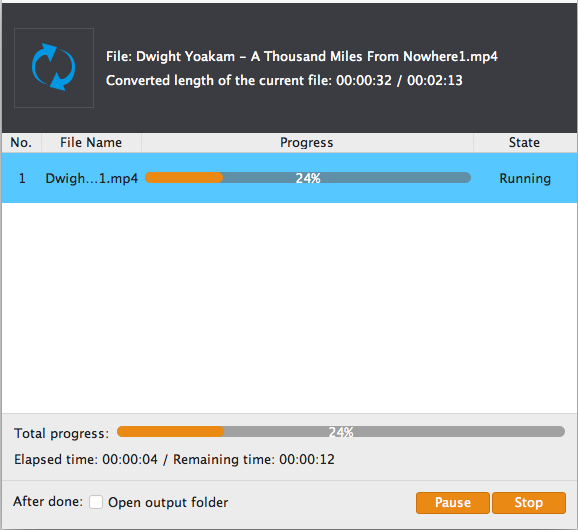 More Related to MOD WMV Conversion