How to Convert a YouTube Video to MP3 on Mac & Windows
YouTube has a large repository of all kinds of videos shared around the world, including vlogs and music videos that cater for the preference of various viewers. It often occurs when we hear such amazing songs of different genres in a YouTube Video that we desire to download the soundtrack and put it onto our music player, iPod for example, to delight in. The method here is to extract the audio from a YouTube video and save in a more accessible MP3 format for offline listening.
Fortunately, you don't have to go to great lengths to get it done because Video Converter for Mac is trying to simplify the process. By using it, you can quickly convert the downloaded YouTube videos to MP3 on Mac without compromising the sound quality, which is more conducive to portability and storage on your devices. Aside from YouTube to MP3 conversion, the program also lets you convert videos to different video & audio formats, as well as converting between audio files. With this program at your fingertips, you surely get the most out of its service.
For those who're using a Windows machine and want to get YouTube videos converted into MP3 format, please try Video Converter for Windows. Another nice thing about the PC version is that it includes an useful feature—video downloading, which allows you to download media files from various sources ranging from YT, Facebook, Vimeo, Vivo, MTV, DailyMotion, etc.
The program is extremely easy to use, even if you're not a tech wizard. Just download it on your Mac and follow the instruction on the screen to finish the installation. Now, let's take a look at how it works in grabbing the audio track directly from YouTube videos and save in mp3 files on Mac.
Step 1: Add the already-downloaded YouTube videos to the program
Click "Add File" button on the upper-left side to import the YouTube videos which you would like to convert into MP3 audio files from local hard drive on your Mac.
By the way, the files can be clipped to a specified length by selecting the start and end time. On top of that, several audio files can be merged into a single file. To do this, simply click "Clip" on the toolbar or tick "Merge into one file" on the bottom right corner of the interface respectively.
Step 2: Select MP3 as output format from "Profile" menu
Click "Profile" pull-down menu at the bottom left side, this will take you to a panel where its output format profiles and device presets will appear.
To convert YouTube into MP3, we head over to "General Audio" category on the left side, and then choose "MP3 – MPEG Layer-3 Audio (*.mp3)" as the export file type from the expanding list.
For advanced users, this Mac YouTube to MP3 converter even allows you to customize the output settings to get a decent audio.
Simply click "Settings" button (next to "Profile") at the bottom and the following window shows up. From there you're able to fine-tune things like encoder, sample rate, bit rate, and channels. If you don't fancy the idea of tweaking anything, just go to step three directly.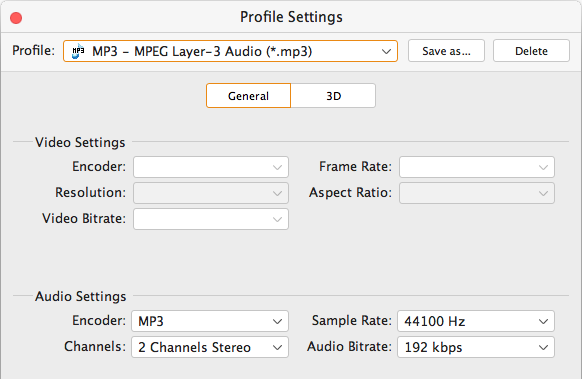 Step 3: Press "Convert" button to initialize YouTube video to MP3 conversion
If you want to change the default directory where stores your resulting MP3 files, click "Browse" option in the "Destination" field and specify a desired local folder.
Now, hit the "Convert" button at the lower right-hand side and the program will start ripping your YouTube audios and convert into MP3 file format in Mac. The process should be done in a matter of minutes, depending on the number of files and their scale.
After it is finished, you can click "Open Folder" and access the converted files in the destination folder.
That's it! Happy YouTube converting.