How to Batch Convert FLAC Files to ALAC on Mac and Windows
Technically, both FLAC (Free Lossless Audio Codec) and ALAC (Apple Lossless Audio Codec) are the codecs for encoding audio in a lossless way that have nothing to do with audio quality and everything to do with the perceived. The distinguishable difference between the two is that ALAC is an Apple-exclusive format that's fully supported by Apple products, while FLAC was initially developed as a absolutely open-source format but isn't in the list of supported media formats for MacOS and iOS.
If you've got a large collection of music files that are in .flac format, you certainly have no problem playing the songs on your computer via a desktop media player. But what if you use iTunes as part of your ecosystem and would like to listen to your music on an iPhone, iPod or iPad device which doesn't handle FLAC files? Converting directly from FLAC to Apple Lossless file while still retaining the quality of the original would be your best bet.
Thankfully, converting FLAC to ALAC to be playable on Mac or iOS-based devices with high-fidelity listening experience can be rather easy. Video Converter for Mac is one such tool for you to get the job done without any trouble. Despite its name, it takes care of all your music collections. You just drag all the FLAC files to the program, specify ALAC (.m4a) as output format and hit Convert, and then it gives you back lossless ALAC (.m4a) audio files.
In addition to converting back and forth between audio formats, the tool also supports video conversion from one format to another: MP4, MOV, AVI, WMV, M4V, MKV, WebM, MTS, VOB, 3GP, or extract sound tracks from a video and save as audio format of your choice. For conversion from FLAC to Apple Lossless on a PC machine, try the equivalent version Video Converter for Windows.
The following tutorial will show you a detailed step-by-step guide on how to make a batch conversion straight from FLAC to Apple Lossless format on Mac. The steps under Windows is the same.
Step 1: Add FLAC File(s)
Launch the program and you will notice simplistic wizard and a host of options on the main window that you can master in minutes.
To get started, click Add File button on the top toolbar to locate the file or the folder where the FLAC files are or simply drag and drop them to the program.
This utility supports for batch conversion, meaning that you could input multiple .flac files and convert them into ALAC files at one time.
"Merge into one file" option is available in the bottom right of the screen, allowing you to combine several short piece of music sections into a complete one.
Step 2: Set Output Format - ALAC (.m4a)
Head to the bottom left side of the program, click pull-down arrow labeled Profile to call up the format list where you could select ALAC –Apple Lossless Audio Codec (*.m4a) as the target format from the General Audio category.
You can also choose other formats as output, for example, FLAC to MP3, M4A, MKA, OGG, WMA.
For advanced users, you could continue to press Settings button near the Profile bar to fine-tune the target quality of audio file. This will open a Profile Settings window where you can adjust the parameters to your own actual need.
Encoder, Sample rate, Channels and Audio Bitrate are all provided to be tweaked. In general, the default configurations usually performs well.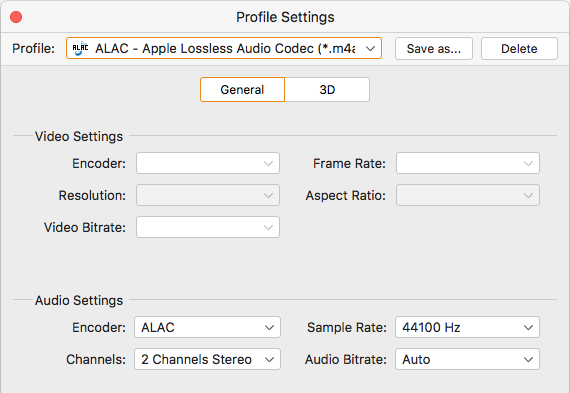 On the other hand, if you're going to convert FLAC to ALAC for use on a mobile device, then you could directly choose the many presets that this utility offers up to ensure that the file will be ideal for your preferred device. For example, if you want to convert a movie & music for playback on an iPhone, simply select the right iPhone model from Apple iPhone extending list, and then proceed to the next step.
Related Article: How to Play MKV Files on a Mac Computer
Step 3: Begin FLAC to ALAC (.m4a) conversion in Mac
Before the actual process, click Browse button on the bottom center of the main interface to choose a local folder on your Mac for storing the resulting files.
Now, press Convert button to start the conversion process. Just wait the program to convert the FLAC music files to ALAC on Mac computer as normal. You could monitor Progress bars to see how the conversion is going.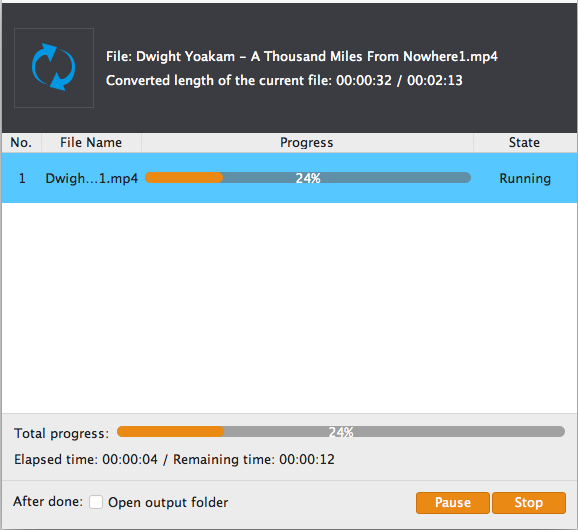 Once you've finished the conversion process, open the directory you specify previously and check your new ALAC .m4a files to make sure that all the tags are kept intact.
Congratulations! Now, the finished ALAC file will be ready to be imported to your iTunes Library, and can then be transferred to another device of your choosing to enjoy the brilliant quality music on the go.