ALAC Converter - How to Convert Audio to Apple Lossless on Mac
ALAC, short for Apple Lossless Audio Codec (or simply Apple Lossless), is a data compression method which reduces the size of the audio files with no loss of information for archiving. Basically, audios compressed in ALAC is stored in a M4A container. It's proprietary of Apple Inc that widely supported on iTunes, iPhone, iPad, Mac and most iPods. A decoded ALAC track is bit-for-bit identical to the original uncompressed sound file. This lossless audio format is similar to others you may have heard of such as FLAC and APE for example.
If you're an Apple user that organizes your digital music library with iTunes, you probably already know that the lossless audio format it supports natively is ALAC, WAV, AIFF. If you have got some lossless music files that come with .ape, .flac extension, you then need to convert them to ALAC (or WAV, AIFF) to keep the sound quality before you adding them in iTunes library.
Whether you want to convert sound tracks to Apple Lossless (ALAC) for use in Apple eco-system, or change your existing ALAC files to another lossless & lossy sound file type as quick and simple as possible, Video Converter for Mac might just be the exact thing you're looking for. It works for both Mac and PC users, and takes care of everything in your media library. If you're on a Windows computer and need a ALAC conversion, please go with its PC version—Video Converter for Windows.
Below are the details of the software, along with instructions on how to convert your ALAC music collection on a Mac.
Overview
Despite the name, this smart and feature-rich utility helps you to finish the audio conversion ALAC to and from many other lossless without losing any quality to the sound of the file, and convert ALAC to lossy audio stream with decent result. Besides, this all-in-one tool can convert between all popular and rare video formats.
The conversion options are easy to find within the main interface and you can even perform batch conversion options between a bunch of media files and a number of different presets for everything from Apple's iPhone, iPad, iPod to plenty of mainstream smartphones and tablets and players in one shot. Plus, it also allows users to customize the audio & video quality along with its internal editor for trimming, merging, adjusting volume as well as parameters settings.
Convert Lossless Audio to Lossless ALAC
If you keep a large library of lossless music files in FLAC, APE or WAV format that would like to archive onto iOS-based music player, then converting them into ALAC file on Mac would be your favor since it is a compressed audio codec keeping all the original source intact. On the other hand, ALAC is powered by Apple that is natively supported by a full range of Apple products like iPhone, iPad, iTunes and QuickTime player.
Convert Apple Lossless Audio to Other Lossless and Compressed Audio
This cross-platform ALAC converter do a good job on processing ALAC tracks to save in other popular formats including FLAC, APE, MP3, AAC, OGG and more with best possible result. This makes it easier for you to manage your ALAC music collection into more compatible audio formats on your own without any hiccups for playback on the go.
Convert between Videos
Does what the name implies, this utility has the ability to convert as many video files as you want at one go, be it one output file or a row of separate files. MP4, AVI, WMV, FLV, MTS, MOV, MKV, VOB, MPEG-2, WebM, AVI, MOD, MXF, ASF, TS, 3GP are all supported.
Configure Output Settings
If you are care about the quality of the output file for playback on your handy gadgets, this PC and Mac based ALAC Converter comes with some options like adjusting audio encoding parameters (audio channel, audio bitrate, sample rate, etc.) and, splitting existing ALAC into multiple audio tracks, merging a couple of ALAC pieces together, etc.
Extract Tracks from Video Clips and Save as Apple Lossless
It also work as an audio extractor that handles audio conversion for those who want to extract sound tracks out from a video and convert into ALAC file for easy listening or separate storage.
Practical Video Editor
In addition, the application can also be a very handy editor for your basic video editing – you can trim the unwanted parts out, crop the picture frame, adjust video visual effects, add watermarks and more.
Now, let's take a look at how this ALAC Converter works on Mac computer to convert your lossless songs to ALAC tracks, you can also do the same journey in the opposite direction.
Step 1: Import your music
Launch this ALAC converter once you've install it on your Mac and a clean interface opens with clear wizard and user-defined options.
Click Add File icon on the top menu bar to browse to the location where your music collection is stored, select them to open.
The application supports batch conversion—you can convert hundreds of songs to ALAC stream at one time.
It also adds additional features for you need, like Merge into one file when you need to join several song segments together.
Step 2: Set output format to ALAC
Down to the lower of the interface, press on Profile drop-down arrow to bring up the format selection dialog. Then select ALAC - Apple Lossless Audio Codec (*.m4a) from the list.
Next, you can hit Settings button near Profile to open Profile Setting panel, from where you could configure your own set of quality options: encoder, channels, sample rate and bitrate.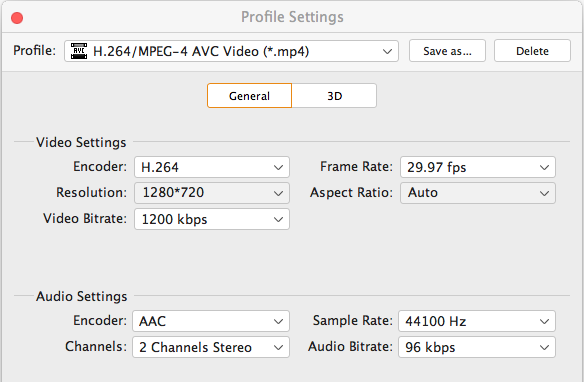 In the format selection dialog you can also see a full array of specific devices. This is really useful if you want to convert your files to use in a particular device. A full series of Apple products, Android cell phones, tablets, TVs, and other digital music player are included.
Next, click Browse button on the lower center of the interface to select where you want to save your converted ALAC M4A files.
Step 3: Start ALAC Conversion in Mac
Once you've indicate the destination folder and got your music selected, click the Convert button at the bottom right corner of the main interface. This ALAC converter for Mac will start doing the conversion process.
You can check the progress to see how the conversion is going. Wait until the progressing bars filled.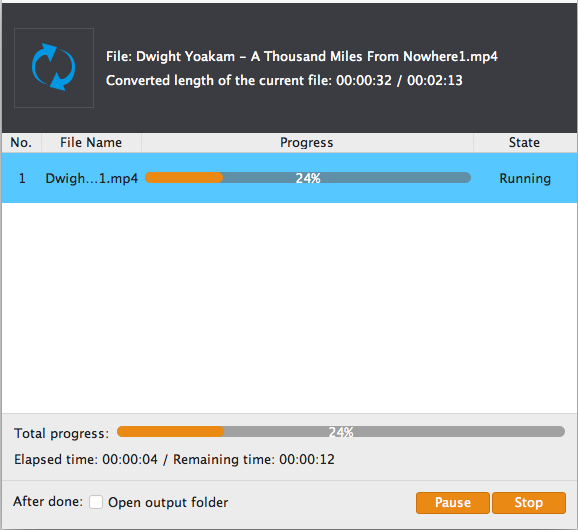 You've done! Now simply upload the new created Apple Lossless audios to your device and have fun!