How to Convert FLAC to MP3 on Mac & Windows
What's FLAC
FLAC, short for Free Lossless Audio Codec, is an open source music format that compresses audio without losing anything in sound quality like how WinZip compresses data. It can handle resolutions from 16 bit at 44.1 khz & 96 khz, 20 bits at 44.1 (HDHC) & 96khz, all the way to 24 bits at 196 khz. A music file compressed by FLAC standard can be squeezed up to 40%-60% of the original size, making it more manageable and hard drive space saving.
Why convert from FLAC to MP3
While FLAC lossless music is embraced by audiophiles, some players will be happier with some formats than others. If you have tracks in .flac that want to play them on a MP3 player which can't handle FLAC format, you probably have to convert your FLAC files into MP3, the most spread lossy format out there, or other playable audio formats.
Despite mp3 do sacrifices some audio data to decrease the size of file, it has the broader hardware/ software support that can be recognized by the majority of computers, audio players and car stereo systems while only a handful of them currently support FLAC playback. Most music sites allows you to upload music and audio files in .mp3 format but not .flac. Furthermore, MP3 takes up a smaller amount of storage space compared to FLAC.
FLAC to MP3 Converter for Mac and Windows
There are a vast array of applications on the web you can choose from when converting from .flac to .mp3 in Mac or PC's. To achieve the task smoothly, an easy-to-use tool called Video Converter for Mac is hereby introduced to you if you're on a Mac. It's very simple and does batch conversion job very quickly. It's also compatible with a multitude of audio files and can convert those files to a wide variety of audio formats (i.e. FLAC to ALAC, WMV to MP4, AVI to MOV, etc.). Like many modern converters, this Mac-based tool allows you to adjust channel, codec, bit rate and sample rate for quality control.
The tool also comes with Windows version—Video Converter for Windows that can convert your FLAC music collection to MP3 in PC machine, and handle all other digital video & audio files.
Here is how you can run this FLAC to MP3 conversion process with maximum efficiency and high quality. This guide has been described using the Mac version of the utility, but the steps under Windows are the same.
Step 1: Load the FLAC Files
Import your FLAC audio tracks to the program by clicking on Add File icon at the upper left corner of the main interface or simply drag and drop them from the computer hard drive to the middle window. Once the program has scanned the contents, you'll be able to have it work its way through the queue in the middle pane.
This app has batch processing ability, so you can convert a variety of different audio files simultaneously to one format instead of manually converting each one individually. Also, you can combine and join multiple audio pieces together - just select audios you want to join and tick the "Merge into one file" box (see bottom right).
Step 2: Tweak Output Preferences - MP3
Now go down to Profile field at the bottom of the window to reveal the export format list, and then select MP3 - MPEG Layer-3 Audio (*.mp3) from the General Audio list.
As you can see in the list, there're a great selection of other audio formats you can choose from. To keep the output with no loss in sound quality, you can choose to convert FLAC to APE, WAV, ALAC, depending on your needs.
If you, an experienced user, want to ensure that you get the output audio files in high quality, you can click the Settings icon next to Profile to call up the Profile Settings dialog, and then you can finish the configurations in it by selecting a proper codec, adjusting channel, sample rate and bit rate in corresponding box.
Please note that unless you're tech savvy and have specific settings preferences, you'd better not randomly adjust the conversion settings which might result in a conversion fail. For most users, the default output settings do the trick.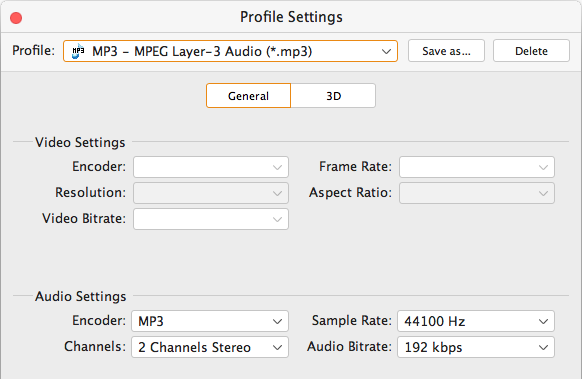 Indeed, this utility provides a wealth of pre-configured device profiles for your convenience. Once you select one of them, all relative settings about the device will be optimized automatically. If you want to play a WMV movie on Apple TV, for example, you just need to select your Apple TV mode from "Apple TV" category and proceed to the next step.
Step 3: Set Destination Folder and Run Conversion
Press Browse button at the bottom to select a destination of your choice to save the new created MP3 audio files, or leave the original named folders alone.
Finally, hit the Convert icon at the lower-right corner to start converting your music in .flac format to MP3 on Mac machine. The time of the conversion process mainly depends on the size of all imported FLAC files and the performance of your computer. You can monitor the whole process in a new window with progress bars.
When the process has finished, the status of progress bars will display as "Completed", your FLAC audio files have been successfully converted to MP3 format.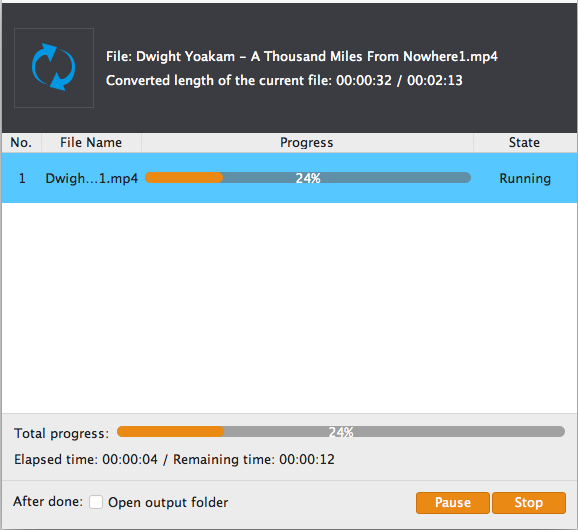 That's it! You could open the destination folder to locate your MP3 music files on your Mac machine. Now you're ready to put the songs to your portable device and listen to them anywhere and anytime.
Enjoy!