How to Burn AVCHD Video to DVD on Mac & PC
See more about: Blu-ray Creator to burn camcorder videos captured in AVCHD format to Blu-ray disc.
AVCHD, also known as Advanced Video Codec High Definition, is a video compression format for the digital recording in camcorders. It allows you to capture video at a range of resolutions including 720p, 1080i and full HD 1080p, and save onto hard disk drive, memory card or even to physical disc. In the past few years, Sony and Panasonic have released a list of different consumer AVCHD camcorders for both amateur and professional videographers.
If you've ever shot hours of quality video footage with your digital AVCHD camcorder, you know that the internal SD card can fill up pretty quickly. Instead of transferring all AVCHD footage to computer and save onto hard drive, sometimes, you may want to burn the AVCHD videos to DVD on Mac's or PCs, so you then can play the DVD on a standalone DVD player connected with home theater systems.
Luckily for all of us, creating a playable DVD has gotten easy today. If you're looking for a simple solution for transferring AVCHD movie to DVD for Mac or PC without complex setting options, DVD Creator for Windows is definitely you choice to go. It accepts just about any digital video file format under the sun as input, including AVCHD, and burn to a playable DVD disc. You can create interactive menus and photo sideshows with just few clicks, and even apply editing for the source videos.
The equivalent version of the program - DVD Creator for Mac enables you burn AVCHD file to DVD on Mac OS X easily and quickly, if you happen to be running a Mac system.
Creating a DVD from AVCHD video is actually simple. The burning process is almost identical to the one described above, let's take a look at it:
Step 1: Add your AVCHD file(s)
Once you start DVD Creator for Mac (I'm using an iMac with OS X El Capitan), click "+" icon on the top of right hand side of program window. You can add several AVCHD video clips that you wish to transfer to DVD at one time.
A simple procedure of dragging and dropping AVCHD files from local folder to the program window works.
To calculate the size of your project, check the status bar on the bottom of program as shown above.
Keep in mind that a standard single-layer DVD disc will hold up to 4.7GB of data, if your DVD project is larger than 4.36GB, you're going to need to use a dual-layer disc.
Step 2: Edit AVCHD videos before burning to DVD (optional)
One useful feature of this Mac AVCHD to DVD converter is it gives you ability to very quickly perform simple video editing tasks. There are built-in tools to trim and crop the video, rotate it, and tweak effects (brightness, contrast and saturation), and put image & text watermarks on video.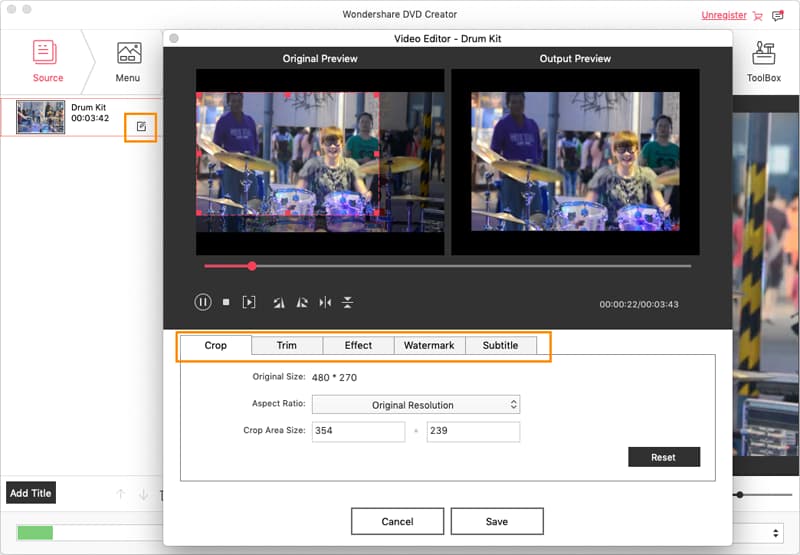 Step 3: Select a DVD menu style
The creator particularly impressed us with options of choosing stylish menu from the predefined menus library.
Click the "Menu" button on the bottom right side of main screen, scroll the "Dynamic Template" list and then select one you like most on the right hand side, you can also hit the "More Template..." option to download online menus.
This Mac application also allows experienced users to customize the chosen menu by changing menu text, color, font size, and adding your own music & photo as background.
Next, click the Triangle icon at the bottom side to preview your DVD at any point and I suggest doing so at any stage of the customization.
Step 4: Start burning AVCHD videos
You ready to burn AVCHD video to DVD in Mac, go ahead and click the "Burn" button at the lower right-hand side. an dialog opens up. It is an important part of creating a DVD, as it will define what TV standard (resolution quality and the power used during broadcast) you need to play the DVD correctly in your country, what burning speed will be, as well as where you want to output the project to.
In "Burn to" field, in our case, we simple check DVD Disc option.
DVD Name - give the project an appropriate name less generic than default "My DVD".
Speed - leave the default "Best" alone.
TV Standard - NTSC are mostly adopted in North America, parts of South America, Japan, Taiwan, the Philippines, and South Korea, While PAL systems are much more common around the world: Australia, Europe, China, some parts of Africa, India, and elsewhere. See exactly what type of TV standard your country is using - NTSC, PAL.
When you are finished with all the output settings, click the "Save" button to close the dialog.
Again, click the "Burn" button to start begin converting AVCHD videos to DVD on Mac OS X. Details are displayed at a new pop-up window as the process continues.
Once the burning process is done, take the disc out and test it to make sure you can play it on DVD player. This is IMPORTANT!
Congratulation! You have creating a DVD with AVCHD movie file. You can now play the DVD on home DVD player with big screen TV in your living room.
More Related to AVCHD to DVD disc Conversion