How to Burn Camcorder Video to DVD on Mac/ PC
Note: If your captured camcorder footage is HD in 720p, 1080i, 1080p or higher, we suggest you burn them to Blu-ray disc with Blu-ray Creator, as image quality of DVD is standard definition resolution at 720 x 480 at best.
If you have a digital camcorder (Sony, JVC, Panasonic, Canon, Samsung, etc.) and recorded some footage, you definitely get good quality video. Sometimes, you might want to burn those camcorder videos onto DVD in Mac or PC computer and be able to play in a normal DVD player on the big TV.
DVD medium discs are dirt cheap these days, and almost all computers come with built-in DVD driver or USB port ready for connecting an external disc drive, making it convenient to quickly convert camcorder footage to a DVD disc on Mac and PC machines in just a few minutes.
As for DVD burning task, there was a time that it didn't have simple solutions. Thankfully, things are changing. That's where DVD Creator for Mac comes in. It's a dead simple utility that gives you ability to transfer virtually any digital file including video from camcorder to a DVD on Mac OS X. You can create a menu by choosing the built-in stylish menu templates, add external subtitles, import your own music or picture to the background, and even perform basic touchups to your (camcorder) videos, and burn to DVD, ISO image, DVD folder.
If you have camcorder recorded footage copied to hard drive on PC and want a way to burn to DVD, you may try the DVD Creator for Windows to create the movie DVDs you want.
To learn how to create a DVD from camcorder video clips on Mac or Windows (here we take Mac burning for example) using DVD Creator, just run through the steps in our simple guide.
Step 1: Import camcorder video clips
When making a DVD, you first need to add source files.
Open the program, you'll be shown a blank window where you add the camcorder footage you want to convert to DVD by clicking the "+" button.
After the footage loaded, you can set the order of them by dragging them, or use the "↑" and "↓".
Also take note "Remaining Sapce" in the bottom information bar of this Mac application's window to check used capacity of the disc while adding the camcorder videos.
Step 2: Edit videos
This is an optional operation, you can leave it alone.
By clicking the "Edit" button on the bottom right corner of video item, you will enter the editing window, from where you can do some basic editing (crop, trim, effects, watermark, rotate) tasks to enhance camcorder video visual.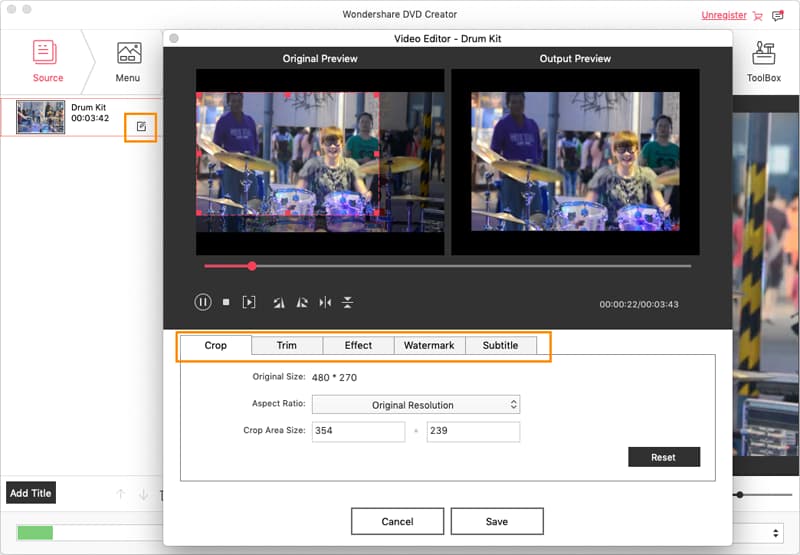 Step 3: Create a DVD menu
In "Menu" tab on the bottom right-hand corner of the window, the Mac DVD burner offers a library of included menus with buttons, frame and text, as well as online menu templates to download, to enrich your camcorder movie DVD creations. You can even add your own pictures and music in the background.
Or, you can opt for the "No Menu" option if you don't want to use a menu.
Step 4: Start burning camcorder videos to DVD disc on Mac
The last step, click on the "Preview" button (next to BURN button) on the bottom to see what it looks like. When you're happy with the preview result, insert a blank DVD to the DVD drive.
To start burning camcorder video to DVD for Mac, simply click the "BURN" button located in the lower right hand corner of the window, in opened dialog, select "DVD Disc", give the disc a title and configure other options. Then hit the "Save" to close the dialog to begin burning process.
You should see a progress bar indicating the burn status.
That's it! After the camcorder video to DVD burning process complete, go watch your DVD!
More Related to Camcorder to DVD Conversion
Hot camcorders (HD, Pocket, Hard Drive, MiniDV) in Market:
Sony: HDRCX405, HDRCX440, HDRPJ440, HDR-PJ50V, FDR-AX33 4K, HDR-PJ670, PJ530, FDR-AX100 4K, HDR-CX900/B, HDR-PJ790V, HDR-PJ340, HDR-CX330, HDR-CX290/B, HDR-CX240, HDR-PJ230/B, HDRPJ275/B, HDR-CX240, FDR-AX100, FDR-X1000V, DCR-VX2000, FDR-AX33, NEX-VG900, HDR-XR160, DCR-SR68, DCR HC36, DCR HC48, HDR-FX1,
Canon: VIXIA HF R600, HF R500, HF R62, HF R52, HF G30, HF G20, EOS 700D, EOS C300, XA10, XA20, XA25
Panasonic: HC-V770, HC-W570, HC-W850, HC-WX970, HC-X1000, HC-X920, HC-X1000, AG-HMC40, AG-HMC150, Lumix GH4 4K, HDC-HS80, HDC-HS900, SDR-H100, PV-GS300
Others: JVC GC-PX100, GZ-VX815, GZ-EX310, GZ-R70B, GZ-HD520, GZ-HD500, GZ-MG750, GR-DF450, GR-D870; Samsung F90; Toshiba Camileo X416; Contour ROAM3; PYRUS 2.7"; Polaroid XS100i; DJI Phantom 3,