How to Convert MTS to MP4 on Mac and Windows
The MTS/M2TS video format, commonly known as "AVCHD", is a High-Definition (HD) video format produced by HD camcorders. The camcorder manufacturers like Panasonic and Sony usually ship software with the cameras that lets you view video clips from the devices on your PC. However, if you want to play them on most computers and share them with others, you should convert .mts to .mp4 (MPEG-4/H.264 AVC), which is recognizable and compatible with virtually all media player and operating systems.
To convert videos saved as an AVCHD (MTS) to MP4 on Mac, getting a great media conversion tool would be a smart choice. Video Converter for Mac, an incredibly easy-to-use program that makes the process easy and give you files that are playable on any device you choose, can help you convert MTS from your camcorder to MP4, and convert videos to target readable format in which you want the video to be played. For Windows user, please try Video Converter for Windows here.
This tutorial will guide you through the steps on how to convert MTS to MP4 on Mac OS X, Let's begin.
Supports MTS/M2TS files from various HD camcorders like: Panasonic HDC-HS20, Panasonic HDC-HS300, Sony DCR-SR47, HDR-CX100, HDR-CX240, HDR-AS100V, HDR-AS15, HDR-AS200v, HDR-AS30V, HDR-AS20, HDR-CX30, HDR-AZ1, HDR-PJ540, HDR-PJ275, NEX-5, NEX-6, NEX-7, NEX-FS100, HXR-MC50E, NEX-VG20, SLT-A65, SLT-A77V, DSC-HX5V, DSC-HX9V, HX10V, HX20V, DSC-RX100; Canon VIXIA HF R500, HF R506, HF200, HFS100, HF R50, HF R56, HF 52, HF G30, HF G20, HF G10, HF S21, HF M500, Canon XA10, Canon FS200, JVC GZ-HD10, JVC GZ-HD40, etc.
Step 1: Import MTS/M2TS videos to the project library
To begin, click "Add File" button to open the file browser window and navigate to the MTS/ M2TS files you would like to convert. Or drag-and-drop files stored on your computer to the interface of this MTS to MP4 converter. It supports batch conversion, which allows you to import and convert multiple video files at a time.
Step 2: Set output parameters (formats, audio/video quality etc.)
Click "Profile" drop-down box, and then choose MP4 as the output format. You are full control over the quality of the resulting file through change the configurations under "Settings" option next to the "Profile", but this isn't necessary.
Edit MTS files before the conversion: (optional)
Although the MTS to MP4 converter will convert the video at the same dimensions as your original video, you will probably want to edit videos before encoding. That is where its handy built-in video editor come in: trimming sections out of your video clips, cropping the video frame to get the desired part, splitting your video clips into small clips, and even much more. Get more details with user guide.
Step 3: Begin MTS to MP4 video conversion
After all the settings, now, just click the "Convert" button to start converting .mts on Mac to mp4 file, it'll whir on about its work! Two blue process bars will show along with the estimated elapsed time as well as remaining time.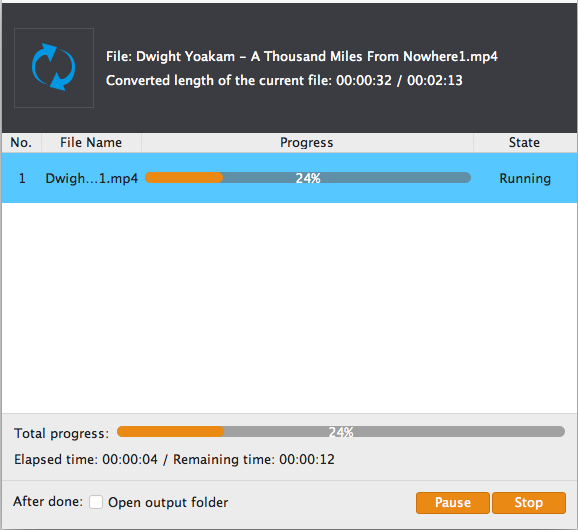 More Related to Video Conversion
How to convert MKV to MP4 format on a Mac
More supported digital cameras modes:
Panosoic HC-MDH2GK-K AVCHD, AG-HMC70, AG-HSC1U, AG-AF100, AG-AF101, AG-AF102, AG-HMC150, AG-AC130, AG-AC160, AG-AC90, AG-HVX200, AG-AC8PJ, AG-HMC40, AG-DVX100, AG-HPX250;
HC-X920 AVCHD, HC-X1000, HC-V750K, HC-V700, HC-V550, HC-WX970, HC-VX870, HC-V720;
HDC-TM700, HDC-TM350, HDC-TM90, HDC-TM900, HDC-TM60, HDC-TM80, HDC-TM300, HDC-TM30, HDC-TM10, HDC-DX1, HDC-SX5, HDC-SD5, HDC-SD7, HDC-SD9, HDC-SD10, HDC-SD60, HDC-SD80, HDC-SD90, HDC-SD100, HDC-SD200, HDC-SD300, HDC-SD700; HDC-HS9, HDC-HS700, HDC-HS300, HDC-HS250, HDC-HS200, HDC-HS100, HDC-HS60;
DMC-ZS3, DMC-ZS7, DMC-ZS10, DMC-ZS35, DMC-ZS40, DMC-ZS50, DMC-TS1, DMC-FZ70, DMC-FZ1000, DMC-FT1, DMC-GH1 (AVCHD), DMC-G2, DMC-GH2, DMC-GF2 (AVCHD), DMC-FX77, FX78, DMC-TS3, DMC-FZ45/47/48, DMC-GF2, DMC-G3/GF3, DMC-TZ30, DMC-G5, DMC-FZ200, MC-GH3, DMC-LX7, DMC-CM1, DMC-GM1;
LX100, GH4;
JVC GY-HM650EC, JVC GY-HM600EC, GY-LS300, GY-HM150U, GY-HM100U, GY-HM200, GY-HM70U, GY-HD100U
GZ-HM200, GZ-HM300, GZ-HM320, GZ-HM400, GZ-HM30, GZ-HM35, GZ-HM40, GZ-HM65
JVC GZ-HD3, GZ-HD5, GZ-HD7, GZ-HD10, GZ-HD30, GZ-HD40, GZ-HD320, GZ-HD300, GZ-HD510, GZ-HD620, GZ-X900, GZ-G5
GZ 21, GZ-MG130, GZ-MG 155, GZ-MG230, GZ-MG330, GZ-MG360, GZ-MG630
JVC GZ-EX355, GZ-EX310, GZ-E306, GZ-EX210, GZ-E200, GZ-E10
JVC GZ-R10, GZ-R70, GZ-R30
JVC GC-XA2, GC-XA1, GC-PX10, GC-FM1, GC-PX100