How to Burn iMovie Project to DVD on Mac
See more about: Blu-ray Creator to burn iMovie projects onto Blu-ray disc
iMovie, part of the Apple's iLife suite for Mac OS X and iOS, is the excellent consumer video editing software that gives Mac users ability to create, edit, and share stunning cinema-quality movies and trailers. The latest iMovie '11 (version 10.1, released on October 13, 2015) brings new and improved features that make video editing easier and more friendly on Mac machines.
If you have an iPhone or a digital camcorder, you probably have a lot of great photo and video. When you create a project in iMovie and perform editing and re-touch on that footage, then you may wonder how you can take the iMovie project and burn to a DVD that family member can play on a home DVD player with big TV screen. Although iMovie still offers a "sharing & exporting to iDVD" option, iDVD is no longer included in newer Macs. To burn iMovie project to DVD on Mac, you need to use a 3rd program.
There are dozens of disc burning utilities out there available to burn iMovie videos. If you're looking for a feature-filled DVD burning program, you'll need something like DVD Creator for Mac. It has a nice and simple GUI interface, allowing the creation of DVD from iMovie video and just about any other type of video, audio and photos. A definite benefit with the software is the ability to customize menus as well as external sound tracks and picture as background. You can even build DVD folder, dvdmedia and ISO images for later use.
As a cross-platform tool, you can refer to its DVD Creator for Windows when you wish to make DVD burning on a PC machine, Windows XP and above are all supported.
Note: To burn iMovie exported video to DVD on Mac, you have to export the video using the Export button and select 480p as the size. Also, even though iMovie may export project with a 720p or 1080p resolution, the DVD is going to be able to output 720x576 (PAL) or 720x480 (NTSC) at best. To retain HD quality you must burn the project to a Blu-ray disc with Blu-ray Creator for Mac instead.
This guide covers the basic process of burning a video exported from iMovie '11 to a DVD on Mac OS X.
Step 1: Launch the program and add iMovie project
Download the copy of program by clicking the link above and follow the on-screen instructions to finish the installation on Mac. Open DVD Creator, it's now time to add iMovie video to burn to DVD.
Click the "+" button at the upper right corner of program window, this will bring up a browse box from which you find the iMovie project you want to add for burning, select the file(s) and click on "Open".
Also, the Mac app offers a really smooth way to load new files via drag-and-drop.
Once you have imported iMovie project, keep an eye on the calculator bar on the bottom of screen, which is set to work automatically and show you the amount of space the video will take up.
There is an option next to calculator bar. For a DVD5, you can hold a maximum of 4.36GB data on a standard single layer DVD while a dual-layer DVD9 has double the capacity.
Step 2: Edit iMovie project (optional)
As the video has been edited in iMovie previously, this is not a mandatory step, you can leave it alone.
Still, you can click the "Edit" button on the lower corner of video item to perform editing tasks, it is self explanatory.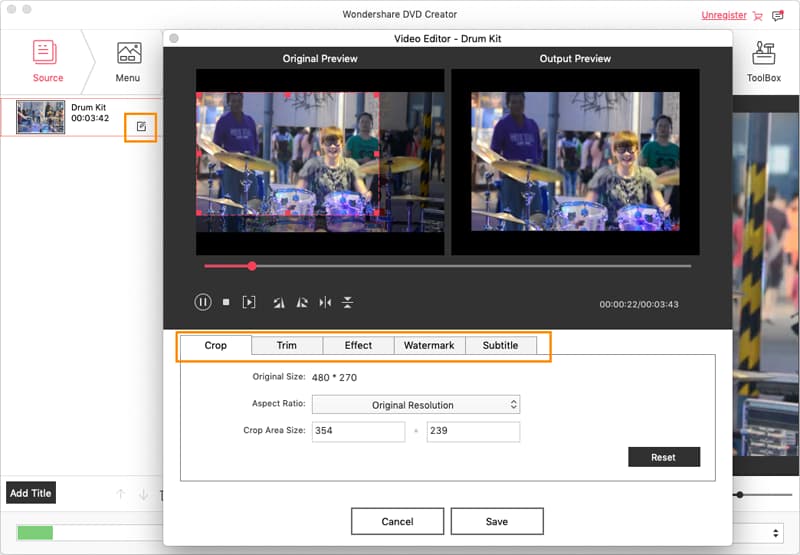 Step 3: Apply a menu for DVD
The DVD converter offers a wide variety of menu design options for you to enhance your DVD.
Click the "Menu" button on the bottom right hand side, a menu list panel appears on the right portion of screen. From the list, you can select a menu template, and edit the elements such as frames, texts according you need. You may also add a background music and image.
Step 4: Burn iMovie project to disc
Preview your disc prior to converting your iMovie project to a DVD on Mac OS X. By hit the "Preview" option (Triangle icon) at the bottom side, you can see the customization exactly how it is going to look like on DVD, this can help you to determine if you want to make any changes to the DVD.
If acceptable, click the red "Burn" button on the lower right corner, a new dialog will pop up as screenshot shown below. From there, you're required to set the output type (here we simply tick "DVD disc" option), DVD burning speed ("Best" is recommended), and the type of TV system (PAL or NTSC) you want, which depends on country and region you live in.
When you've set up all of options in dialog, hit "Save" to close. Put a DVD disc into the drive on your Mac and again click the red "Burn" button to begin converting iMovie video to DVD in Mac.
The time required to burn iMovie project on Mac is depending on the size of files, your settings and hardware power.
Happy burning!
More Related to iMovie Video to DVD Conversion