How to Rip Blu-ray to MOV File on Mac/Windows
MOV is a file extension developed by Apple, it normally represents QuickTime multimedia file, often used in websites and in a lot of digital cameras, compatible with both Mac and Windows OS.
Blu-ray Disc (BD) is a great way to keep feature films. The conventional BDs contain 25 GB per layer, while the capacity of the dual layer discs is 50 GB. However, Blu-ray is not the friendly of format. It is copy protected, making it is hard for users copying its contents to the hard drive on your Mac/PC, or even ripping the Blu-ray in a file format of your choice to stream over network or on your multimedia device on the go. Anyway...Extract the movie files from BD seem like a complicated task, but it's actually pretty simple. Fortunately, you have access to the right place for getting the Blu-ray into MOV, MP4, AVI, iPad, Apple TV, Xbox One... There are many of ways to handle the task efficiently, but our favorite method uses a program called Blu-ray Ripper.
Blu-ray Ripper for Mac is an easy-to-use utility that focuses on BD/DVD ripping converting. In addition to converting Blu-ray to MOV format on Mac, the program also can extract the contents of BD and save in an impressive amount of video formats, as well as ripping the audio into popular audio formats. No third-party codec package is needed.
Still, it offers a wealth of ready made profiles for mobile devices so that you don't need to manually configurate the settings. Its flexibility gives you options to merge Blu-ray titles or chapters, You can even choose subtitles/audio tracks in the ripped content. Blu-ray Ripper for Windows, of course, has been developed available for ripping Blu-ray to QuickTime MOV file or whatever type of formats you need on Windows environment.
This guide will cover converting a full set of movie files stored on your Blu-ray to MOV files for Mac. The process would be as follows:
Step 1: Load Source
Insert the Blu-ray Disc and fire up the program. The interface of this Blu-ray to MOV converter for Mac is as basic as it can get. Go to "Add Blu-ray/DVD" (#1) menu to locate and open the BD movies you wish to convert. Or just drag files and drop into the working area.
Once the movie files is imported, you can use the built-in player to preview them in real time by clicking the preview thumbnail on the left side.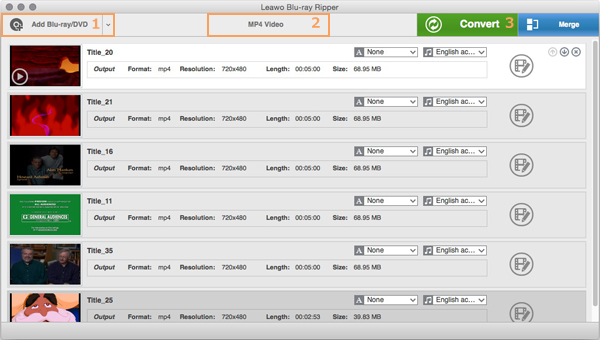 Step 2: Choose the format of the output video
Now that you've selected the content to rip, you'll need to choose the profile you want the new file formatted in.
On the top menu bar, click on the default "MP4 Video" (#2) button next to the "Add Blu-ray/DVD" to open a dropdown menu.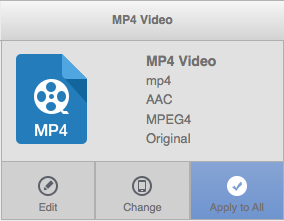 Next, hit the "Change" button, this will pop up the target format panel. We are going to rip Blu-ray movie to MOV video, so here we click Format tab, and then HD Video sub-tab, and select HD MOV Video.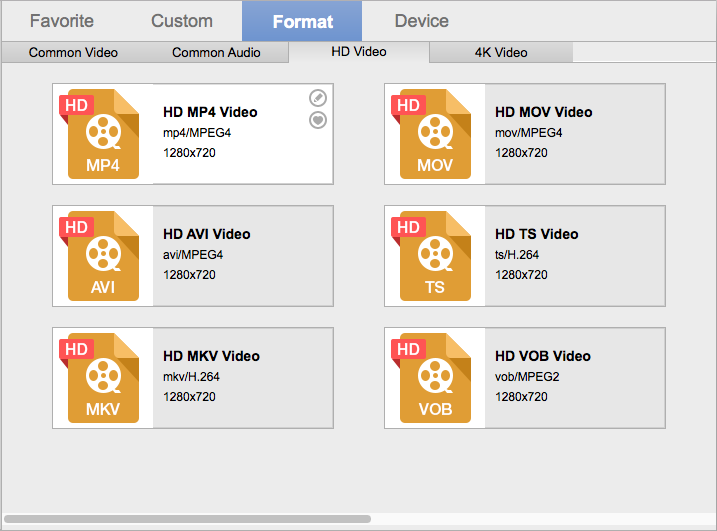 The Blu-ray to MOV ripper gives you a little more control for manually managing the output results. By clicking on the Pen icon on the corner of the MOV, a new window will be introduced where all video and audio encoding parameters are well labled. Just remember that the higher the quality, the larger the file size. If your machine is short on storage space, try to prepare an external hard drive to store the ripped MOV videos.
However, the given default settings is a good set of optimal settings. If you don't know what you're doing, feel free to use those.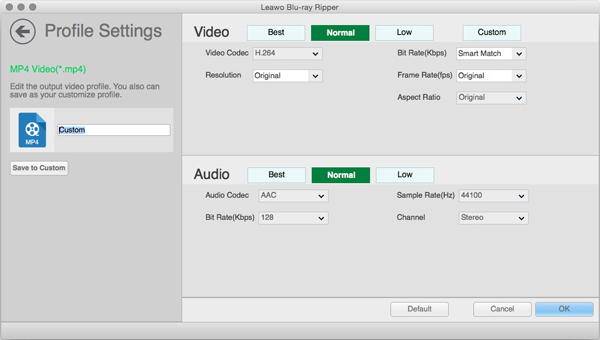 Tip: For simplicity, this Mac application has a list of presets for known devices,varrying from Apple products, Android mobile phone, Microsft and others. If the rip project s intended for a specific device, this is the place to select one. For instance, If you want to stream blu-ray movies on Apple TV, just choose "Apple TV" from Device Tab (next to Format Tab) and you are good to go!
This comes in very handy, not only to make a perfect backup of your blu-ray movies, but also to watch them anywhere on the go.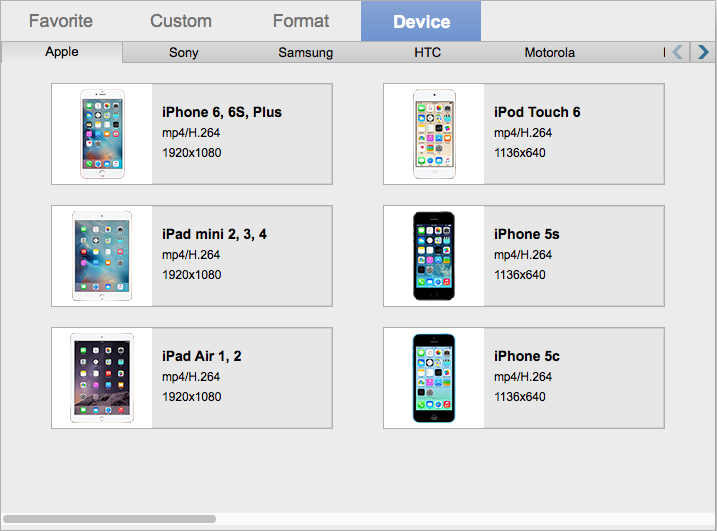 The Blu-ray to MOV ripper is also embedded with a handy video editor: cutting a part of the video, rotating and flipping a video, setting the brightness/saturation/contrast of a video, or even making deinterlacing.
Step 3: Convert Blu-ray on Mac
Finally! It is time to transcode your Blu-ray to a MOV format of your choice. Click on the "Convert" button on the upper right side of the main interface, it will ask you to pick the directory where to store the ripped MOV files. After that, hit the "Convert" button again and stand back.
Be aware that the encoding process might take some time depending on several factors such as: the speed of your Mac, the length of the video files, the output settings you have choosed, what other tasks your computer is currently doing.
Once completed, open the folder where all of the converted videos go and you're all set. Now you are ready to enjoy them: play them on QuickTime player on your Mac, drop them into iTunes to sync with your iOS device, or import them into iMovie/FCP to edit, or something like that.
Enjoy yourself!