How to Convert WMV to MP4 (h.264/mpeg-4) on Mac OS X / Windows
WMV (Windows Media Video) format supports a lossless video compression to keep file size small and maintain high-quality playback result. However, WMV (vc-1, wmv7, wmv8, wmv9) videos don't work well on Mac computers. The QuickTime player can't recognize your WMV files by default and you are unable to organize WMV in iTunes, or even edit them in iMovie, Final Cut Pro. So if you would like to watch your favorite WMV movies on your iPhone, iPad or use with Mac OS and iOS , you can choose to convert WMV to MP4 for Mac to create a total compatible format.
On the other hand, there will be the odd occasion though when you want to convert from .mp4 to .wmv format for using more convenience in your computer. Fortunately, no matter you need to convert videos in .wmv to .mp4 (MPEG-4/H.264 AVC) file and vice versa, you need a third-party video conversion program. If you're looking for a quick and efficient tool that simply works, Video Converter for Mac is what you should really consider, which handles a large variety of formats on the go.
The program is simple, quick, and does everything that it is asked. Its straightforward interface layout makes things easier—add you source files through "Add File" button on the top menu, you then find the configuration options easily to set your own output settings with "Profile" and "Settings" buttons and finally start converting. The utility is available on another major platform — Windows as well.
If you want to convert WMV to MP4 movie file or any other formats on a PC installed with Windows operating system, please try Video Converter for Windows.
The following guide is about how to convert a .wmv to .mp4 on Mac OS X step by step, let's begin.
Download this WMV to MP4 video converter for Mac
The program works well on all type of Mac system such as Leopard, Snow Leopard, Lion, Mountain Lion, Mavericks, Yosemite, El Capitan, macOS Sierra.
Step 1: Add WMV video files
To locate the WMV files into the application, there are two methods available: Click "Add File" button on the toolbar, or directly drag the target .wmv files to the left part of the main interface of this Mac WMV to MP4 converter, then it will show this window.
Step 2: Adjust video options
In the lower left portion of the window will be output menu.
Click "Profile" drop-down box, this opens a panel with a list of available formats and device presets. Scroll down until you see "General Video" category on the left side, hover your cursor on it and then in its expanding list choose MPEG-4 Video (*.mp4) or H.264/MPEG-4 AVC Video (*.mp4) as the resulting output format.
Note that if you're trying to convert HD .wmv to .mp4 without quality loss, here you pick HD H.264/MPEG-4 AVC Video (*.mp4) or HD MPEG-4 Video (*.mp4) from "HD Video" category.
For a little more control, you can open up conversion parameters window by clicking the "Settings" button next to "Profile" box, and then tweak the video/audio codec, bit rate, quality, etc. For quickly converting your WMV videos into MP4 format, it's not really necessary since the default settings are good enough.
Tips: in most cases, you can stick with AAC audio codec from "Encoder" in Audio Settings section when converting files. But if you need to convert WMV or other videos with 5.1 surround sound audio to MP4 on Mac using MPEG4 video codec, you're allowed to select AC3 audio codec. AC3 can handle 5.1 surround sound audio, whereas the default AAC codec can't.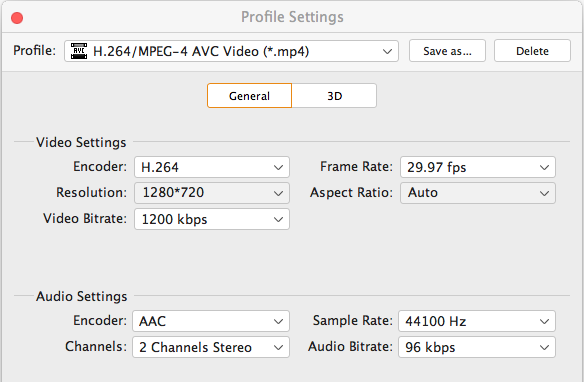 If you want to convert the video to view on a device that you have own like iPad, Apple TV, PS3 and other portable devices, you can choose the pre-configured options embedded on the left side of this MP4 converter software. The preset will detect the most suitable output settings for you.
Furthermore, the software allows you to edit the videos down before the WMV to MP4 conversion. There are some useful edit functions like cropping into the picture to remove unwanted portions, trimming, adding effect to the MP4 files, and more. You can do this by clicking on the "Edit" button on the toolbar.
Step 3: Converting (HD) WMV to (HD) MP4 file format on Mac
After all the settings, now, just click the "Convert" button to begin the encode process. you can append many tasks at one time and the Mac WMV to MP4 video converter will batch convert them for saving your time.
That is it!
It can as well fast convert videos to create in a variety of file formats such as TOD to MP4, QuickTime mov video to MP4, MPG, 3GP, MTS, AVI to MP4, etc..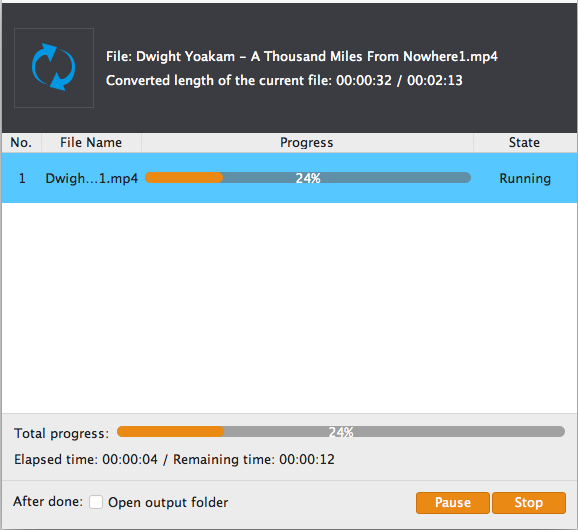 Q: Why can't convert my purchased WMV movies to MP4 format?
A: Some .wmv movie files you purchased from video download services might be DRM (Digital Rights Management) protected, in that case, you can neither make copies of these WMVs for personal use, nor to transfer from one format to another playable format such as H.264/MPEG-4 AVC MP4, MOV, M4V file. So in order to remove WMV file of DRM protection, you will need something like DRM Remover (Windows version) to get rid of the protection and then convert to your desired formats.
Also see: DRM protected WMV on mac, and Digital Rights Management (DRM) - Microsoft Audio & Video.
More Related to Video Conversion