How to Burn MPEG to a DVD on Mac and Windows
See more about: Blu-ray Creator to convert MPEG on a Blu-ray disc.
If you are new to disc burning and was wondering what programs you should use to have mpeg files burn to a DVD disc on Mac or PC machine, here is the right place you go.
Increased Internet speeds and larger hard drives make movie downloads easily accessible to most computer users. Many of downloads are enclosed in the MPEG format. Instead of watching these MPEG video files on your Mac/PC it be nice to preserve these precious MPEG files to DVD to play them on your DVD player, or enjoy them in your car DVD player when you are on the move.
There's plenty of DVD burning software that tackles this sort of thing, today we're going to take a look at a program called DVD Creator for Mac. It is a lightweight burning tool which could create a playable DVD from MPEG (.mpg) file and other file types with a few simple clicks on Mac. It is easy to use and light on system resources and includes just the right amount of features for the home DVD burning.
If you are using a Windows computer and burn mpeg videos that can be played on a regular dvd player and then viewed on a TV, please go and check out its equivalent - DVD Creator for Windows - an app that lets you create menus, edit movies, convert the mpg files to fit on a single DVD easily.
It doesn't matter what the video file is, creating a DVD is exceptionally simple. Let's take a look at how to burn a MPEG to DVD for Mac OS X.
Step 1: Add MPEG file
Start the program, you will be presented with a clear and simple interface, making it easy to find the function you need. Insert a recordable DVD into your DVD burner.
Now click "+" button on the toolbar, browse for the MPEG file you wish to be included in your DVD. Note, this MPEG to DVD converter for Mac also allows you to simply drag-and-drop files directly into the main interface from your desktop or from an open folder. Added video and photo slideshows will be displayed as thumbnails on the right side of the screen.
Notice the color gradient bar on the bottom. This is the capacity of the DVD that is used.
Step 2: Edit MPEGs before burning (optional)
Hit the "Edit" button beside each video or photo slideshow, or right click one clip and choose "Edit" to open the editing window. The converter offers you various video editing features to edit MPEG files or photo slideshow. You can rotate, crop, trim videos as you like.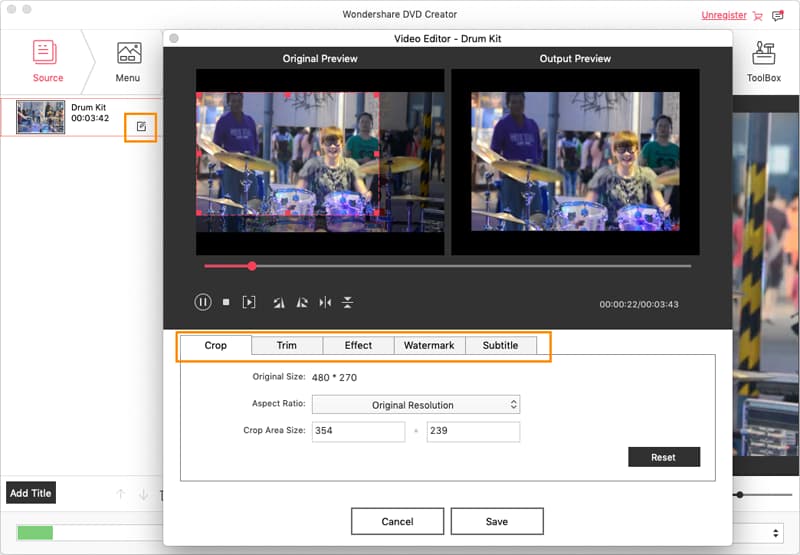 Step 3: Choose your preferred menu template
To add a menu, go to the "Menu" tab on the bottom right and then menu structure is showed out in the right pane. In this section, You are able to set any picture the user likes as the background image for the DVD and add background music, set Aspect ratio (16:9 or 4:3), and personalized DVDs with a large variety of creative templates.
Step 4: Burn
Before your start burning MPEG file to a DVD for Mac, go to the "Preview" tab near the "Burn" button and preview your DVD project to make sure that all the effects go as you like, including the menus.
After you have completed the settings, now all that's left to do is click on the "Burn" button when you're ready to burn MPEG to playable DVD in Mac OS X, and you'll be shown a progress screen. Just let the program handle the rest for you. The time of DVD creation process it will take depending on the type of DVD, the computer hardware and the data that is ready to be burned.
That's it! Once the DVD has completed being burned, you can pop it into your DVD player or Home Cinema Set, and have your disc playing on a TV.
Note, instead of burning the data to a disc, here you can save MPEG as a disc image by choosing "ISO File" option, and burn the contents to a disc later.
More Related to MPEG to DVD Making