How to Extract Audio from 3GP to MP3 on Mac and Windows
A friend of mine captured a .3gp video clip shot from his cell phone. I wanted to try to extract the audio to .mp3 and put onto my iPod Touch, can someone show a great program to let me do this? I guess I could find some free audio extractors for Mac (10.8.1), but I haven't even had success with a program to rip from a 3gp to an .mp3 yet.
3GP is a popular video capture format that is taken from on a mobile phone. If you want to play 3GP movies on your computer, you can either install a codec or download third-party software to play these files. However, if you're a music fan, what is better than watching 3GP videos for music enthusiastic? Extracting just the stunning music from 3GP files and save in a common sound file like MP3, and listen to on your iPod or any other MP3 player as you please will be!
If you want to pull the audio files off your 3GP (or 3G2) files and convert to MP3 audio file, there are several ways to do so. Here the method I use the most is simply rip them using Video Converter for Mac, which is relatively quick and easy. It only requires you to perform three steps in order to convert 3GP to MP3 format in Mac, and it handles all the nitty-gritty details without needing any interaction from the user. Part of the reason that this Mac 3GP to MP3 converter is such an easy program to use is because it has device profile you can select, this is great if you are intend to listen to the MP3 music on any of the portable player or iOS devices (i.e. iPod) included in the presets. See another tutorial about how to convert your MPEG to MP3 audio file.
As for Windows user, please go and get Video Converter for Windows to finish the 3GP to mp3 conversion task.
In this article we'll go over the steps to convert 3GP to MP3 on a Mac.
Step 1: Add 3GP files
Launch the Video Converter for Mac, Click "Add File" icon at the very top left of the window to specify which 3GP video file on your computer's hard drive you want to convert to the MP3 audio format. Or use drag-n-drop feature to import 3GP files into the program.
Step 2: Set up your preferred output audio format
Click "Profile" drop-down list, and then choose MP3 as output format. Then in "Settings" to tweak every aspect (channel, sample rate, bit rate) of encoding if you like.
If you want to use the resulting MP3 audio to Apple devices like iPad, iPod, iPhone and other portable devices like PSP, Android phones, etc. for convenient playback, you can choose the presets offered for the corresponding device as the output format.
Related: How to Listen to FLAC Songs on iPad
Then check the 'Destination' box and click Browse. Now you will need to select a directory where you would like it to be saved on your computer's hard drive and what you want to name it.
Step 3: Start converting
Once you've got all your settings, click "Convert" button at the bottom of the screen to begin the conversion. The app will now convert your 3GP video file to MP3 format on Mac OS X. You should now see a progress bar running as the conversion takes place.
You're done! Your new MP3 audio file will be created in the directory you specified in the "Destination" portion of the main window.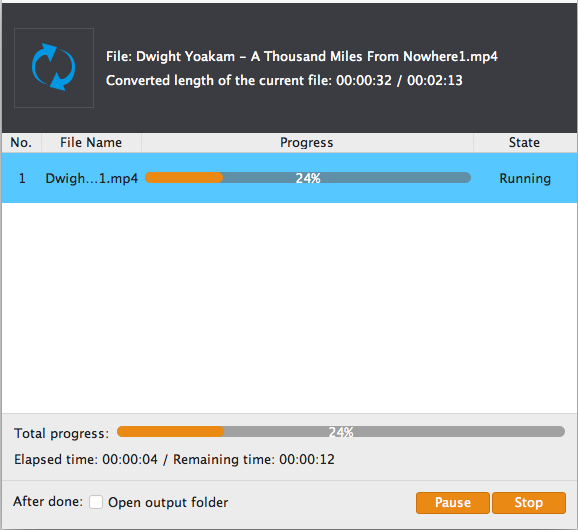 More Related to 3GP Conversion
MPEG-1 or MPEG-2 Audio Layer III - MP3