How to Convert MXF to AVI File Format on Mac/PC
MXF is a file transfer format for the exchange of programme material between servers, tape streamers and to digital archives. It holds video, audio, and programme data together, along with a metadata (The file structure, body contents, titles, subtitle, Reference numbers, Editing notes, Location, time, date) wrapper.
Although the Sony's XDCAM MXF, Panasonic's P2 MXF and Canon XF works natively in Sony Vegas, Avid, Premiere Pro, Adobe After Effects, Final Cut Pro, you should probably be aware that most of existing media players on the market cannot recognize this file format, let alone share MXF video file on video-sharing website like YouTube - You have limited video playing options with this video format.
Fortunately, one of the easiest way to play the MXF files on different devices or upload onto video-hosting services is finding a media converter program and convert your video from the MXF format in which it was created by camcorder, into a more common video format such as .*avi, .*mp4. In this article, we'll focus on convert MXF to AVI file with a program called Video Converter for Mac. The software provides users with an easy interface from which to convert MXF file into compressed AVI file for Mac, and convert pretty much any video file you might have into any of the many supported formats that'll work with your iPhone, iPad, PS3, Xbox 360, Kindle Fire. Please note, Windows user please use its equivalent version - Video Converter for Windows to rewrap MXF to AVI format.
On this page we will look at how the program works on Mac system when you are getting ready to convert MXF to AVI video file for Mac OS X. Just grab your copy of the app from the download-link above, and follow the prompts from the setup wizard to finish the installation.
Step 1: Load MXF
When you start the program, you will see a simple interface, all the necessary buttons are out front and not hard to understand. Just load up one or more video files to the board by clicking on the "Add File" menu -or- by dragging and dropping.
Advanced option is available for you to combine files via "Merge" button, meaning that you can choose to join several MXF files (or any other files) in the order into a single continuous file.
Step 2: Set your output type
Now select what format you want the output video to be.
Click "Profile" on the bottom section of the screen. When the profile window opens click the "General Video" category and choose "AVI", or "H.264 AVI", or "XviD (.*avi), "DivX (.*avi) as your exported file type.
Next, click on the "Settings" button, this pops up a number of options in a small window. If you are an advanced user, you can tweak the value corresponding the option. Generally, you can leave these in its default value.
To simplify the task of choosing an output format and configuring encoding settings, this Mac MXF to AVI video converter to choose a device to convert (.mxf) video for from the predefined Presets listed on the left side, making it easy to produce video to the exact resolution of mobile device screen.
If you need them, there are some of advanced options available that let you merge multiple files into a single continuous video, trim/crop a video and add effects before converting videos.
Step 3: Converting MXF to AVI Mac
When everything is fine, click the blue "Convert" button at the bottom of the interface. Conversion will start. This MXF to AVI converter features batch conversion that can convert a lot of videos at once.
The conversion will appear in a new window where you can track the process status. Be patient.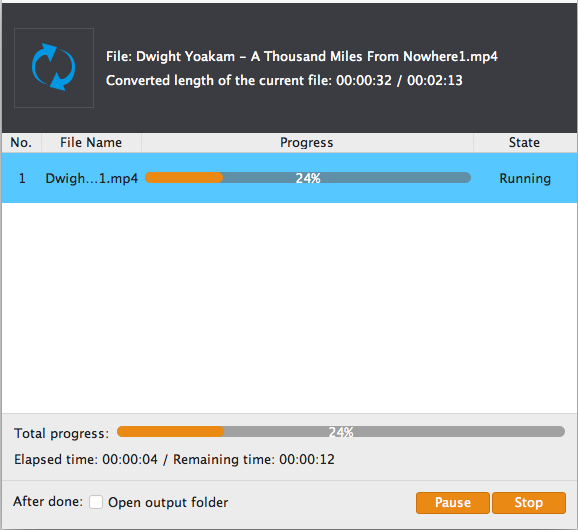 More Related to MXF
Sony: PDW-1500, PDW-R1, PDW-V1, PDW-510, PDW-F70, PDW-F30, PDW-F330L, PDW-F350L, PDW-HR1, PDW-HD1500, PDW-F800, PMW-65, PMW-500, PMW-200, XDS-PD1000, XDS-1000, PMW-F3, PMW EX1R, PMW-500, PMW-350, PDBK-101, PXW-Z100, etc.
Canon: EOS C500, EOS C300, XF 100, XF 105, etc.
Panasonic: AG-HPX 250, AG-HPX265, AG-HPX300, AJ-HPX3100MC, BT-LH2170, etc.