How to Convert MPEG to MP4 (or MP4 to MPEG) on Mac/ Windows
The Moving Picture Experts Group's MPEG video file contains highly compressed video content and is used for online video distribution. But it is not compatible with a device such as iPhone, which can only playback .MP4 (mpeg-4/ H.264/MPEG-4 AVC), *.mov, *.m4v files. MP4 format is a format commonly used for sending video clips over the Internet and playable on most media players, including Microsoft Zune and the Apple iPod, QuickTime, iTunes, VideoLAN.
If you want to convert MPEG/MPG to MP4 on Mac, you can do easily with Video Converter for Mac, which is a decent yet easy-to-use program with user-friendly interface that can convert MPG files to whichever format you want. After converting MPEG/MPG to MP4 format, you can free up space on your hard drive and get the identical high quality of your video files with small size. By the way, this Mac encoder also works well if you have the need of encoding from MP4 to MPG/MPEG file on Mac. For Windows user, please try Video Converter for Windows here.
The follow information is about how to run the app and do the mpg to mp4 file format conversion on Mac OS X. Here above is the thing you need to have installed to get started:
Step 1: Load files onto the MPG to MP4 video converter
Click "Add File" button to load your MPG movie files with its file extension of .mpg/.mpeg for the conversion. Alternatively, the program has been featured with drag-and-drops function that allows you to drag and drop the file into its window.
If you have several MPG videos on your Mac and you want to combine them and export a continuous video, just check "Merge" button beneath the project area.
Step 2: Select output file
In this step, go and click "Profile" drop-down box on the bottom section, you will see a screen popping up like the one shown below. In this window, select MP4 (H.264/MPEG-4 AVC) as output format (or go to HD Video list and pick "HD H.264/MPEG-4 AVC (*.mp4)" if your MPEG source files are full HD).
You could probably use "Settings" option if you need complex configuration — the MPG to MP4 converter has a group of tweak options for output file parameters (codec, frame rate, bit rate, resolution, channel, etc.). A video contains two parts: the video part and the audio part. You can treat both parts seperately.
Honestly, everything will work great with the pre-configured presets so you don't have to spend tons of time for being familiar with these strange technical paremeters.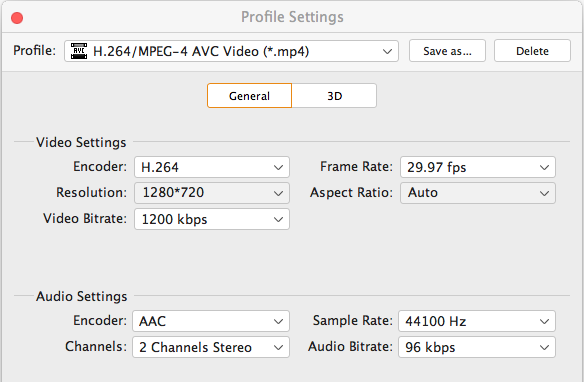 Related: How to Convert a 4K MP4 to Make a 1080p File
If you want to watch the output files on a media player like Apple, Android, games consoles, tablets, you can choose the corresponding icon from the ready presets.
Edit files prior to conversion: (optional)
The app comes with video editing functions: cutting video parts from your file. flipping or rotating video, adjusting to aspect ratio, watermark, auto-adjust. Get more details with user guide.
Step 3: Start Converting MPEG/MPG file in Mac OS X
After all the settings, click the "Convert" button for conversion process now. A progress bar will be shown providing you overall information as the MPEG videos converting into MP4.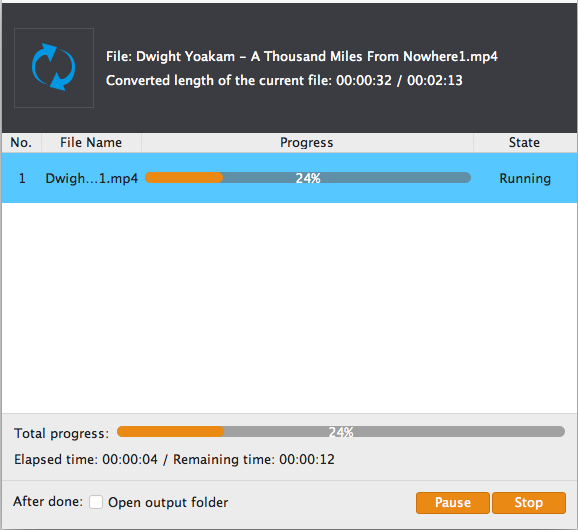 That's it!
The MP4 Converter for Mac is a simple tool for converting video between formats. It also provides an easy-and-quick way to convert a variety of video formats such as MP4 to MPEG, MOV to MP4 in Mac, FLV to MP4 on Mac for playback on iPod, iPhone (iPhone 4S), iPad, Apple TV and other popular devices.
More Related to MP4 Conversion