How to Convert MXF to QuickTime MOV on a Mac and PC
Does anyone know a good MXF converter that retains the Full-HD quality? I have footage in MXF format (created by a Canon camcorder) stored on hard drive. But QuickTime won't let me import the MXF video and says it not a supported format. Do I need to re-wrapping MFX files in QuickTime?
If you've iMovie or Final Cut Pro installed on your Mac you may well have considered using them to edit MXF file. Whether you have recorded videos in .mxf format with your camcorder or get them through other channels, the chances are that the .mxf is a container format that is unrecognizable for Mac system, regardless of iOS applications (iMovie, QuickTime, FCP) or iOS devices such iPhone or iPad.
There are many of different solutions available that will help you to make MXF files workable on Mac, the most common way to do that is convert MXF into MOV format on Mac - the most popular container format and has the best playback options since it works natively in Mac platform.
The Video Converter for Mac that we discussed here has a really nice interface and is rather quick and perfectly at converting MXF and nearly any file. It comes with a feature called preset, this ability allows users to convert video to a group of high-definition output formats that run on Mac, Windows, iOS, Android, and other portable multimedia players. For those who want to convert MXF file into .mov video on Windows computer, have a look here - Video Converter for Windows.
This article specifically explains how to convert your MXF to QuickTime MOV file on Mac operating system. Now, let's get down to the business of actually converting MXF files.
Step 1: Import MXF video
Once you've launched the program, all you need to is either choose individual files or an entire folder of files and import them into this MXF to MOV converter for Mac, or drag and drop any video file on your computer to the program.
If you'd like to put some files together, the application should be able to do what you want. It has a one-click "Merge" button on the interface to handle this task.
Step 2: Save the video as a MOV file type
Here you can either save the video as a common format or export it for a device of your choice. Just click "Profile" drop-down menu to bring up the Output File pane.
In this article we would like to make the file a QuickTime MOV file format to easily work in a Mac device or application. That means we are going MOV here, so let's click that option at the right part of the screen.
For more demanding users - going to "Settings" button next to the "Profile" drop-down menu - there are additional options available for tweaking any of the optional settings on output file before the next step.
"Apply to All" option (next to "Settings" button) is available that makes it conveniently to batch converting all videos with the same settings.
Alternatively, you will note on the left side of the panel there are a group of categories labeled with the name of popular devices: iPhone, iPad, PSP, Xbox, Android... Preset options are available that let you select a device you want the converted file to be playable on.
There are some basic and simple video editing options in this Mac MXF converter program: cut, crop, split, rotate videos. Apply video effects, insert text comments and images, deinterlace video to avoid mosaic.
Note: the pc version of this program has another useful option: insert external subtitle.
Step 3: Begin encoding MXF to MOV for Mac OSX
If you do everything correctly, click the blue "Convert" button at the lower right corner of the main interface and wait as the application converts your video. This MXF to MOV converter supports bulk conversion, which make it pretty much usable if you want to handle a large number of files.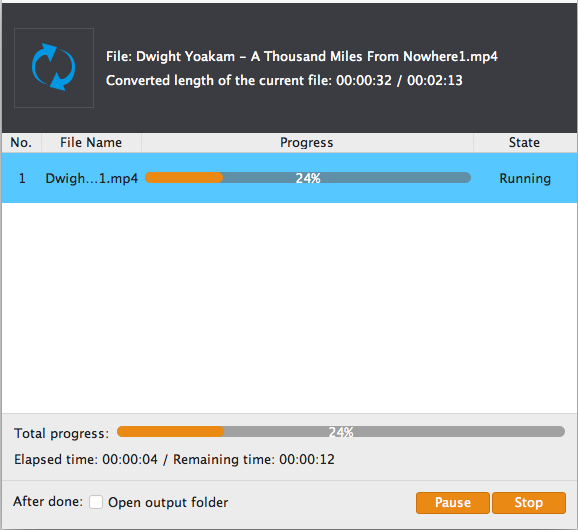 More Related to MXF
Sony XDCAM Camcorders: PDW-1500, PDW-700, PDW-530, PDW-510, PDW-F70, PDW-F355L, , PDW-F330L, PDW-F350L, PDW-F1600,PDW-700, PMW-200, PMW-160, PMW-100, XDS-PD2000, XDS-PD1000, PMW-500, PMW-350, PMW-320, etc.
Canon: EOS C500, EOS C300, XF 305, XF 300, XF 100, FX 105, etc.
Panasonic (DVCPRO P2): AG-HPX600, AG-HPX 250, AG-HPX 170P, AG-HPX300, AG-HPX500MC, HVX200, etc.