How to Convert VOB to AVI (or AVI to VOB) on Mac/ Windows
How can I convert files from vob to avi on a Mac, then I can put my vob movies onto PS3? I have used DVD Decrypter to copy a few movies to vob files but I want to converge into one avi file of a good quality! I tried Handbrake, but it does not seem to accept VOB for conversion to AVI. does anyone have any ideas? - Tim
VOB, stands for Video Object, the standard format for video filed ripped from DVD. VOB files has high-quality but with very large size. Many video programs or devices like Windows Media Player can't play a video in VOB format. To view VOB files with those programs and devices, you can convert VOB to AVI on Mac/PC, which is widely used and works with almost every media player and portable video device (Sony Vegas Pro, Premiere, Xbox 360, PS3, Nintendo Wii, etc).
If so, Video Converter for Mac can help you indeed. It enables you to easily and fast convert VOB to AVI format. Of course, if you have AVI files which contain high-fidelity video content in extremely large file size and want to burn them to DVD, you can also utilize this video conversion software to convert AVI to VOB for Mac prior to the burning process. If you are running a Windows OS, you can refer to Video Converter for Windows.
Keep in mind that VOB on DVD are sometimes encrypted. If you can't decrypt and convert DVD VOB to AVI file, please use DVD Ripper.
Follow the guide below and learn about how to convert .VOB to .AVI format on a Mac. AVI to VOB format conversion is also supported with this converter.
Step 1: Import VOB files
When you first open up the program, you may find it has a simple and user-friendly interface.
Drag VOB video file(s) onto the dark box in the left of this VOB to AVI Mac converter. Or click "Add File" button to open the file browser window and navigate to the file(s) you would like to convert.
Step 2: Choose AVI
In this step, Select the type of file you want the video to export to from the "Profile" drop-down box. In our case, head to the "General Video" category, where you can choose an format profile ended in .*.avi as output: AVI - Audio-Video Interleaved, H.264 AVI, DivX Video and XviD Video.
Then continue on to "Settings" window and tweak all the necessary value corresponding the video/audio. You can manually set the video codec for AVI (MPEG-4, MJPEG, XviD, H.264) if required.
The Mac VOB to AVI converter includes ready presets to convert video files specifically for portable devices like Apple iPhone, iPad, PSP (play station portable), Zune, Xbox 360, smartphones, etc. Simply click on that device and the settings will be automatically applied in the Output Settings tabs.
Edit VOB files: (optional)
Video too dark? Not a problem, just turn up the brightness. Want to set the frame size from 4:3 to 16:9? Not a problem, just tick the right option from "Crop" tab and cut off black margins. More details on user guide.
Step 3: Begin the VOB to AVI Mac encoding
When you've added everything, hit "Convert" button on the bottom of the program window and this VOB to AVI video converter will do the rest for you! When the conversion is done, you can enjoy converted files on your Mac, and import into your desired devices for playback anytime and anywhere.
The progress will be monitored under the files name. The amount of time it takes will depend on the length/size of the VOB file and the number of files that you are converting.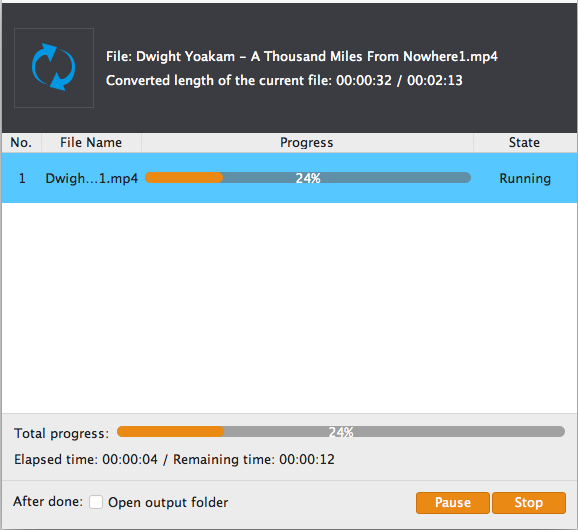 As a universal conversion tool to convert virtually any video to any other type of file format, the program can also convert VOB to MP4, a format that's commonly used amongst Windows, Mac and Linux. Some other popular formats are also supported as output including: MOV, WMV, FLV, M4V, MPEG.
More Related to VOB Conversion