How to Convert MXF to MP4 Format on Mac/PC
MXF (Material eXchange Format) is a "container" or "wrapper" format that's developed to become the cross-platform standard for future professional video and audio applications. It holds video, audio, and programme data as well as metadata together. You might have been given MXF files that were shot on a professional camcorder from Canon, Sony or Panasonic, and want to convert the MXF to MP4 for Mac, a more manageable file format that used widely in a variety of devices. If so, you might want to consider a professional video conversion utility.
Video Converter for Mac here we'll use is an incredible easy-to-use and absolute media transcoding tool that features a ton of control. It makes it as easy to as possible to convert whatever audio & video files to format - including MXF to MP4 - readable by various portable devices and gaming systems. It has a well-organized collection of presets that gives you flexibility to convert videos to instantly use for everything from iPad to Xbox One to HDTVs, and supports doing some simple editing tasks like cropping, trimming, splitting, merging, adding effect, and watermarking before exporting the final files.
If you are using a Windows-based computer and need to convert from MXF to MP4 video file, please use its equivalent - Video Converter for Windows, which can make full use of CUDA (GPU-based encoding) and AMD accelerated technology to boost conversion speed.
In this walk-through we are going to convert MXF to MP4 on Mac OS X, the process for MXF to AVI, MOV, WMV conversion is the same. Let's begin.
Step 1: Add the MXF file
Fire up the program, you will notice it has a simplified interface and there are only four items across the top bar — Add File, Effect, Trim, Crop.
Click the "Add File" button on the top of the screen and browse to the MXF file(s) that you would like to convert. Once you have chosen your file(s) then click "open" and wait for it to upload. You can also access this option via its drag-n-drop feature.
The window will display a list of your imported MXF files with detailed information like file name, resolution, video length.
Note that if you want to join multiple MXF files together to make one relatively seamless (.mp4) video, simple tick these files, click the "Merge" button under the video list area to accomplish it.
Step 2: Choose the format to save video as
In this step, click the "Profile" drop-down menu, a small window appears where you can choose what preset device or file format you want to export the video as.
For a specific file type, move mouse over "General Video" category, the Mac MXF to MP4 converter allows you to choose between different file formats if you prefer. Here we pick MPEG-4 Video(.mp4), or H.264/AVC Video(.mp4).
Advanced parameter options give you ability to enter your custom value such as bit rate, resolution, codec and channel in "Settings" panel.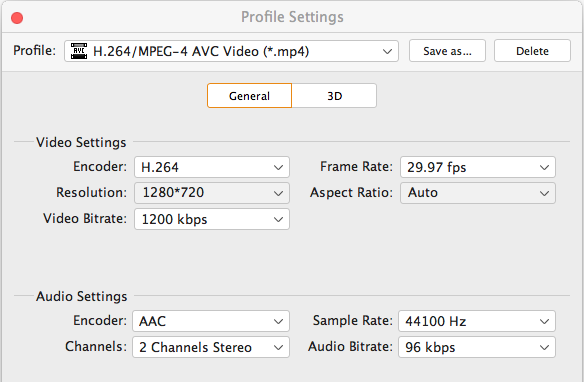 You can also get predefined presets from the list if you want the converted files to be streamed on your phone, game console or anything, and let the program take care of the rest.
In additional to working well for converting files, the program has a built-in video editor that can help you cut segments from videos, split video into smaller clips, put watermark onto the video, or rotate a video before saving.
Step 3: Begin converting MXF file to MP4 format
After you have all options set, it is just a matter of hitting the blue "Convert" button (see bottom right side) and you're good to go. A new window pops out showing the current and total progress of MXF video to MP4 conversion. You can tick "Open output folder when conversion completed" option if required.
Sit back, have a cup of coffee.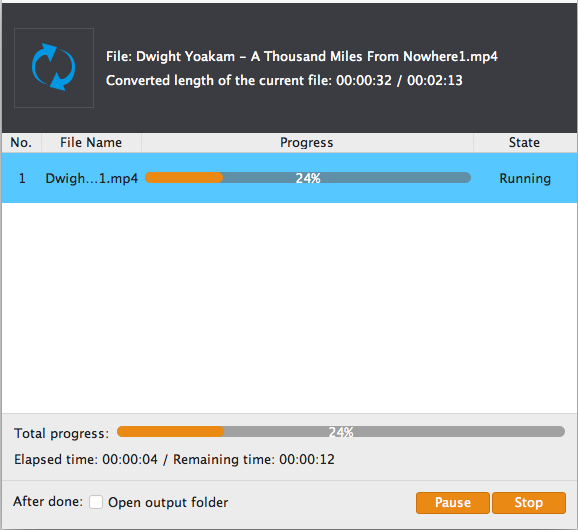 More Related to MXF
Sony XDCAM Camcorders: PDW-1500, PDW-700, PDW-R1, PDW-V1, PDW-530, PDW-510, PDW-F75, PDW-F70, PDW-F30, PDW-F355L, PDW-F335L, PDW-F330L, PDW-F350L, PDW-F1600, PDW-HR1, PDW-HD1500, PDW-F800, PDW-700, PMW-50, PMW-65, PMW-500, PMW-200, PMW-160, PMW-100, XDS-PD2000, XDS-PD1000, XDS-1000, PMW-F3, PMW EX1R, PMW-500, PMW-350, PMW-320, PDW-U2, PDW-U1, PDBK-101, PXW-Z100,etc.
Canon XDCAM Camcorders: EOS C500, EOS C300, XF 100, XF 305, XF 300, XF 105, etc.
Panasonic XDCAM Camcorders: CR-P2, AG-HPX600, AG-HPX 250, AG-HPX265, AG-HPX300, AG-HPX500MC, AJ-HPX3100MC, HVX200, BT-LH2170, etc.