How to Convert AVI to MP4 (or MP4 to AVI) on Mac/ Windows
I captured some interesting videos with Fraps and they all happen to be Xvid AVI format and so big, how do I compress .AVI to MP4 files so that I can put them onto my iPad. The software I have only converts one video at a time so I was wondering if there was any free software to convert all the selected videos from AVI to MP4 format on a Mac? - Zimer
AVI (DivX/ XviD) is a widely-used format on both PCs and Macs for its highly compressed video content with higher video quality. But what if you have some AVIs on Mac and want to get into MP4 with h.264 video and AAC (or AC3) audio to watch them on iPhone or iPad? Read on to see how to convert AVI to MP4 on Mac to be compatible with most PC /tablets /phones.
On the other hand, you can grab MP4 files off YouTube, Vimeo, and many other services. Whether you want to watch these mp4 movies on your device or edit them for a specific purpose, you may sometimes want to convert from MP4 to AVI format depending on what your devices support.
Featured different conversion settings and batch conversion, Video Converter for Mac is an innovative multimedia conversion tool that enables you easily convert AVI to MP4 file for Mac and vice versa , and convert a wide range of source formats to 100+ video & audio formats to work on portable players with high perservation of quality. For Windows user that has a need of video conversion, please try Video Converter for Windows here.
Follow the steps below to see how simple it is to finish the AVI to MP4 conversion task on Apple Mac OS X.
Step 1: Import your AVIs
Honestly, once you open up this Mac AVI to MP4 Converter it's very self-explanatory with nice labels on all the options. To import a video simply click "Add File" button to select (HD) AVI files you wish to convert to (HD) MP4 format from local folder, click Open.
Tip: this program also includes a useful import wizard, allowing you to drag your .avi video files and drop them into the window directly.
This is what the interface should look like after your source files being imported.
Step 2: Set the preferred output format and parameters
Choose output file format by clicking "Profile" button, then select "MP4" from the drop-down list. This Mac AVI to MP4 converter can automatically optimize the resulting output settings based on the format you choose.
Note that if your AVI movies are high-definition and want to keep original quality after conversion , instead of choosing an MP4 option from General Video, you go to HD Video category and select HD MP4 option.
Related article: how to convert your WMV video to a M4V file in Mac
The software includes a group of built-in device presets listed on left for conversion purposes, including a bunch for Apple devices (iPad, iPhone, Apple TV, etc.), to make things easier.
In "Settings" panel - Aside from using its default output preferences, you can fine tune these options to get the maximum possible video quality.
For example, in Video Settings section you can adjust the resolution and bitrate of the video to suit your need. Be aware that tweaking the resolution or bitrate will make the file size larger or smaller according to what the original value were. And the resolution change will probably even stretch your picture if they are entered incorrectly.
You can also save these as your own custom preset by clicking the "Save as..." button at the upper right corner, which will be seen in "User Defined" category.
Otherwise, you can leave them alone if you don't know what you are doing. The default output file parameters usually do the trick.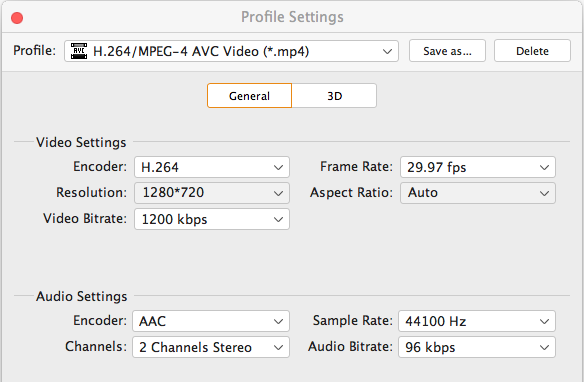 Edit AVI files before the conversion (optional)
You can configure some basic video settings and edit video, see more details at user guide.
Check professional video editing software list here.
Step 3: Start converting AVI to MP4 file
It's a good idea to specify an output folder where you want to save the resulting MP4s to. This will make it easier to find them once they're created. You can do this by clicking the "Browse" button in the "Destination" field near the bottom of the screen.
When you've finished saving preferences, just click the "Convert" button at the top of the screen to begin the encoding process on your Mac. A blue bar with process status will appear.
That's it!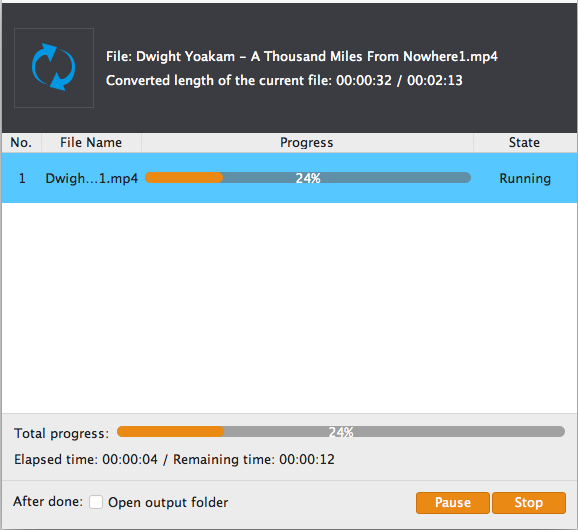 See also: how to play .avi video files on QuickTime
More Related to AVI to MP4 Conversion