How to Convert WMV to MOV (or MOV to WMV) on Mac/ Windows
WMV (Windows Media Video) is a video format for Windows-based computers systems. They are compatible with many Window-based applications and devices. However, If you occasionally use a Mac and want to make it workable with Mac-based program or devices, you may need to convert WMV to MOV for Mac, which represents the WMV's counterpart on the Mac.
While MOV is the standard format for Apple's QuickTime multimedia player and works in most Mac programs with a high-quality and high-definition results. One of its big drawbacks is that the MOV (QuickTime) video files can only be viewed by the QuickTime player even though MOV works both on Mac and Windows. To make your MOV movies more sharable online and off, you can convert MOV to WMV, a widely used format for Windows-centric portable players and devices.
Today we'll take a look at Video Converter for Mac, a simple video converter for you to achieve the video conversion task, no matter you need to convert WMV to MOV or from MOV video files to WMV media format. In addition, the application enables you to edit and customize your videos when needed. If you running a PC and want to convert WMV to MOV format, please try Video Converter for Windows.
Here we'll cover converting WMV to MOV file on Mac OS X with this program. The process of transferring the MOV video to a WMV format does likewise.
The first thing we need to do is download and install the right version to your computer (link above). Install as normal accepting the defaults.
Step 1: Import .WMV video files
Click "Add File" button to open the file browser window, browse to the folder of the WMV files you would like to convert, and select them and click Open.
Batch conversion is available for converting as many WMVs as you can throw at it.
Step 2: Choose MOV as the output format
When is comes to outputting your video file, this WMV to MOV converter has a wealth of options: from creating common format like MP4, AVI, MOV, MPG, WebM, MP3, M4A, WAV, to presets for playing it directly on portable devices including iPhone, iPad, Android phones, Xbox One, PS4, or even to sharing to sites such as YouTube, Facebook, Viemo.
In our case, all you need to do next is select the "Profile" pull-down list at the bottom side of the screen and choose MOV - QuickTime Video (*.mov) from "General Video" category (or select HD MOV Video (*.mov) under "HD Video" category for exporting HD WMV to), the application will automatically optimize the most settings for you.
For those advanced users who want to fine-tune the video further before converting wmv to mov file, simply click the "Settings" buttons to enter Profile Settings panel where slew of configuration options well labeled.
Then click "Browse" next to "Destination" to pick a path where you want to save the exporting files. If you don't choose this option and go for the default path, your files will be saved in "../Users/[your name]/Documents/Aiseesoft Studio/Video" on your machine.
In addition, if you want to play the target files on your iPhone, iPad, iPod, mobile phone, or some other devices, you can get some ready presets offered to simplify your task. There are a massive amount of predefined presets which lets you convert WMV video sources to device readable format and instantly forward them to device of your choice.
Step 3: Converting WMV to MOV video format on Mac machine
At the lower right corner of the screen, you'll see a big blue "Convert" button.
After all the settings, now, click the button to begin conversion process. You should now see a encoding bar running as the .wmv to .mov converting begins, along with the time indicator.
That's pretty much it! You've just converted WMV to MOV file extension by using the application. Undoubtedly, it offers one of the easiest ways to convert a Windows media video and QuickTime .mov file, even if you are a beginner who may be new to file conversion.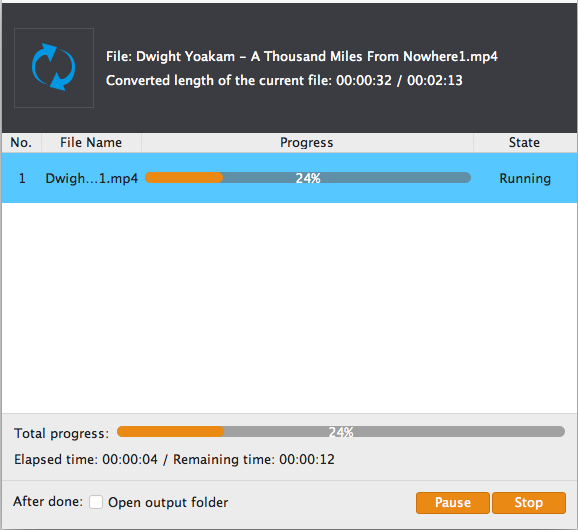 More Related to Conversion
Windows Media Video - From Wikipedia, the free encyclopedia