Phone Transfer is a simple, easy-to-use data migration tool that quickly transfers your data (contacts, call logs, text messages, music, photos, movies, calendar and apps) from one device to another that's running on iOS, Android, BlackBerry and Symbian OS in just one click.
In addition to moving data from one device to another, the utility offers an easy way to back up important files from your device onto a computer's hard disk, and makes the whole process really straightforward.
For Apple users who have files backup on iTunes library or synced to iCloud, the software also gives you ability to restore files from both service and put onto your Android smartphones.
1-click to transfer content from one device to another
Back up important data from handset onto computer
Restore files from iTunes backups or iCloud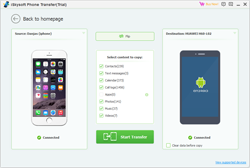 Transfer Data between Android, iOS, Windows Phone and BlackBerry

Moves data from a smartphone to another effortlessly including iPhone, iPad, iPod; HTC One, Samsung, Sony Xperia, Nexus, Pixel, LG, Huawei, OnePlus, Motorola, ZTE, etc.; Priv, DTEK50, Passport; etc.
Transfers data file among multiple operating systems: Android, iOS, BlackBerry, Symbian
Supports transferring almost everything: Contacts (name, number, email address, job title, company name, etc.), Music (album info, artist, lyrics, playlist), Photos, Videos, Calendar, Messages, Call logs, Apps
Fully compatible with major providers like AT&T, Verizon, Sprint, Vodafone, T-Mobile, Cricket, Telefónica, America Movil
Backup and Restore Phone Data

Create a backup of your data to your computer before you erase all the data or throw the device away
Get files from iTunes backup, iCloud backup and Blackberry backup onto your smartphone
Existing files will not be overwritten or deleted during/after transferring
User-friendly interface, easy process

Feature a simple and clean interface that is easy to navigate and use
Just connect your both devices to computer, select the data you want to transfer, press "Start Copy"
Three Modes available to select: Phone to Phone Transfer, Back Up your Phone, Restore from Backups
| | | | | | | | | |
| --- | --- | --- | --- | --- | --- | --- | --- | --- |
| Files | Messages | Contacts | Music | Photos | Videos | Calendar | Call logs | Apps |
| Android to iOS | | | | | | | | |
| Android to Android | | | | | | | | |
| iOS to Android | | | | | | | | |
| iOS to iOS | | | | | | | | |
| Symbian to iOS | | | | | | | | |
| Symbian to Android | | | | | | | | |
| iCloud to Android | | | | | | | | |
| iCloud to iOS | | | | | | | | |
| iTunes to iOS | | | | | | | | |
| iTunes to Android | | | | | | | | |
| BlackBerry Backup to iOS | | | | | | | | |
| BlackBerry Backup to Android | | | | | | | | |
iOS

iOS 10, iOS 9.1, iOS 9, iOS 8.1, iOS 8, iOS 7.1, iOS 7, iOS 6, iOS 5

Android
Android 2.1, Android 3, Android 4, Android 5, Android 6, Android 7
Symbian

Symbian^3, Symbian 60, Symbian 40

BlackBerry
OS 7.1 and earlier
Windows Phone
Windows Phone 8, Windows Phone 10
Support 3500+ Deivices

Apple - iPhone X, iPhone 8 (Plus), iPhone 7 (Plus), iPhone 6s(Plus), iPhone SE, iPhone 6 (Plus), iPhone 5S, iPhone 5/5C, iPhone 4S, iPad 4, iPad Air, iPad Pro, iPad Mini, iPod Nano, iPod Classic, iPod Touch, iPod Touch 4, iPod Touch 4 HD, etc.

Samsung - Galaxy S8, Note8, S7, S7 Edge, S6, E5, Note 5, Note Edge, Note 4, Note 3, Tab S2, Galaxy View, Tab A, Tab E, Tab 3, Tab S, J1 Ace, J3, C7, C5, J5, J7, J3, A9, J1 Mini, A7, A5, A3, On7, Active Neo, On5, S6 Edge+, A8, S5 Neo, Trend 2 Lite, S6 Active, S6 Edge, E7, Galaxy Alpha, Grand Prime, Pocket 2, Ace 4, S5 Mini, Core, S3 Neo, Grand 2, Express 2, Round, Trend Lite, Gear, Ace 3, Star, Y Plus, Fame, S4, Xcover 2, etc.

HTC - HTC 10, Desire 530, One A9, One M9, Desire 626, Bolt, One M8, One E8, Desire EYE, One remix, One (M7), Desire 526, Desire 512, Desire 510, Desire 612, etc.

Motorola - MOTO Z Droid, MOTO G⁴Plus, Moto Z Force Droid, Moto Z Droid, Moto Z Play, Moto Z Play Droid, Moto G⁴, Droid Turbo 2, Moto X Pure Edition, etc.

Huawei - HUAWEI P10, Mate 10, P9, P9 Plus, P9 lite, 6P, Mate S, P8, G7, Mate7, Y3, Mate 9, nova, MediaPad M2, T1, M3, etc.

Sony - Xperia™ XZ, Xperia™ X Compact, Xperia™ XA Ultra, Xperia™ X Performance, Xperia™ XA, Xperia™ X, Z5, Z5 Compact, Z3+, C4, M4 Aqua, Z3, Z3v Verizon, Z4 Tablet, Z3 Tablet Compact, Z2 Tablet, etc.

ZTE - AXON 7, AXON 7 MINI, ZMAX Pro, Citrine LTE, Grand X3, AXON Pro, AXON, ZMAX 2, Grand X MAX 2, MAX DUO LTE, IMPERIAL MAX, Grand Memo, Fanfare, Overture 2, Warp Elite, Prestige, Speed, Maven, Midnight Pro LTE, etc.

LG - LG V30, G6, V20 (AT&T, T-mobile, Sprint, LRA, Unlocked, U.S. Cellular, in Titan, Verizon Wireless), LG G5 (ACG), LG Stylo™ 2 Plus, LG K7™, LG Tribute™, LG X power™, LG K10, LG Escape, LG Stylo, LG Classic, LG Rebel™, LG Treasure™, LG X style™, LG Premier, LG Stylo, LG K3, LG Tribute, LG K7, LG K8, LG Optimus Zone, LG G4, LG Phoenix, LG Tribute, LG Wine, LG V10, Nexus 5X, LG Spree, etc.

Google - Pixel 2, Pixel XL, Pixel XL, Pixel, Nexus 6P, Nexus 5X, Nexus 6, Nexus 5, Nexus 4, Galaxy Nexus, Nexus S,Nexus One, etc.

OnePlus - OnePlus 5T, 5, 3T, OnePlus 3, OnePlus X, OnePlus 2, OnePlus 1, etc.

Microsoft - Lumia 950, Lumia 950 XL, Lumia 650,

Acer - Liquid Z410, Liquid Jade Z, Liquid S1, Liquid Z3, Liquid Z630, etc.

Nokia - E6, 5800, N97, N8, E61I, 5230, etc.

Additional reading: Android, iOS, Windows Phone (WP), Symbian
You might also like

Video Converter

Easily convert videos to virtually any format for portable devices, download web videos with one click.

only $35.95

DVD Ripper

Convert and rip DVD movies to MP4, FLV, WMV, MOV, MPG, AVI etc with quality lossless.

only $35.95
Quick Links
What's New in V1.9.1

1. Support iPhone X and iPhone 8
2. Support iOS 11
3. Add solution on abnormal devices recognition
4. Make iOS devices connection faster
4. Fix some bugs
Software Awards
Top 10 Download

DVD Ripper
Phone to Phone Transfer
Video Converter
Android Data Recovery
Media Converter Ultimate
Hot Tips