How to Migrate Content from Huawei Smartphone to iPhone
We live in an era where the mobile phone technology has been advancing by leaps and bounds. All kinds of mobile phones are pervasive in every corner of the world, especially smart phones which have been spreading faster than any other technology in the world. Now, Android and iOS are the most popular operating systems around the globe. Replacing an old device with a new one or upgrading to a higher version is a common situation for most phone users.
Let's you're using a Huawei Android phone, and want to switch to iPhone. Upgrading to a new iPhone from Huawei (Mate 9/Pro, P10, G8, 6P, Mate 8, whatever) sounds cool, but the problem is how can you move a considerable amount of data including contacts, music files, photos, messages and more from the old Huawei phone to new iPhone quickly and smoothly?
Fortunately, software developer has removed the barrier for you and made the data transferring process smooth and pleasant. Phone Transfer software turns out to be one of the best helpers in transferring content from Huawei phone to iPhone or the other way around.
With concisely-designed user interface and fast data transferring speed, Phone Transfer will definitely give you a wonderful data transferring experience between Huawei and iPhone, no matter which direction. The transferrable data ranges from media files such as videos, movies, voice memo, music and photos to personal records like contacts, call logs and text messages. Moreover, the utility supports backup your files stored in device to computer and retrieve it back if needed.
Leave Huawei for iPhone: How does Phone Transfer work?
Download the right version of program by clicking the link above, install and run it in your computer. Connect your both Huawei phone and iPhone to the computer via USB cables.
Step 1: Connect both devices on computer
Fire up the program, you'll be presented with a clutter-free user interface where you can explore more without being frustrated.
For exchanging data between Huawei handset and iPhone, please click the green Phone to Phone Transfer option from the four available modules.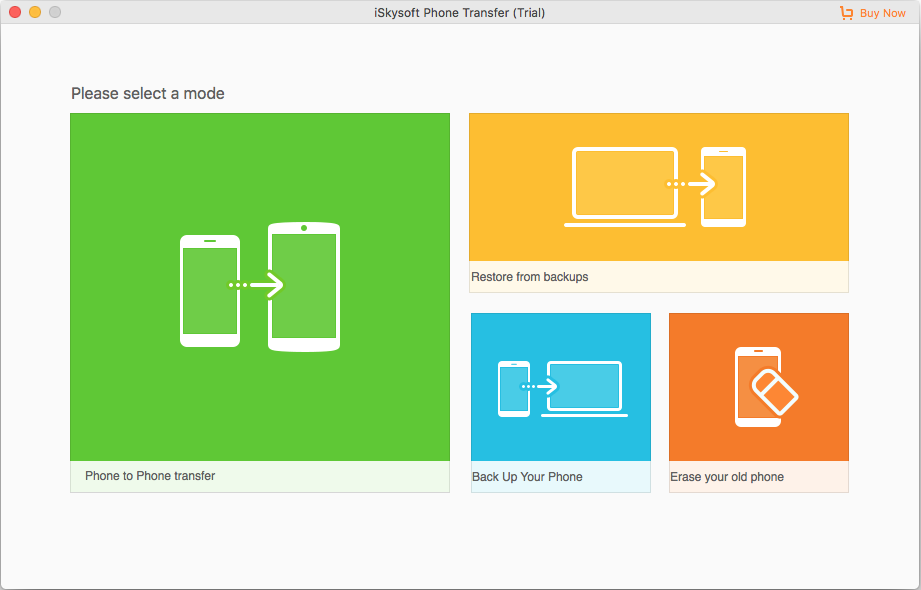 The computer will automatically identify the two devices and display the icons of the two devices on both sides of the screen. If not, try connecting again.
Next, you're required to enable USB debugging mode which is important in granting a level of access to the data in your Huawei phone. In the case of iPhone, a pop-up notification asks to authenticate the computer. Just tap Trust to proceed.
On the top center you will notice a green Flip button. A click of it enables you to switch the two devices' places so that the data will go the opposite way— iPhone to Huawei smartphone.
Step 2: Select stuff you want to transfer from Huawei in the scan results
Once two devices connected successfully, the software will start scanning the source phone on the left side of the window. After the scan is complete, you should see a list of transferrable data files consisting of contacts, text messages, videos, music, photos and other items.
Select content you want to copy from Huawei over to iPhone by checking the corresponding boxes (see above given image for proper understanding). At this point, you should ensure that your new iPhone has enough space for selected stuff you plan on moving from the old Huawei Android.
Step 3: Export and migration
After you are all set, simply press Start Copy button located on the bottom center of the program screen. The software start migrating sorts of data you selected such as contacts, photos, music, message from old Huawei and put into your new iPhone.
A new window opens, along with a progress bar indicating how long the data switching process is going to take. Depending on the content being copied, the time can vary from seconds to minutes.
Please avoid disconnection or power failure in the device, otherwise the data moving process will stop or the data will be partially transferred. After the process of moving Huawei data to iPhone has completed, check the data in your new iPhone.
That's it!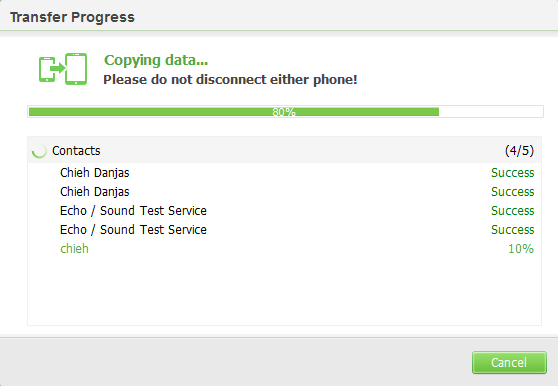 We have an extended guide on how to recover lost data from iPhone - you can get benefits from this tutorial once your data are lost or deleted by accidently in future.
Backup Feature
Some of us may have their phones stolen, attacked by Malware or damaged physically. Losing one's phone is heartbreaking, but losing mobile data sometimes can be devastating, which means all your data including your personal information, valuable photos and videos and other important data are gone and will never be recovered. Thankfully, Phone Transfer understands this and offer you Back Up Your Phone option on the main screen to help you keep data safe in local folder on computer.
Basic steps: First connect your phone to the computer and authorize access just like step one in Huawei to Phone data transferring process mentioned above before Clicking the blue Back Up Your Phone module on the main interface. The software analyze the data deeply and return all sorts of data. Finally, Tick the data you want to back up and click Start Copy button. In this way, the selected data has been cloned to your computer's hard disk or external drive.
Also, if you want to retrieve the backup files to your device from the computer, just click Restore from Backups in main interface. Choose and tick the data showed on the panel. Click Start Copy button.