How to Migrate Contacts from iPhone to Android Phone Instantly
With new phones being launched to the public constantly, users switch their smartphone more quickly than ever before. Getting a new Android phone is exciting, but making a data transfer from iPhone to Android is not an easy thing to do. Here's a guide with multiple ways to help ensure you don't lose anything, including contacts from an iPhone to an Android phone.
Nowadays, keeping changing phones is quite common. When you make a switch from an old iPhone to a newly-launched Android phone and vice versa, one thing that you would like to bring with you is your contacts that're stored on the old device. Sometimes it can be time-consuming and even annoying when you have to establish new contacts from scratch by entering phone numbers and names on your Android phone one by one. So is there any easy and fast way to produce contacts in your new Android device?
Actually, similar to the process of copying contacts between two Android phones, it's not that difficult to make contacts transfer from iPhone to Android handset, you just have to find a right utility. Where the web is full of data migrating apps, Phone Transfer software gets all your contact numbers migrated from iPhone to Android as painlessly as possible.
The program offers you the right tool to simplify and accelerate the contacts transferring process, as well as photos, music, videos, messages, calendar migration, which used to be a pain and nuisance for users. Besides, it can do more than transferring data between iOS (iPhone, iPad, iPod) and Android (Samsung, Huawei, LG, Sony, Motorola, Google, HTC, etc). It is also an effective tool to allow data backups from Android/ iOS device to the computer and retrieve it from the machine.
Read on as we walk you through a few methods in transferring contacts from an iPhone to Android smartphone. The Process of moving Android contacts to iPhone is actually the same.
Method 1: Use All-in-one Phone Transfer Tool
Download Phone Transfer software from the link above and install it on your computer.
Step 1: Open up the program
Once you open up it, you will see a user-friendly interface where you need to choose what type of task you are looking to perform. For the purpose of this article, you would choose the green Phone to Phone Transfer for copying contacts from iPhone to Android phone.
As you can see, you can also use the program to back up your phone, restore from backup, and even wipe out your old device thoroughly.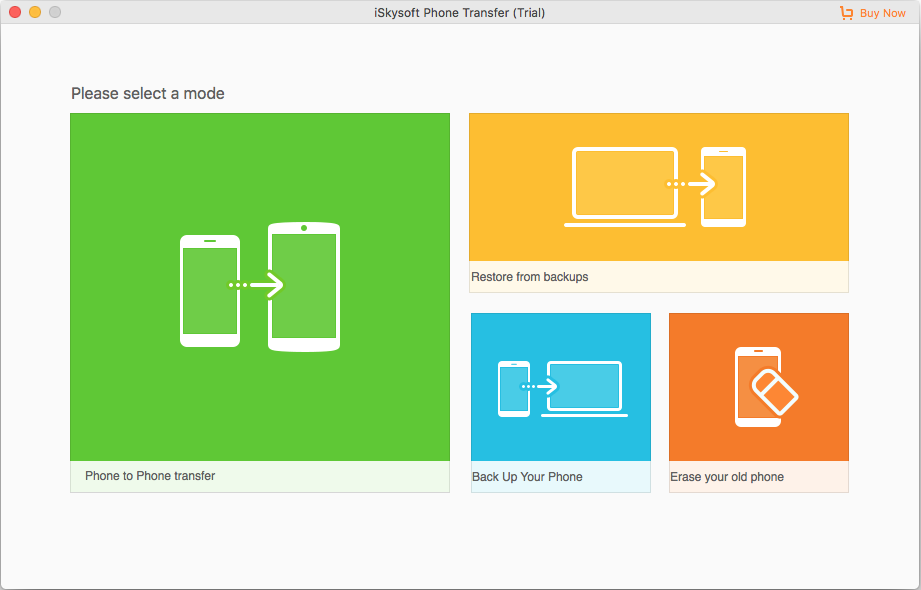 You then will see a screen like this.
Step 2: Connect your both iPhone and Android phone
Plug your old iPhone and new Android phone into the computer through the USB cable. The software will automatically detect two devices and display both on the screen. For Android smartphone, enabling USB debugging mode is required to be able to access the data in the device. And for iPhone, you'll have to tap Trust displayed on the device screen to continue.
Next, the program will start scanning the source iPhone and return a list of data such as contacts, SMS, calendar, videos, photos, music in the middle area of the screen, as the image shown below.
It's worth pointing out that a click of Flip button on the top centre makes the opposite journey from iOS to Android available.
Step 3: Select the data you want and begin transferring
Next thing is to tick the Contacts item from the list. If you have other sorts of data to copy from the iPhone to Android like music, videos, photos, or so forth, you can also click the checkbox next to that item.
It's important to note here that if you want to erase data in your target iPhone before the transferring process, simply tick Clear data before copy option in the lower right corner of the screen.
Finally, hit the big green Start Copy button on the lower center of the screen, and the contacts transferring process begins. The amount of time takes anywhere from seconds to minutes, depending on how much data is being moved from your old iPhone to the new Android phone.

Please avoid disconnection in the process of migrating iPhone contacts to Android, or the transferring process effort may end in failure.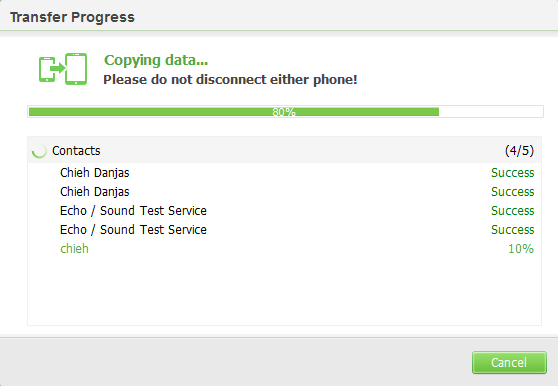 After the transferring of contacts is completed, unplug the USB cables to disconnect the two devices from the computer and ready to enjoy your new phone.
That is it! All the contacts have been transferred from iPhone over to Android smartphone, you can check them in Contacts app on your Android device.
Method 2: Manually Email Specific iPhone Contacts to Android
In case you just transfer several certain contacts to your Android phone from iPhone, you can use the Share Contact option and email them one by one. Here's how:
Unlock iPhone, go to Phone app and press Contacts.
Select the contact you wish to move and tap on Share Contact option, then tap the Mail option from the pop up.
On next screen, tap the "+" icon on the top right and select an email address to send the contact to. tap the Send option to begin the contact transition. The contact will be saved as a VCF file.
Enter the email account you've selected on Android phone, download the v-card (.vcf) and add it to contact list.
Repeat the process if you want to share more iPhone contacts to Android phone. But this is not an ultimate way you go if you have a lengthy list of contact to be transferred. Read on to find out more convenient methods.
Method 3: Get iPhone Contacts to Android via iCloud
Apple's iCloud always comes in handy for moving contacts from an iPhone to an Android smartphone, but the first rule is to sync contacts with it. To do this, go to Settings on your iPhone > tap on Apple ID on the top > iCloud > toggle Contacts option to the ON position to sync it.
Once the syncing process is done, follow these steps on a computer:
Sign into iCloud with Apple ID and password and click on Contacts image icon to get to the next window.
Click on Gear icon at the lower left corner and choose Select All option.
Click Gear icon again and press Export vCard option. This will output all of your iPhone contacts in a VCF file staying on your computer.

Now you can import the contacts to Gmail (See Method 4) or directly copy them to device via a USB cable.
Our most popular iPhone tutorials: How to recover deleted contacts numbers from iPhone.
Method 4: Import to Gmail
The trick to Method 4 is import the iPhone contacts that saved from iCloud on computer over to Google Gmail — it serves as an intermediary for getting contacts off iPhone and over to Android. We'll cover step-by-step guide on imported iPhone contacts to Gmail:
Set up Gmail account on your computer's browser if you haven't done so.
Log into Gmail and change the Drop-down menu on the top left of the screen from Gmail to Contacts. (If you are using the updated Google Contacts, just go along this way: Open Google Contacts on the web and sign in with your Gmail account. Down to the left menu of the screen you will see the option labeled More, click on it and select Import, then choose CSV or vCard file from a popup. At this point, you are asked to visit the previous version of the site.)
Click on More right below the Search bar and select Import. Then a prompt will pop up, you can press Choose File button, locate the VCF file on your computer which is downloaded from iCloud and hit Import button — all your iCloud contacts are now in Google as well.
Whenever connected to this account on your Android handset, the contacts will be automatically downloaded and show up in the address book.
Guide on Getting Google Contacts on Android handset: head to Settings > tap Account & Sync > tap Sign in and enter Google login information > Tick "Sync Contacts". When you are done, all the contacts will appear on your Android smartphone. This final step can be applied in Method 4, Method 5 and Method 6.
Method 5: Sync Contacts to Google Account via Settings
If you don't want to migrate the contacts from iPhone to Android phone using iCloud sync, you can also jump to your Google account to sync and transfer the contacts. The process will be finished on your iPhone and Android phone — no computer necessary. Follow the steps to complete the iPhone contacts transfer:
Go to iPhone Settings app > Account & Password > Add Account. If you are using iOS 10 or earlier, go to Settings > Mail, Contacts, Calendar > Add Account.
On the next screen, choose Google and enter login information for your Google account.
Tap Next and wait for verifying your account.
Select the items you'd like to sync. Make sure you toggle the Contacts to ON and tap Save at the top right corner of the screen.
Now that you have your iPhone contacts synced with Google, it's time to put them on your Android smartphone. If you have enabled Google sync feature, your Android phone will automatically import the synced contacts from Google account.
Anyone looking for detailed instructions on recovering Android contact numbers would be well advised to visit this post: How to recover contacts from Android phone.
Method 6: Sync iPhone Contacts Using iTunes
iTunes is also an easy way when it comes to migrating iPhone contacts over to Android smartphone.
Launch iTunes on your computer.
Plug your iPhone to the computer via a USB cable.
Click on the Device icon on the toolbar and click on Info tab on the left list of the screen.
Check Sync Contacts with option and select Google Contacts.
Type your Google ID and password when prompted and then click Apply.
Wait for the syncing finish and you can access to contacts on your Android phone whenever you set up your Google account.
Method 7: Get an App — My Contacts Backup
Beside the native iCloud, iTunes or Google account, there are a bunch of sync-and-transfer apps existing for migrating contacts to Android handset on iPhone. Here we will use the free My Contacts Backup and we will list out the introductory guide below:
Go to App Store to download and install My Contacts Backup app on your iPhone.
Launch the app and you'll be first asked whether allow the app access your iPhone address book, tap OK.
Tap Backup on the main screen to create a full backup of the contacts.
Tap Email, type your Google account in the To field and tap Send at the top right to email the contacts attachment to yourself.
Open the email on Android handset, download the VCF attachment and import to address book.
It's pretty much the whole process and hopefully all the free methods mentioned above will be helpful for you.
How to Move Songs from a Samsung Smartphone to an iPad and Vice Versa
How to Transfer Contacts from iPhone to iPhone
How Do I Transfer Android Messages to an iPhone 8 (Plus)
iPhone models: iPhone 7/Plus, iPhone 6s/Plus, iPhone SE, iPhone 6/Plus, iPhone 5s, etc.
Android modes: Samsung Galaxy Note 8, S8/ Plus, LG V30, Google Pixel 2, Sony Xperia XA1, HUAWEI Mate 10, P10, Xiaomi MIX2, ZTE AXON 7, MAX XL, etc.