How to Convert ASF to WMV on for Mac OS X/ Windows
Advanced Systems Format (.asf) is a Microsoft audio and video container format that is used for streaming media content. Files contained in ASF files include Windows Media Audio (WMA) and Windows Media Video (.WMV). Because it contains no rights management or security features, your file can easily be copied and distributed by unauthorized users. Whether those videos are the ASF video file or any other popular formats, the need to convert a video file from one type to another is something many can identify with. That's where this article comes in - converting ASF to WMV file on Mac OS X, so that you can use the converted WMV video on your Windows Media Player, Windows phones, or whatever other device you might be using.
Our software of choice for this purpose is Video Converter for Mac - it's a remarkably simple yet feature-filled utility that is capable of handling any of the available formats conversion, including from .asf to .wmv file extension. It's also perfect for encoding videos and compressing them to suit a portable hardware like PS3, Xbox 360, smartphones. With a simple video editor built in, it affords you the most control and an opportunity to edit the video prior to conversion. If you running a PC with Windows OS, please try Video Converter for Windows here to get .wmv file from the original ASF collections.
This article exemplifies how to convert ASF to WMV format with video converter for Mac, which can be used for all video encoding tasks.
Step 1: Add ASF files to the Mac converter
Now that you have the program ready to go, fire up it. After opening the software you will see a User Interface as shown below. The key buttons for you have been marked as 1, 2, 3.
Simply drag and drop ASF files you want to add to this board, or click "Add File" button for ASF loading.
Step 2: Select what format you want to convert for
Now that you have added a file to the conversion area, choose which format you want the output video to be. In this tutorial, I will be converting to a WMV file. Click "Profile" dropdown menu, and choose WMV from the panel as output file. There are more advanced options in "Settings" panel (to the right of "Profile") offered for video and audio compression to enhance the outcome. These can be left as the default.
Then, click the button in the "Destination" box. Browse to where you want to save the output file, and type in a file name and save.
On the right side, there is a list of Presets. If you want to watch the video on a device just in the list, simply choose it and this ASF to WMV converter for Mac will automatically set the most suitable settings for you.
The app comes with basic editing tools listed on the top menu for trimming your video, cutting portions out, flipping the video or adding watermark.
Step 3: Start encoding
That's all. Click the "Convert" button to begin ASF to WMV Mac encoding when all is ready and go and make a cup of tea. When conversion begins a blue process bar will appear giving you the status. It will take a while.
Once it's finished, your WMV video can be played with most media players, or you can enjoy on VLC - one of the most compatible & cross-platform media players in the world.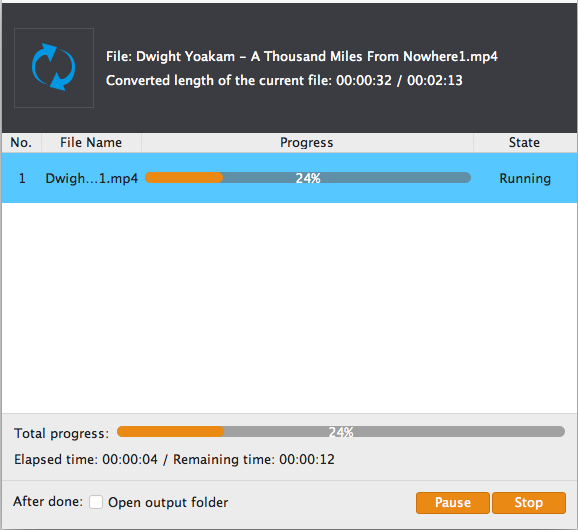 Useful references