How to Transfer Music from Android to Android Quickly
In this technology-heavy society, almost everyone owns one or two smartphones. One of the distinguishing features about the ubiquity of technology is that we can share almost everything with others. We share the photos taken during the wonderful trip with our family members or the significant one. We share with our friends anecdotes, interesting stories and pop songs.
However, sharing stuff, especially for songs, is accompanied by some kinds of adversity. When it comes to transferring tunes from one Android phone to another, if you download the same songs from online which are in your friend's device already, it will take you quite some time. By drag-and-drop on the computer? It seems feasible, but the process is clunky. Well, there is always a way out.
Phone Transfer has gotten solid reviews and works as advertised. With it, you're able to copy songs between two Android phones as easy as connecting two devices, selecting music files and pressing Start Copy. What on earth makes Phone Transfer stand out from the crowd of the transferring tools on the web? Read on.
Main Features:
Easy to manipulate, even for technology newbies.
Deal with data ranging from text files (contacts, messages, call logs) to media files (songs, videos, photos), and even apps
All-in-one utility with a combination of data transfer, data backup and data restoration
Supports migrating data from phone to phone, no matter what OS it is running, iOS, Android (Samsung, LG, Sony, OnePlus, Huawei, Moto, etc.), BlackBerry, WinPhone, Symbian
Two versions are available: Mac and Windows
This following sections introduce an easy step-by-step guide on copy your music from a Android phone to another Android phone. Please read on and get yourself acquainted with the specific steps.
Step 1: Connect both Android smartphones to the computer
Make sure you have downloaded and installed the right version of Phone Transfer on your computer.
Launch the software, and select the phone to phone transfer mode from the main interface.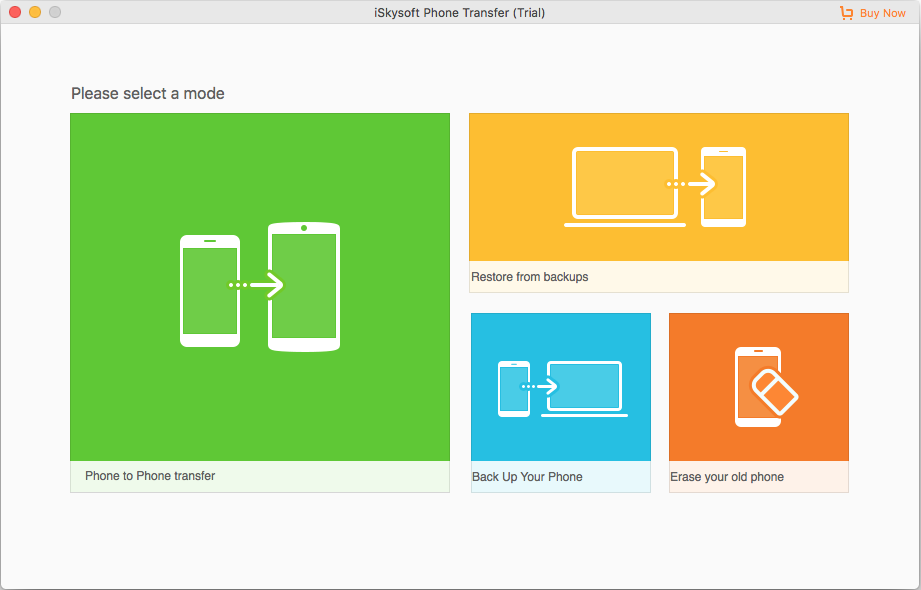 At this stage, you will notice a screen as below, prompting you to link both your Android phones to the computer. After do that, ensure that you turn on USB debugging mode on both Android devices.
Now, Phone Transfer will recognize both your Android devices right away and displays them on the interface.
Step 2: Select Music from the source Android handset
The software empowers you, by clicking the Flip button, to switch their positions to choose which Android device to be the source device and the other to be the target device.
You then will see all of your transferrable files listed on the middle pane of the interface. Simply mark Music option and any other stuff you want to move over to your destination Android phone.
Step 3: Start copying music files from one Android to another
Go ahead and click Start Copy button to initiate the process of migrating tracks from Android to Android. The process time it takes will be decided by the number of songs and the size of music files. Please wait patiently to let Phone Transfer take care of the job.
In this way, all your songs from the old Android phone have been copied to your new Android device.
That's it!