FLAC Converter - Convert FLAC Music on Mac and Windows
FLAC refers to Free Lossless Audio Codec, a musical file format for lossless compression of audio data. Unlike other lossy audio compression formats like MP3, OGG, WMA, a decoded FLAC stream is bit-for-bit identical to the original uncompressed audio file. FLAC files are compressed by 30-50% of their original size, as opposed to the average 80% compression used by the MP3 format which makes it perfect for archiving.
In terms of audio, there's no difference between FLAC and other lossless audio compression formats such as the Apple Lossless Audio Codec (ALAC), Monkey's Audio (APE) and WAV, they are all essentially lossless formats.
Nevertheless, in terms of playback compatibility you might want to consider avoiding FLAC format. If you are an Apple user, you'll find that you can't play FLAC music on your iOS devices directly, since Apple products like iTunes, QuickTime, iPhone, iPad or iPod don't have native support for it. In that case, you probably have to convert your music that's in .flac first to something more accessible, ALAC for example, on your computer. Another concern you might have is the increased storage usage. Even though FLAC use a form of compression to create lossless file, it still significantly takes up quite a bit of space than lossy audio formats like MP3, AAC, WMA.
Playback compatibility, storage intensive or otherwise, you sometimes have a need to convert the FLAC on Mac & PC to another more friendly and usable music format. Here therefore, this article revolves around a tool – Video Converter for Mac (for Windows) with its features as well as an easy guide on converting your FLAC files.
Overview of Video Converter
Video Converter is a versatile and adaptable digital video/audio converting application that allows you to convert between audio files in bulk with lightning-fast conversion speed. Besides a myriad of audio formats, the utility will accept virtually any video files as well. what's more, it let's you target exactly which device you want your videos to play on with default settings for Apple's iPhone, iPad and iPod as well as an array of smartphones and tablets and other players. With much more humanism design, the program gives you full control of video & audio quality like encoder, bitrate, sample rate, trimming, cropping, adjusting volume, etc.
Convert FLAC to Lossless or Lossy Audio
FLAC is a lossless format, however, this FLAC converter allows users to do a batch conversion from FLAC on Mac & PC to another lossless or compressed (lossy) audio file format at varying levels of quality, including FLAC to ALAC, APE, MP3, WMA, M4A, M4R, etc. This makes it possible for you to listen to your tunes on different types of devices with different programs.
If you are picky about the quality of the songs collection, the pretty conversion is to go from FLAC to another lossless audio format, keeping all the tagging in-tact, and no data loss in the process.
Convert Lossless Audio to FLAC Format
In case, you have a number of lossless music files that you want to put onto a non-Apple music device for portable listening, then FLAC is definitely a good choice to go since it is the most popular lossless format out there. Another thing, FLAC files take up less space compared to other lossless compressed files. You are allowed to run the batch conversion from APE, WAV, ALAC to FLAC.
Convert between Videos
The capabilities of this program extend beyond accepting traditional audio formats. It converts digital videos to and from just about any format you can imagine. It is sure to meet just about every one of your video conversion needs.
FLAC Audio Extractor
This Mac/ Windows-based FLAC Converter also performs well in extracting the audio tracks from the movies that in the format of MP4, WMV, MKV, MTS, etc and then save as common audio files you need.
You might be interested in our another article: How to Convert a Blu-ray and Save the Audio to FLAC
Configure Audio Settings
Another functionality of the utility is it offers advanced settings to experienced users. You are allowed to modify FLAC music files with or without re-encoding like split FLAC into multiple audio tracks, join several FLAC segments into one file, decrease or increase the audio volume, configure the sample rate, channels, bitrate, quality, and etc.
Handy Video Editor
There is a built-in practical editor on the main window of the program which houses elementary options for trimming, cropping, adjust effects, adding watermarks and more to fit for the actual needs of users.
Let's see how this FLAC Converter works. This guide has been written using the Mac version of the program, but it's the same basic process on a PC.
Step 1: Load FLAC or other source file(s)
Click on Add File on the top menu bar and browse to the FLACs, or any other music/ movie collection on your hard drive or simply drag-n-drop the ones to the main window.
Batch conversion are supported.
Step 2: Set the Output Format or Preset
Click Profile menu under the audio task pane to bring up the format selection drop-down list. Then just pick your preferable audio format that you want your FLAC to be encoded into among the full range of given format options.
You may select video format profile if you're converting between video files.
To make full control the quality of your FLAC tunes, you can press Settings icon (next to Profile) to make further customization on the audio parameters after you choose the target export format, such as Audio Codec, Audio Bitrate, Audio Channel, Sample Rate, etc.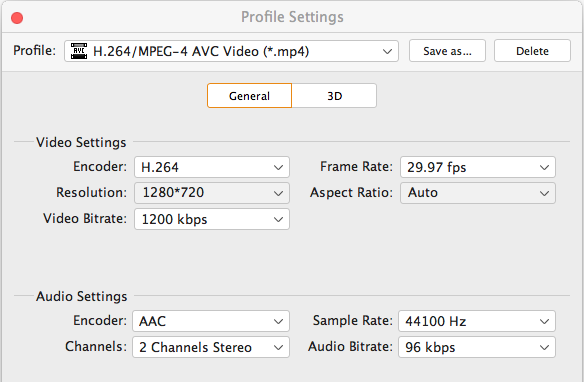 For better enjoying FLAC (or movie files) on your portable media devices, you are provided with an array of universal multimedia gargets with default settings that you don't have to drive mad for the ambiguous output settings.
After making the configurations for the output conversion, leave the setting panel and back to the primary interface of the program. Press Browse icon near Destination area on the lower center of the window to specify a local folder to save your output files.
Step 3: Start FLAC Conversion on Mac
In this last step, it is a simple matter of hitting Convert icon at the bottom-right corner of the main screen to run process of converting FLAC music in Mac to another file format.
This should pop up a new window with progress bars for viewing the conversion status. The time of the conversion mainly depends on the size of all imported FLAC songs and the performance of your Mac.
Wait a few minutes for the FLAC files to convert.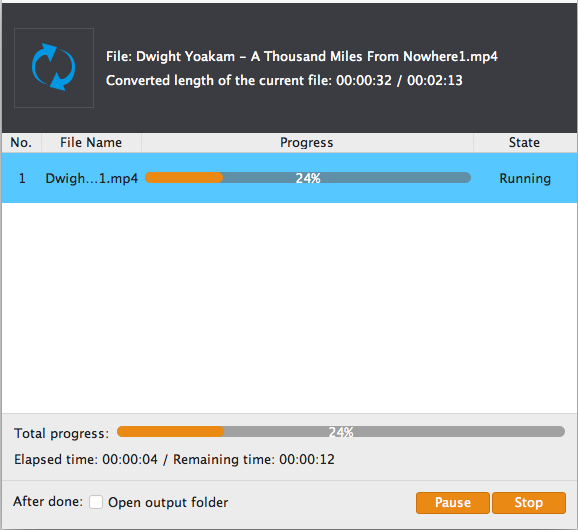 Finished! Your entire FLAC songs has been successfully converted into another format. And now you can enjoy the music on your computer desktop media player or sync on a handheld device to listen on the road.