How to Convert (mpeg-4/h.264) MP4 to MOV on Mac and Windows
The digital world is full of different types of video and audio formats, each with their own limitation cross platform support. When it comes to MP4 format, it goes without saying that it's one of the most popular digital video format on the planet. MP4 is a container standard that can contain H.264 or MPEG-4 compressed video and/or AAC or AC3 audio. Almost every modern player and device works with MP4.
But if you're on a Mac, there are reasons why you might want to convert MPEG-4/ H.264 MP4 video to MOV format—a QuickTime framework file format that Apple products has a native support of, the most likely of which is that you want to playback the file on your iOS device (iPhone, for example) or edit it in application like Final Cut Pro (X), or iMovie.
No matter what the reason, converting MP4 into MOV on Mac OS X or Windows is easy enough these days. There are a great number of MP4 Converter utilities available for doing the job. Some manage to get their name known, while some are still flying below the radar.
Video Converter for Mac is a good example of such kinds of software that lets you convert videos files in .mp4 to .mov format in Mac, and converts movies to any other conceivable formats easily. No extra codecs package to installed, no complicated operation to be involved.
The software also integrates with a slew of convenient features and controls—Its device-specific presets gives you ability to convert the video for playback on the device with the most appropriate video settings, the built-in video editing filters enables you to perform editing on the video to get a more good-looking result file, and more. Converting MP4 file to MOV on PC's is also available with its Video Converter for Windows.
Although specific to the .mp4 to .mov conversion for Mac and PC's, the instructions in this article can be used to convert a wide variety of other video formats you might come across including AVI, WMV, M4V, MKV, FLV, VOB, FLAC, WebM, MPG, etc.
Related: how to convert a MP4 to WMV format on Mac
Step 1: Load the original MP4 files onto the converter
In the upper left corner of the program window, click the "Add File" button and find the MP4 video file(s) that you intend to convert into MOV file from your local hard drive, choose them and click Open.
Once the movies imported, they will appear on the list to the left pane of the window like the picture shown below. You can view the file via the small preview window and take screenshots if you want.
Furthermore, you can check the "Merge into one file" option located at the bottom right corner, in case you're aiming for one seamless video spliced together by multiple small video clips.
Step 2: Click "Profile" menu to pick MOV as output format
Next, head to the field on the lower left-hand side labeled "Profile". This is where you'll choose what format the resulting files will be in.
In our example, we need to convert MP4 to a MOV for Mac. Depending on quality of your original MP4 (mpeg-4 or H.264/AVC) files, you either go to "General Video" and select MOV - QuickTime Video (*.mov), or go to "HD Video" and choose HD MOV Video (*.mov) as output file if you really care about having the highest-quality output file.
Whether you want to tweak an existing conversion setting of the video or create an entirely new "user-define" new settings, you are free to click the button labeled "Settings" next to "Profile" to enter Profile Settings window. From where there are a list of different advanced settings available for you to fine tune: frame rate, bitrate, codec, resolution, audio sample rate, the number of audio channels, etc.
In this example of converting files from MP4 to QuickTime .mov format for Mac, generally, you get a set of appropriate parameters for MP4 that will result in a video that plays well on your Mac/ multimedia device. But sometimes you still have to adjust a couple of settings.
For example, if the original MOV is 1080p or 720p and you want to get a excellent MP4 file with minimum loss of quality after conversion, i suggest using the H.264 codec rather than MPEG4 codec. while using the MPEG4 codec in Video Settings section to encode MP4 file will cause the conversion process to go faster, H.264 codec will make your video to be of the highest quality possible.
Also, unless you have a reason to make a tweak, it's advisable to leave the settings at their default. They are enough to cater to our daily needs.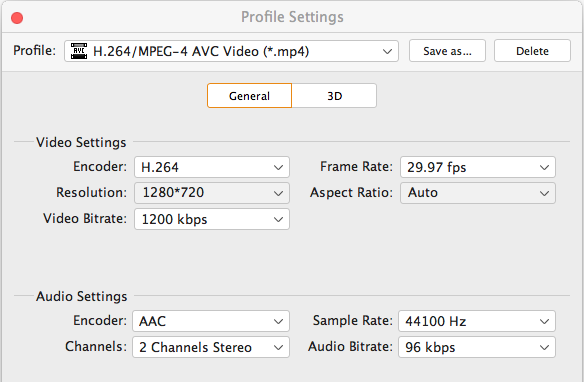 Additional standout feature of the MP4 to MOV converter for Mac includes the ability for you to choose preset options your video is intended for from the list on the left pane. At this point you can keep things simple, whether it's an device from Apple, Android, Windows, or something else.
For example, if you want to convert a hot movie to stream onto a iPhone 6s Plus, instead of choose a specific format from "HD Video" category, you can head to "Apple iPhone" category and find the iPhone 6 Plus/6 H.264 HD Video(*.mp4) preset option, and pick it.
The application also comes with useful video filters on the top menu, which allows you to cut the video into parts, trim unwanted extras, remove black bars on sides, add effects and image/text information and more. It is advisable to experiment with a short video file before you're familiar with all these filters.
Step 3: Start running the MP4 to MOV conversion process
In "Destination" field under "Profile", specify an output folder you can get to the business of conversion.
Now press the big orange "Convert" button in the lower right corner and wait for the MP4 to be converted into MOV on Mac OS X, then you're off!
The software will have a progress bar across the video process list in its window.
Conversion time is determined by the file size, the quality of the video, and your computer power. Don't panic if things are taking a while.
That's it. Once you've converted videos from MP4 to MOV QuickTime file in Mac, you are ready to go. You can add them into iTunes and sync to your iOS player, stream onto QuickTime, or edit in Final Cut Pro.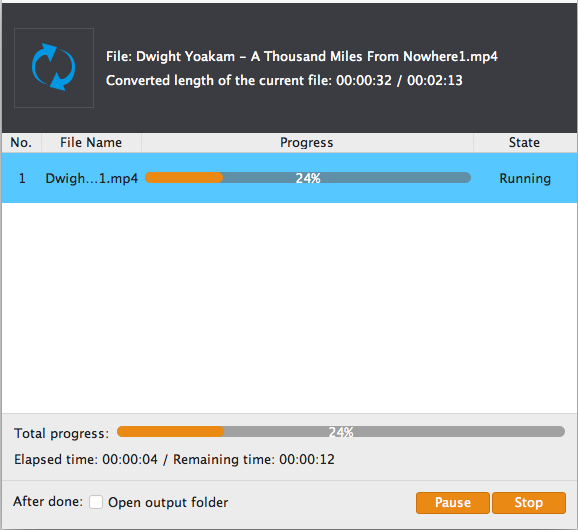 Conclusion
Video Converter comes with all of the features one would expect for making a video or audio conversion on your Mac or Windows machine, and offers additional options to enhance the output results. Its simplicity and efficiency make it an indispensable part of a multimedia toolkit.