How to Copy Contacts between Pixel and Sony Phone
Have your Google Pixel for years, and want to replace with a Sony Xperia Android phone? Getting a new phone is an exciting thing, but also bothers you a lot since you have realized that the important data like contacts still stored in your old Pixel Android phone. Some of you may be fed up with typing the contacts manually on the new Sony phone while other may figure out the way to move your contacts between two Android handsets through Bluetooth. However, using Bluetooth will cost you a long time if these transfer files are in large size. Besides, what you may ignore is that contacts cannot be viewed and copied in bulk in this way as they are saved in the internal memory of a mobile phone.
It seems like a frustrating task to move your contacts from Pixel to Sony Android phone, actually, compared to Bluetooth, it is an effortless and painless task on Android operating system. So, a third party software called Phone Transfer is highly recommended for phone users as it makes it extremely simple to transfer almost everything from one Android phone to another, including contacts, text messages, calendar, music, photos, videos, call history, apps. You can even use it to transfer data from Android to iOS and vice versa.
In addition, Phone Transfer as a bridge of data transfer is also an excellent tool that allows users to back up the stuff to the computer or restore files from iTunes, iCloud, OneDrive, Kies.
You can download it by hitting the button above to install on either your Mac or Windows computer.
Users tutorial: How to import all your contacts from the Pixel to the Sony Android phone.
Step 1: Run Phone Transfer and Connect two Android phones with computer
Fire up the software and you will be presented four options on its main screen: Phone to Phone Transfer, Back Up Your Phone , Restore from Backups, Erase Your Old Phone.
As we intend to migrate contacts from Google Pixel to Sony smartphone (and vice versa if required), here we select the green option "Phone to Phone Transfer" to enter its mode.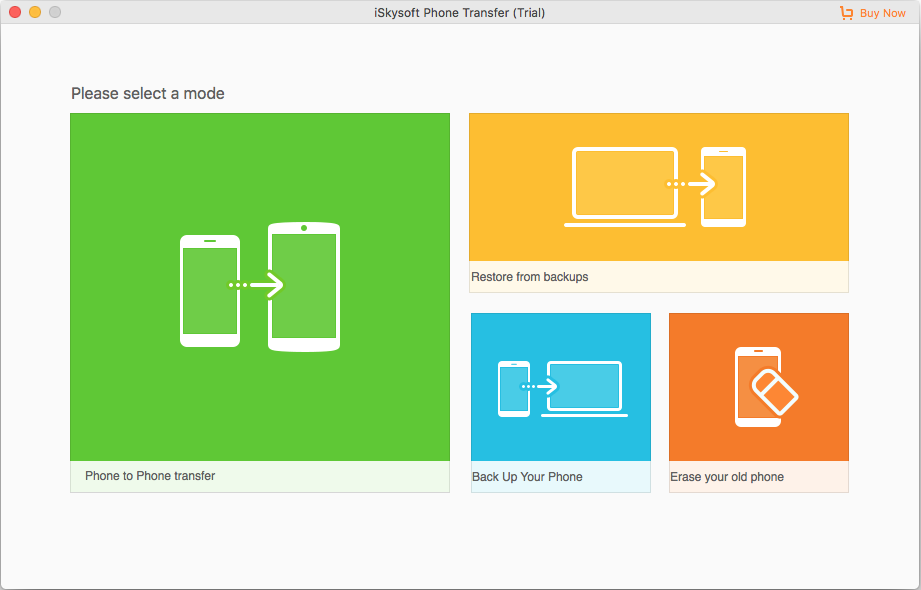 To establish connection, you need to plug your both Pixel and Sony to your computer. Then, you enable USB debugging mode on both devices to proceed.
Step 2: Select Contacts to be moved
After you have the two Android handsets attached well, the program begins detecting the data inside the source Google Pixel phone automatically and return you a transferable content list on the middle pane of the interface, including contacts, calendar, call logs, text messages, music, photos, videos, apps.
Then, you select the files you are going to copy and remove the other marks in the boxes before file types other than Contacts.
Note: If you want an opposite contacts transfer from Sony to Google Pixel instead, you may achieve it by clicking Flip button on the center above of the content list.
Step 3: Start the Contacts transferring process
Before migrating, you may also tick the Clear data before copy to erase the existing files inside Sony smartphone.
At last, you just click the Start Copy button to begin copy contacts to your Sony Android phone from Google Pixel smartphone. You can check the progress bar popping up on the interface to see how the contacts transfer is going.
Note: To avoid data loss or other mistakes, do not eject both your Android smartphones during the process.