How to Copy Contacts from iPhone to Motorola Phone Quickly
Many iPhone users are considering the move to switch to a new Android handset for new experience. The switch to a new Android phone is always accompanied by a headache of copying a large amount of contacts in between. This post is going to explore a painless way to transfer all the available contacts from iPhone to Motorola phone.
A question from an iPhone user: "I have an iPhone 6 and I just got a new Motorola Z from Amazon. I would like the new phone to share contacts with my iPhone 6. Is there any way to copy all the numbers and other contact information from my old iPhone 6 to my new Motorola? "
You got the hottest new Motorola, but your friends' numbers, colleagues' numbers, parents' numbers along with hundreds of contacts are trapped in your old iPhone. Surely you don't want to spend half of your Sunday afternoon coping contacts from the old phone to the new one manually and painstakingly. Well, there is other ways to get you out of this dilemma.
If you Google search on the Internet, you will get loads of results about the methods of iPhone contacts transfer, some of which involve many steps and some are difficult to handle. There are several ways and applications out there that'll help you jump platforms and transfer contacts from an iPhone to a Motorola smartphone in no time. But the easiest is Phone Transfer.
It provides you with an one-click migration of data including contacts from iPhone over to Motorola Android. You just need to connect two devices to the computer and select contacts option, and all the contacts in iPhone will go to your Motorola phone quickly. Besides contacts, other files like text messages, call history, calendar, music, and photos are also of great importance and Phone Transfer also do a one-click transfer in all these data altogether.
Despite its name, this utlity isn't just for data transfer. You can also use it back up the data to computer so next time you switch to another new device, you can restore it directly from the computer.
Now sit at your computer with your both phones on the desk and get started to move the contacts from iPhone to Motorola.
Step 1: Connect two both phones to the computer
Run the software on your computer and choose "Phone to Phone Transfer" from its interface.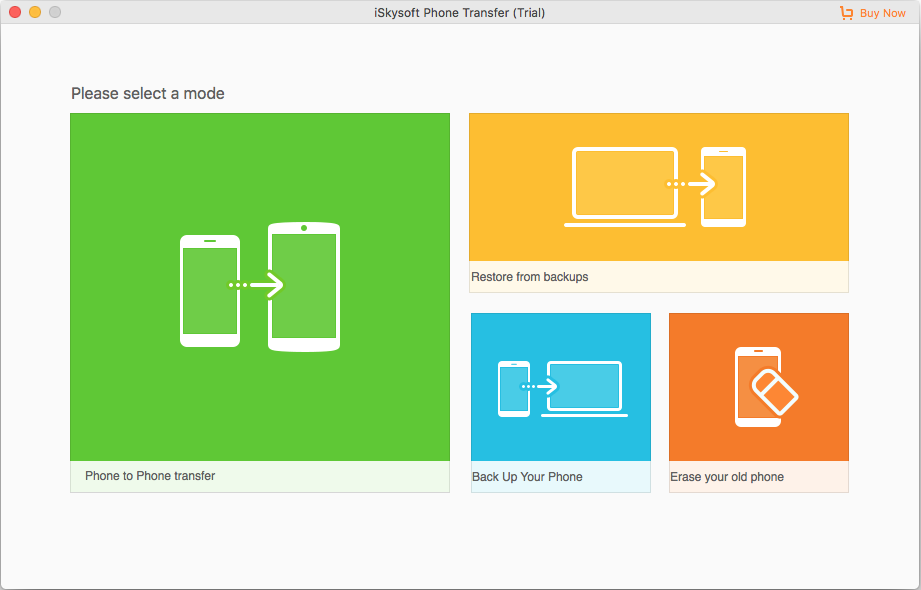 Connect your old iPhone and new Motorola phone to the computer via USB cables. On iPhone, tap trust to analyze the data. And activate USB Debugging Mode on Motorola.
Step 2: Select "Contacts" option after scanning the iPhone
Once connected, you will be greeted with a window as below with both devices' icon on both sides. iPhone is supposed to be a source device and Motorola as destination device. The button Flip is used to correct their place when necessary.
A scan of the source iPhone begins. A few seconds later, it will return a list of data files on the middle box such as contacts, messages, calendar, music, video, call logs, etc.
Next, check Contacts in the box as well as other file types you want to copy from iPhone to Motorola.
Step 3: Start copying iPhone contacts to Motorola
When you've selected the checkboxes of contacts and other data you want to copy from iPhone to Motorola, simply press Start Copy button on the bottom center to start the contacts migration process.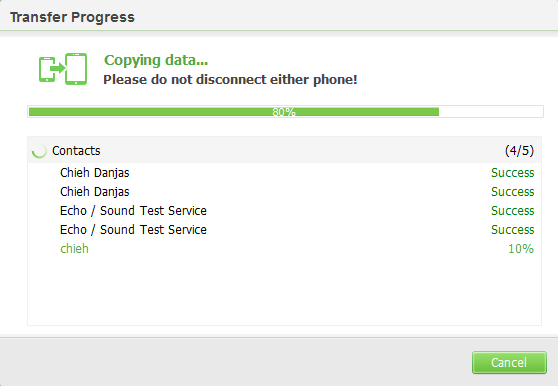 Just make sure both handsets stay connected while your contacts are transferring. After the process is complete, you should see all your contacts from the old iPhone on the Contact (or People) app on your Motorola phone, and you're ready to put your new Motorola to use.
That's it!
Some important files lost in your old iPhone due to your own fault or some other unexpected reasons? No worries. check out our picks for the top 5 iPhone data software applications if you need a few viable options.
What to do with your old iPhone
Once you have your personal contacts information and other important data moved on your new Motorola smartphone, there are many things you can do to deal with your old iPhone before you throw it away, such as using it like an iPod touch for listening to music, turning it into a home night watchman, trading it online for money, keeping it in a drawer as a backup device, entertaining kids and more.
How to Restore Photos from iCloud Backup File
iTunes Alternative - Manage Contente between iPhone, iPad, iPod and Computer
How to Copy Text Messages from One Android Phone to Another
Motorola: Moto Z Force Droid, Moto Z, Moto Z Droid, Moto Z Play, Droid Turbo 2, etc.
iPad: iPad 1, iPad 2, iPad 3, iPad 4, iPad Air, iPad Air 2, iPad Air 3, iPad Mini 1, iPad Mini 2, iPad Mini 3, iPad Mini 4, iPad Pro 1, iPad Pro 2, etc.