How to Transfer Data from Android to iPhone (and Vice Versa)
As technology improves at a rapid speed, various kinds of brand-new smartphone go public every year with many new and impressive state-of-the-art functions being rolled out. It is quite hard to stick with one equipment to navigate through life. As your current smartphone becomes outdated over time, you realize that some applications crash more frequently and newly downloaded software cannot be run on your system. Nowadays, more and more people become dissatisfied with their existing antiquated device and lay down hundreds of dollars on a new handset.
Android is a popular mobile OS that's based on the Linux kernel and designed primarily for touchscreen mobile devices such as smartphones and tablets. Being its fast, smooth and robust performance, as well as customizable features, Android makes it a leader in mobile operating systems around the world. On the flip side, Apple iOS is made for simplicity, the uniform design elements cross any Apple mobile device are sometimes seen as being more user-friendly.
Let's say you've made the decision to leave Google's Android behind and go all in with iOS operating system. When switching phones between the same ecosystem, your data can be moved from the old device to the new one by cloud synchronization service. However, when it comes to data migrating from Android to iPhone, things get a little tricky. Even though there are many methods to transfer stuff from your Android device to iPhone, they are all very time-consuming and hard to handle.
Transfer Content to iPhone from Android the Easy Way
If you need to transfer content on Android to iPhone quickly and efficiently, by far the most efficient method is using a tool called Phone Transfer.
Phone Transfer is a powerful data moving tool that makes it easy and direct to copy data from one device to another no matter you're making a switch from Android to Android, Android to iOS, iOS to Android or iOS to iOS. It enables you to transfer not only the personal information like contacts, text messages and calendar, but also the media files such as music, video, photo, etc.   
Now, the following guide will give you details on how to transfer text messages, contact, videos, music, photos and calendar information from Android all the way to iPhone. This tutorial applies if you're moving data from an iPhone to Android smartphone.
Step 1: Run the tool on your computer and connect two phones
Run the Phone Transfer on your computer and you'll get its main interface as below. There are four icons available for you to choose from. Mouse over any of the icons will show you the tips on what the icon does.
In our case, click "Phone to Phone Transfer" module to enter into the next screen.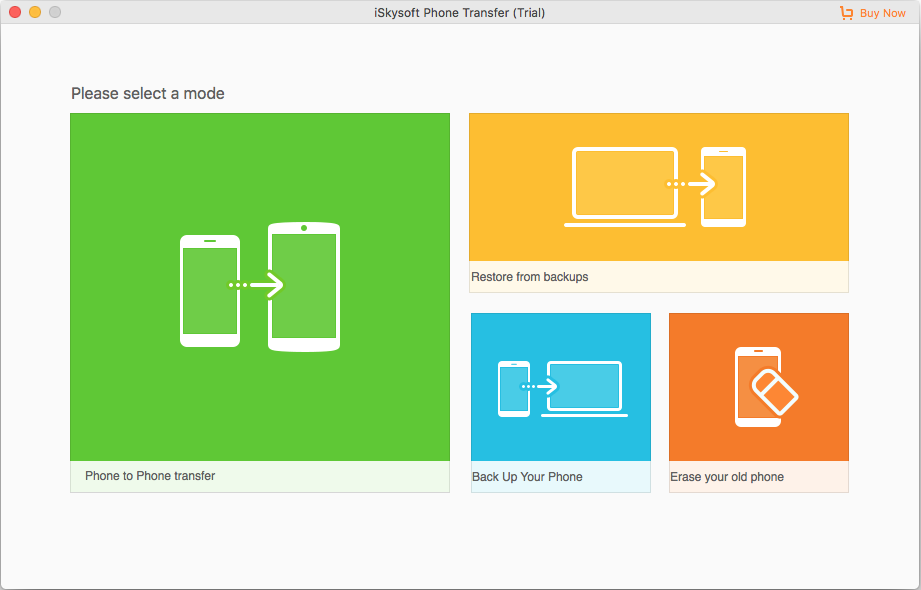 After then, you need to connect your Android device and iPhone with your computer via USB cables, and ensure that the both device are recognized by your computer. To do this, please enable USB Debugging Mode on your Android handset (or you can click the "Cannot recognize the device" link under the device icon on the lower left side) and tap "Trust"  on your iOS device.
Step 2: Select the data to transfer from your old Android phone
Once your two devices connected successfully, the program will begin scanning all the files automatically which have been stored in your source Android device and display them all on the centre box on the screen, as shown below.  You can click Flip button to exchange the positions of your Android device and iPhone device if they're not in correct position.
On the middle checkbox, you can select the categories you want to transfer to iPhone device, such as Contacts, Text Messages, Video, Photos, Songs, Call logs, etc.

Due to the the incompatibility of iOS software and the Android software, the call logs and apps on your Android phone isn't transferrable but, you can make an opposite journey—migrating call logs from iPhone to Android.
Further Reading: How Do You Put Songs from an iPhone onto a Mac
Step 3: Start copying the data from Android to iPhone
After things are all done, just click Start Copy button to start the data transfer. Your selected files in your Android smartphone will be migrated to the new iPhone automatically.
You can check the progress bar to know whether data transfer is completed. Depends on the file types you selected, the transfer process may take anywhere from seconds to several minutes.
Note: During the process, never disconnect either device.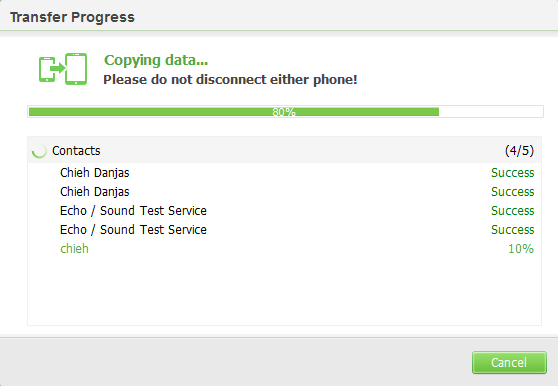 [Read next: How Can You Transfer All Your Songs from HTC to an iPad Without iTunes]
More features you may want to know
Aside from the function of data copying from Android to iOS and vice versa, Phone Transfer also includes backup and restore options.
It allows you to backup smartphone content to the computer or external hard drive. You can then retrieve the backup files to any other supported devices whenever you want. Also, you can restore data to your phone & tablet from iTunes backup, iCloud backup, OneDrive backup, etc.
If you want to ditch your mobile phone, it is important to erase all the data in your device completely to prevent the personal information leakage. The Mac version of it has the ability to erase all the personal data thoroughly and permanently from your original phone. Once the files deleted, it can't be restore any more.
If you've got the the data loss problem, we've also got a guide on how to use an iPhone data recovery tool to recover deleted data files from iPhone without backup. And, just in case you didn't know, you can use it to create backups regularly as well.
Conclusion
Phone Transfer is capable of moving contacts, text messages, call history and other vital data at one fell swoop no matter you switch from Android to iOS, or iOS to Android, or just upgrade to any new model. The main purpose of Phone Transfer is to make the transition less laborious and painstaking.
If you want to transfer certain items instead of all, for example, transferring several pieces of music tracks instead of all the songs from one device to another, then you can try something like iTransfer application, a comprehensive tool that allows you to transfer media files freely and selectively between iPhone, iPad, iTunes, Android, Computer and external hard drive.
Having trouble in using the brand new iPhone? No worries. You can check out guide to getting started with an iOS device from CNET.
How to Copy Contacts from Sony Xperia to iPhone
Transfer Your Google Pixel Songs to your new iPad
How Can You Move Call Logs from iPhone to Galaxy S8 (Plus)
Android: Huawei, Samsung, LG, Sony, Motorola, ZTE, OnePlus, HTC, Google Pixel
iOS: iPhone (iPhone X, iPhone 8/Plus, iPhone 7/Plus, etc), iPad (iPad Mini 3, Mini 4, Pro 2, Pro 1, Air 3, Air 2, etc), iPod