How to Quickly Move Contacts from LG Phone to iPhone [Solved]
The issues around transferring contacts are very similar to transferring messages. This guide will help you do so without a hassle, quick and safe. Also, you can transfer your other data including photos, music, movies, calendar, call logs between iPhone and LG Android phone.
When you get a new iPhone (iPhone 7, iPhone SE, iPhone 6s, whatever), you'll want to transfer everything from the old LG phone over to the new iPhone. And contacts certainly has to be there on your priority list as you may need to communicate with many different people every day.
No matter you plan on taking along all kinds of important data including contacts, music, messages, call logs, photos, etc with you, or just transferring the contacts from LG Phone to iPhone, you will want to do it quickly. Today we're taking a look at a simple way to transfer your LG contacts to an iPhone, and vice versa—copying contacts from iPhone to LG phone (LG V20, G5, Stylo 2, K7, Tribute, X power, K10, Escape, Stylo, Classic, Rebel, Treasure, X style, Premier, etc).
Unlike the old fashion way to handle this task—install contacts backup app first on old LG Android phone to backup all contacts, and then install the app on the new iPhone, and log in with the same account to synchronize all of those contacts on iPhone, we're taking a look at one-stop tool that makes the transfer quite easy and straightforward without cumbersome steps.
Phone Transfer—Transfer Data between Any Mobile Phones Quickly
When it comes to transferring data from one phone to another, Phone Transfer for Windows does well on all fronts with its intuitive interface. It works with Android, iOS, Windows and Symbian mobile operating system, and supports transferring almost all of data from your source device.
To move contacts from LG to iPhone, you just connect both devices on computer, select contacts from the list after it scans, and click Start Copy. It also take care of your other stuff like photos, videos, music, messages, call logs. Even better, It gives you ability to restore file from iTunes backups, or iCloud backups, as well as retrieve a backup of your previous backup data on your computer.
Now, let's have a look at how to use the tool to facilitate the contacts transfer from LG to iPhone.
Step 1: Attach your both iPhone and LG device to the computer
Run the Phone Transfer on your Mac or Windows machine.
Click on the Phone to Phone Transfer option from the green section to get into next screen. Three other sections are available for you to accomplish different of tasks.
Restore from backups: if you have data back up previously on this computer, you can restore it and put it on your any mobile phone.
Back Up Your Phone: Create a backup of data from your current phone and save on computer
Erase Your Old Phone: Permanently erase the data before you throw it a way or sell it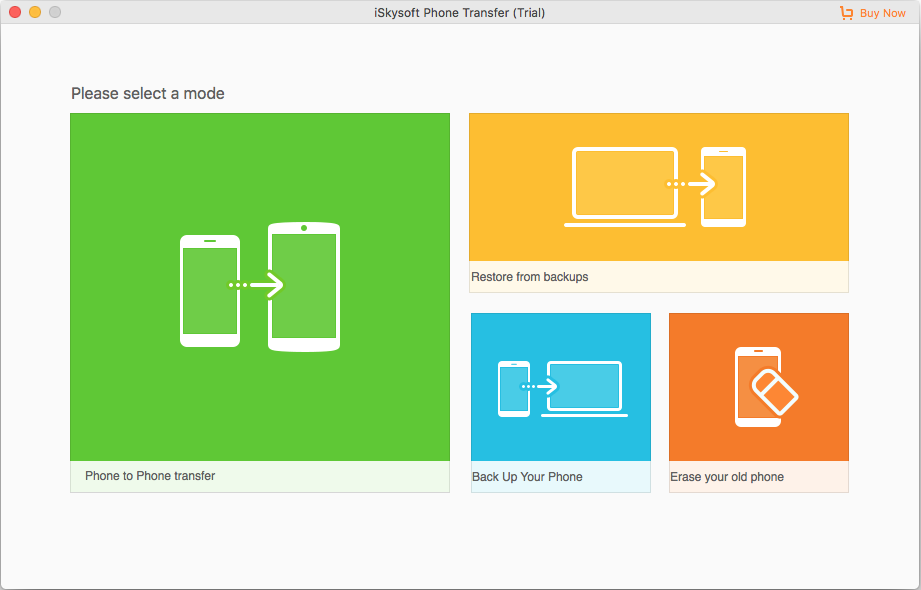 Once in the data transfer screen, you're invited to connect your both smartphones with computer via USB cables.
Make sure that your LG Android smartphone is on USB debugging mode. You can click on the "Cannot recognize the device" link on the lower right side of the screen, and follow the on-screen demo to set it up.
Step 2: Choose which data you'd like to copy to your new iPhone
After your LG phone and iPhone connected successfully, the software might take a few seconds to scan all the content on your source phone, and then display them in the list on the center box of the screen, as image shown below.
Note: the Flip button on the top center allows you to exchange the positions of source and target phone. If you want to migrate contacts from iPhone to LG smartphone instead, just press the button to set the iPhone as source phone.
For the purpose of this article, we just select the "Contacts" to be transferred to iPhone from the list. If you want to move music from LG to iPhone at the same time, just tick the check box next to "Music".
Please keep in mind that when you are transferring data from Android to iPhone device, due to the compatibility issue, the Apps field will be grayed out. You can only transfer app and app data between Android smartphones.
Step 3: Start migrating LG phone contacts to iPhone (7, SE, 6s, 6, etc)
Once you have selected all the files you need for transfer, simply press the green Start Copy button on the lower center of the interface and leave the Phone Transfer to do its thing. The contacts information will now be exported from LG phone for transfer to the iPhone's Contacts App.
It will show you a progress bar across the top of its window, indicating how the process goes.
Done!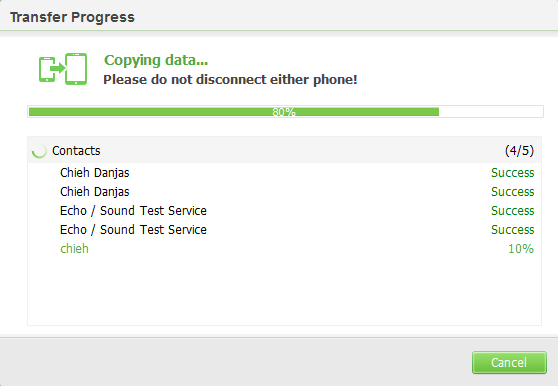 Aside from moving your contacts from the old LG handset to the new iPhone, if you have no other stuff needed to be migrated, you can go back to the main interface and use the "Erase Your Old Phone" feature to securely erase your old device.
LG Android phone: LG V30, LG V20 (AT&T, T-mobile, Sprint, LRA, Unlocked, U.S. Cellular, in Titan, Verizon Wireless), LG G5 (ACG), LG Stylo™ 2 Plus, LG K7™, LG Tribute™, LG X power™, LG K10, LG Escape, LG Stylo, LG Classic, LG Rebel™, LG Treasure™, LG X style™, LG Premier, LG Stylo, LG K3, LG Tribute, LG K7, LG K8, LG Optimus Zone, LG G4, LG Phoenix
iPhone: iPhone X (2017), iPhone 8/ Plus, iPhone 7/ Plus (2016), iPhone SE, iPhone 6s/ Plus, etc.
How to Transfer All Your Contacts from Android to Android
A Full Guide to Transfer Call Logs from iPhone to Google Pixel Phone
A Simple Way to Copy Songs from an Android Phone to iPhone 8 (Plus)