How to Transfer Contacts between Samsung and Huawei Phone
Smartphones are getting quickly updated and increasingly innovated. Samsung, a tech giant, is competing with iPhone to become the world leader. If you are a Huawei Android phone user and are planning to make a switch to a new Android smartphone, then Samsung Android phone (S8, for example) is the best bang for your buck.
As for the switch, there arises a fundamental question: how do you transfer your important contacts from the old Huawei phone to the new Samsung phone without any hassle? Well, switching from one device to another doesn't necessarily mean you have to lose all your contacts inside your Huawei handset or establish new contacts from the scratch on your new Samsung smartphone. As a matter of fact, it can be an easy process with just a few steps.
Phone Transfer, a distinguished data transferring tool among transferring utilities on the market, provides all the answers to your question. Before I start to show you how to use this wonderful program to transfer contacts from a Huawei phone to a Samsung phone and vice versa, I would like to give a full description of Phone Transfer's features first.
Main Features
Easy to use with user-friendly GUI.
Quick contacts transfer process across different operating systems: iOS, Android, WinPhone, Blackberry, Symbian.
Transferrable stuff not limited to contacts: call logs, text messages, calendar, apps, videos, music, photos are also included.
Support most smartphone brands: iPhone, Samsung, Huawei, HTC, LG, Sony, HTC, ZTE, etc.
Back up your data from device onto computer, and retrieve it back whenever you want.
Now, please check our step-by-step guide on how to get contacts off your Huawei phone (P9, Mate 8, G8, Nova, etc.) and onto your new Samsung phone, you can also make the same journey in the opposite direction.
Step 1: Connect two Android devices
Download and install the software on your computer. When opening up the program, you will be greeted by a simple interface which presents four modes (Mac version).
Click the Phone to Phone Transfer mode to go to the next interface.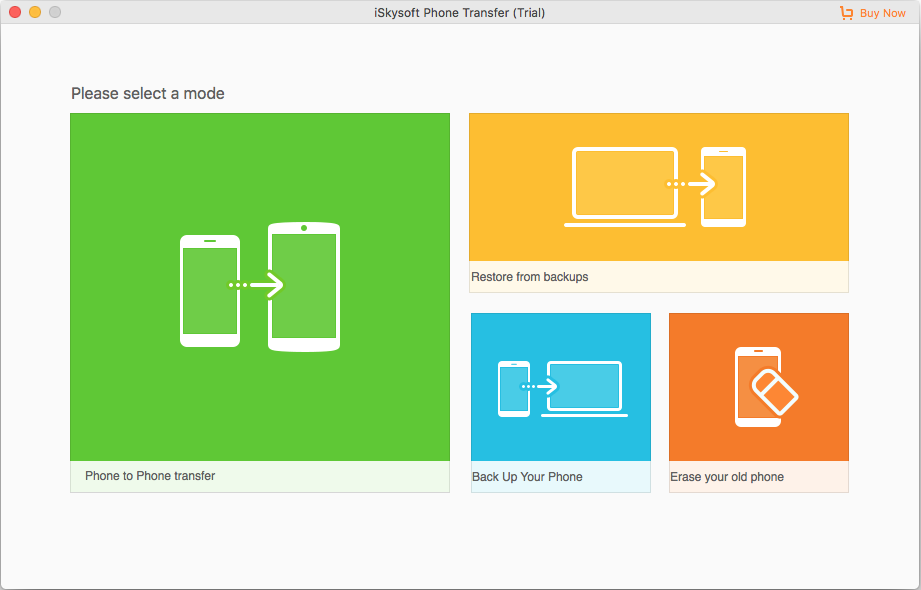 You then will be asked to connect both your Samsung and Huawei Android phone with computer. Please make sure USB debugging mode on both your Android phones is activated. See how to set it up.
Step 2: Select contacts from the transferrable list
After connected successfully, both Samsung and Huawei Android phones are detected automatically within seconds by the software, and appear on the left side and right side of the screen respectively. If their position are reversely connected, just click Flip button to exchange their positions.
Next, select and tick Contacts option from the data list. If you have more to transfer, also check other options.
Need to delete your previous contacts and other data in your Samsung Android phone (if you have used it) before transferring contacts from your old Huawei? Just tick Clear data before copy option on the lower right corner.
Step 3: Start the process of moving your Huawei contacts to Samsung
After you are done with your choice, click Start Copy button and let it go to town. The whole contacts transferring process will take a little while, just be patient.
After the software finishes copying contacts and other stuff from Huawei to your Samsung Android phone, disconnect both your devices from the computer and check the contacts in your Huawei Android phone, it's right on the Contacts app itself.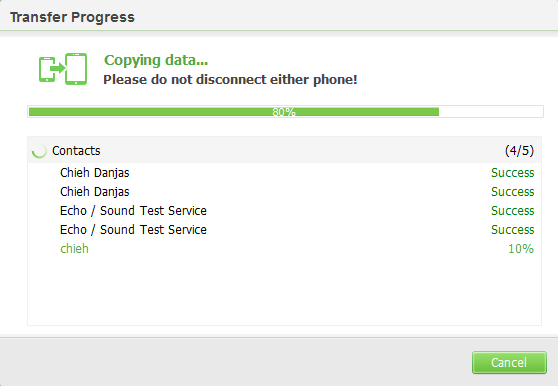 Read More about Phone Transfer: Backup and Restoration
Switching phones gives us surprise, but you ought to take some steps to keep your contacts safe. If you don't do something to back up your contacts and other important data, you will lose some critical stuff that may brings you unnecessary trouble. Under such circumstances, Phone Transfer provides you with an excellent way of backing up and restoring your phone stuff. Just follow: Back in the main screen > select "back up your phone" mode > connect your Huawei to PC > select contacts > press Start Copy button.
To restore your contacts, just go as: Back in the main screen > select "restore from backups" mode > select phone transfer > connect your Huawei to PC > tick contacts > press Start Copy button. Besides, we also offer data retrieving from iTunes, iCloud, OneDrive and other services for your convenience.