How to Transfer Huawei Contacts to iPhone Quickly
No doubt that Huawei phone is touted as one of the top 10 phone makers in Android camp. Meanwhile Apple's iPhone is a good example in terms of design, user-experience, safety and features. At some point it is quite understandable that you may want to give up your old Huawei Android phone and try iOS. Anyway, the first thing is to bring the Huawei contacts over to the shiny new iPhone. (if you're going the opposite way, check out the article on getting contacts on iPhone to Huawei phone.)
However, you are handling two completely different ecosystems and this is nothing like transferring contacts from Huawei to another Android device which can be more easily synced in between. When it comes to two different platforms, things get a little bit tricky. Most of the time, Apple doesn't allow direct sync of iPhone's files with Android because of Apple's walled garden and high security features.
Thankfully, transferring Huawei contacts over to iPhone is not out of this world and there are several ways and tools to finish this task. Phone Transfer is a rather simple data transfer tool which simply copies the contacts and other data files from your old Huawei to your new iPhone. With this multipurpose program in hand, you can do a couple of task.
Do a quick transfer of contacts from Huawei to iPhone, complete with other data types including text messages, songs, pictures, calendar and video files.
Do a safe and effective backup of phone data in the computer in case of data loss.
Do a full-scale restoration of data from the computer, iTunes/ iCloud backup or OneDrive.
Do a complete data erasure to guard against data leakage (it is exclusive to Mac version).
Supports almost all kinds of smartphones including iPhone, Android, WinPhone and Symbian
Now, download the program on your either PC or Mac machine and follow the steps below. At the end of the process, you will know coping contacts from Huawei device to Apple's iPhone is a breeze.
Step 1: Connect Huawei and iPhone to the computer
After installation, double-click the software on desktop to run it. An intuitive interface appears, on which to choose "Phone to Phone Transfer" mode.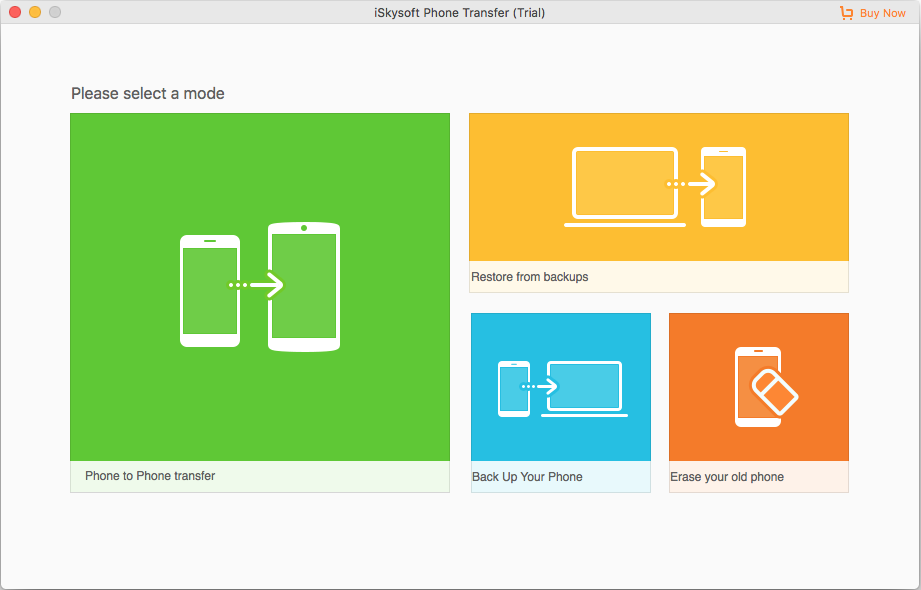 You are required to connect two devices to the computer with USB cables. Then, turn on USB Debugging Mode on Huawei smartphone and tap trust on iPhone to continue.
Step 2: Check "Contacts" on the middle pane
Once connected, Huawei Android should be on the left side and iPhone on the right side. The Flip button is useful when the two devices are in the wrong position.
Phone Transfer starts scanning the data inside the Huawei phone and finally show all available files on the center area of the interface: Contacts, Text messages, Photos, Music and Videos.
For the purpose of this article, just mark Contacts checkbox.
Step 3: Press "Start Copy" button to begin the process
Now, you're ready to initialize the Huawei contacts to iPhone migrating process. To do this, simply press the Start Copy at the bottom center and let the program do the rest. Please stay connected during the whole process.
Once the process is complete, you may open your iPhone and check the Contacts app to see if all of contacts from the old Huawei phone are already there.
Done!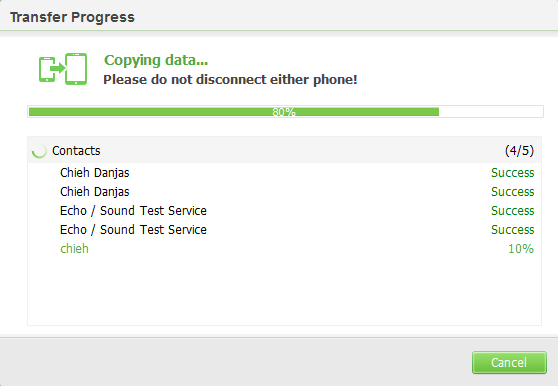 Note: There are times when the contacts in your iPhone will inevitably get deleted because of improper operation, system updates or factory restoration. If this occurs, it is possible to recover the contacts from iPhone with iPhone Data Recovery software.
The Bottom Line
Phone Transfer is meant to help most smartphone users to make data transition as painless as possible. This program certainly does what it is advertised to do and it does it very well. Try it!